'Ready Or Not' Theatrical Review

You gain a variety of great things when you get married. The love and companionship of someone until death due you part is something that can't be topped by much else. There is always the good and the bad as every marriage is not something from The Brady Bunch. There is one part of marriage that still today remains a wild card, your in-laws. I've heard both good and bad stories by friends and coworkers on their experience with their significant others' family. Hell, I even hear them sometimes from my own parents.
Part of the reason one goes through the craziness of another's family is the need to feel accepted. I've had a friend who got divorced because the husband's mom could simply not accept her. It is in our DNA as a society to achieve acceptance that in any environment, and family is certainly one of the most important parts. Even dating I find myself dreading to meet parents of the girl I'm seeing just because of how I think they'll judge me, even when I'm given confidence that "oh my parents are going to love you." I've certainly had my share of good experiences, and bad that have made me run away. You just never know what you're going to get.
At the start of Ready Or Not, the groom asks the bride if she's ready to get married, to which she responds, "Oh Fuck no." Not only are the words most true for where the movie is about to take you, but also there is also some truth of it in real life. While Ready Or Not won't make you back out of getting married, I'm sure it will make some people study the family of their future partner more than they already have. This latest film from the Radio Silence crew of Matt Bentinelli-Olpin and Tyler Gillett is not only their best film to date, but is also one of the best horror films of recent time that brings something fresh into the Most Dangerous Game genre of horror. In what at times feels like a marriage of Cheap Thrills and You're next, the directors have created something new and refreshing using comedy, suspense, and of course blood at its best with every second meant to entertain its audience.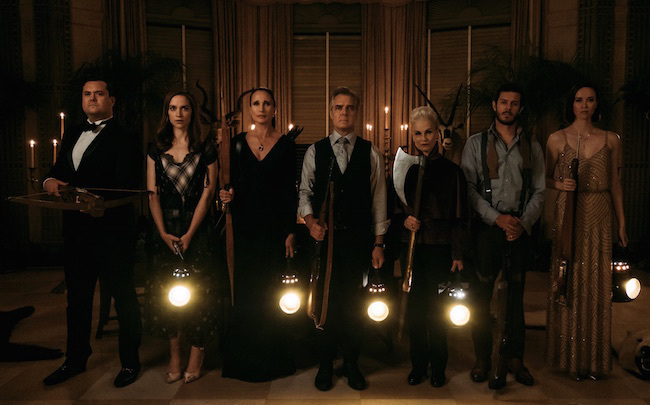 Today is the wedding day for Grace (played superbly by Samara Weaving), who as an orphan has spent most of her life looking for someone to love and accept her. She seems to have found that in Alex Le Domas (Marc O'Brien) who is the son of one of the richest families in the board game industry. Although he has been estranged from his family for some time, they still love Alex, but look at Grace as somewhat a gold-digger because of how fast they decided to tie the knot. She knows that most of the family, made up of Alex's parents Tony (Henry Czerny) and Becky (Andie MacDowell), substance-abusing siblings Daniel (Adam Brody) and Emilie (Melanie Scrofano), Daniel's wife Charity (Elyse Levesque), and Emilie's husband Fitch (Kristian Bruun) does not like her; but it does not affect her because she just wants to finally be part of a family. That's enough for her to agree to a family tradition of getting married on the family estate, which is a huge mansion full of hallways, and rooms full of antiquate weapons.
Once married, Grace thinks everything is finished, but there is one last tradition in this weird family. On the night of a wedding, the family must play a game where the newest member must pick a card to decide a game. It could be anything from checkers to chess, but there is one dreaded card out of the pile and Grace pulls it. The game is hide and seek where she quickly finds out this is not the game she played as a kid, but one where the family will kill her if she is found before dawn.
Ready or Not brings the right amount of blood, gore and comedy to make it one of the most efficient and effective horror films of recent times. Although it brings a simple narrative we have seen in past films, there are quite a few surprises that keep you watching. The directors of course want to entertain us, but they also show the side of those who inherit wealth and what they will do to keep it. Under the blood and violence, there is a message about the upper and lower class in this world.
The Radio Silence duo has no problem making fun of the rich throughout the film, showing how disconnected they are from reality. The action is set in one location, but never loses its creativity that is needed to keep you hooked. On thing I liked was how they showed just how the family's entitlement is their Achilles heal in killing Grace. The hide and seek game has only been played once in the last 30 years so none of the Le Domas have ever used the weapons in the house. This results in a few shots missing the target and some hitting the wrong target. At one point one of the family members is watching a YouTube on how to shoot a crossbow. They are pushed to limits they are not used to and it leaves amusing results.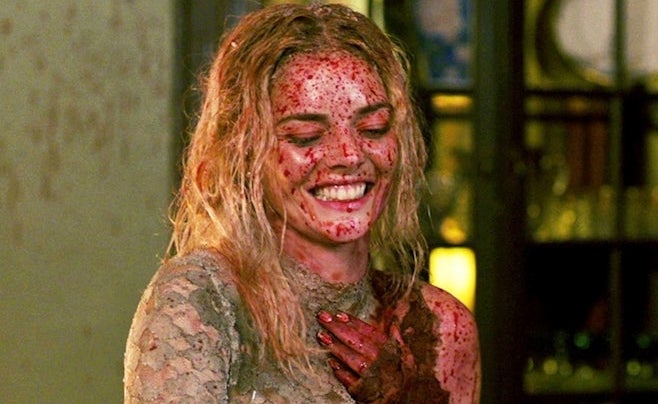 As funny as it is at times, Ready Or Not is first and foremost a horror film about a woman who's life is on the line if she cannot survive. With the stakes on the line ,Samara Weaving gives us a star-making performance as the bride who must survive her in-laws if she wants to live. She's likable and we want her to win as we follow her through the night, transforming from a woman hiding in terror to a badass fierce survivor with a snappy mocking humorous tone needed if she is to make it to dawn. The only costume we see Grace in is her wedding dress, and the more destroyed and soaked with blood it gets, the stronger she becomes.
Ready or Not is everything you want in a horror comedy film. It's full of hilarious characters, but the laughs never take away the sense of danger that is at every corner of the house, and the stakes always feel real. The killings are gruesome and full of blood to never let us forget that. The directors keep building the entertainment every second, all the way to a surprise ending that is sure to have the theater roaring in applause. The summer season is just about over, but this one of the most entertaining films you'll want to RSVP to.
Ready Or Not
Summary
On her wedding night, Grace (Samara Weaving) must take part in a tradition of playing a game with her new family. What seems like a harmless game of hide and seek turns into a lethal game of survival.