5 Games to Get Your Brain Back in Shape

The back to school sales are starting and that means you only get your gaming companions for a few more weeks. Might as well help them get ready for school with some games that are guaranteed to stretch out those rusty brains. This list includes 5 games that will challenge your spatial reasoning and organizing abilities. Games like Founders of Gloomhaven, Ex Libris, Dinosaur Island, Machi Koro: Big Lights, Big City, and  Santorini are sure to kick that gray matter into gear with some mental calisthenics.
---
FOUNDERS OF GLOOMHAVEN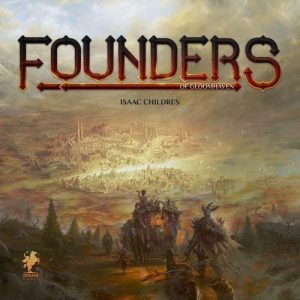 Founders of Gloomhaven is the precursor to the epic campaign adventure game Gloomhaven. It is for 1-4 players and plays in 2 hours minimum.
I love this game! It has engine building, worker placement, and hand management mechanics that flow together flawlessly. The objective of the game is to build the city of Gloomhaven. The game is very complicated. There are only certain places building tiles can be placed and other players can follow the actions of the active players turn. There are cards in the box that you can add to your Gloomhaven game to customize it for your adventure based on how your city was built. Due to the follow mechanics, the game is very engaging.
Even though there are a lot of rules and game play can be difficult, game designer Isaac Childres the designer has done a great job of keeping as much information on the player cards as possible. Players can always refer to them or their board during play. The main reason this game gets confusing is because there is an economic element to it. As players construct buildings they have to connect them to resources and other characters may control the resource needed. Therefore, every time a building makes money, the provider of that resource gets portion of the money gained.
This is a very punishing game, and I have yet to finish a game in less than 4 hours, but I love the mechanics. The feeling of building the city and controlling the economy is quite a rush and I highly recommend it to well seasoned board gamers. Founders of Gloomhaven is easily the P90X or "Insanity" of mental exercises. If you can play through a game of this you will be ready for anything this school year can throw at you. 
---
EX LIBRIS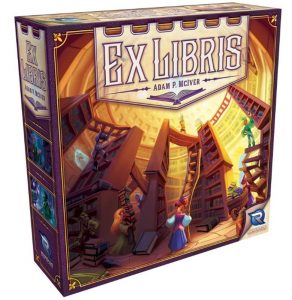 Ex Libris is from Renegade Game Studios and is for 1-4 players. This game usually takes about an hour to play.
The theme of this game is that you are a Gnome, living in a Gnome village where books are highly valued. Your little town needs a new library and the Mayor is looking to name the best collection in town as the public library. There are 6 book genres in this world. Your mayor has selected a favorite and a banned category. Players then try to collect books in all genres, other than the banned category, and especially in the favored category. Books must be placed strategically on players shelves. The biggest, stable, collection wins!
This game is a worker placement style game. My only complaints is that some of the player boards have grammar errors, and that the game requires a lot of table space. Thanks to the way the resource locations in this game work it offers a lot of replay-ability. Not only will this get players minds on the need to get organized, but it subliminally reminds students that they should utilize their school and local libraries. Alternatively, it encourages book hoarding, which is not the worst thing in the world to hoard.
---
DINOSAUR ISLAND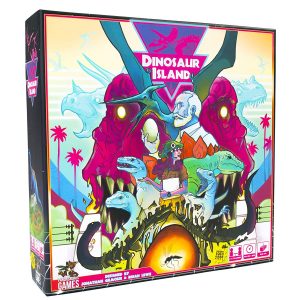 Dinosaur Island works on your organizational and goal setting skills. This game is for 2-4 players from Pandasaurus Games.  It is basically Jurassic Park the board game, and it serves as a good reminder as to why making dinosaurs is a bad idea (I'm looking at the science club kids on this one!).
This is a heavy strategy worker placement game. The rules are fairly complex, but they flow well together and the reminders on the game boards help players stay on track. This game has an intense set up process and takes about a half hour to get ready to play, but is totally worth it. Players get to decide how long the game will take by taking the cards that correspond with the length. Short games last about 30 minutes, medium last around an hour, and long games last about two hours.
Players work almost simultaneously as they create dinosaurs for their park, build attractions, and attract visitors. While managing the park, players have to keep track of their security level, and if that level falls below the threat posed by their dinosaurs the dinos escape and kill visitors. Dead visitors do not earn you points, but luckily in this game they don't earn you lawsuits.
I recommend this game to experienced gamers who like crunchier games. It is easier to learn than Founders of Gloomhaven and takes less time to play, but it is still pretty intense. It's fair to make this game complicated, because running a dinosaur park wouldn't be easy. After all, none of the movies on that topic have ended particularly well. 
---
MACHI KORO: BRIGHT LIGHTS, BIG CITY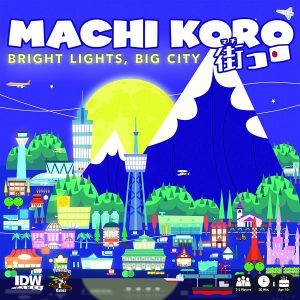 Machi Koro: Big Lights, Big City is for 2-5 players by IDW Games. This is a variation of the original Machi Koro that streamlined a few of the rules and altered the theme, slightly.
In Big Lights, Big City players are building their own city. In typical Machi Koro fashion players roll dice to gain resources and draft cards. These cards add into that players city and allow them to gain additional resources on designated dice rolls. This game plays in about 30-45 minutes and is much simpler to learn than any of the previously mentioned games on this list.
This game is much more light hearted and once you know the rules it takes minimal strategics. Machi Koro does have quite a bit of luck involved in it due to the dice rolls, and it is harder to come back if you fall behind in points than in the previous games. I recommend this game for families with children age 10 or older and for casual gamers. Big Lights, Big City reminds players time and resource management and really reinforces that life isn't fair. A good lesson to be reminded of before sports and spring play tryouts begin. 
---
SANTORINI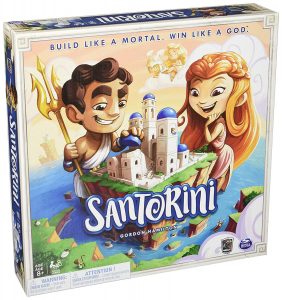 Santorini pushes the strategic and spatial sides of your brain. This game from Spin Master Games and Roxley is for 2-4 players. The game board is beautiful and the pieces are 3D, making this a very tactile game to get the spatial side of your brain working.
Players take turns moving workers around the board and constructing buildings. The first person to get a worker to the 3rd level of a building wins. This sounds very simple, but due to the nature of this game it turns into Tic Tac Toe extreme.
Players have to watch where they build so other players cannot utilize a building they just built, likewise keeping your workers close to the enemy means you can cap their structure before reaching the top. Games last about 30 minutes and set up takes about 10 minutes.
I recommend this game for families with children aged 6 or older, or casual gamers. The rules are very simple, but game play is very strategic making it a phenomenal addition to any collection. 
---
There you have it, 5 games that will have your brain back in shape for the school year in no time. Whether you need an advanced economic strategy game or a quick out-think your opponent game this tabletop regimen will have you ready to take on the most rigorous academic program. At the very least after playing you will feel like you have challenged yourself. What is your favorite game that makes your brain hurt? Let us know in the comments.