'Woodstock or Bust' Theatrical Review

I had a feeling I wasn't going to like Woodstock or Bust.  I don't like folk music.  I don't like road trips.  I don't like nostalgia for the 1960's.  I don't like 60's Ford Mustangs (or any Mustangs for that matter).  I don't like fringed jackets (okay… this one might be a lie, but I wanted a few more for this list).  I really don't like dirty stinkin' hippies.  And I don't even like misplaced teenage angst!  My premonitions were correct… but that's like whatever, man.
The movie follows a pretty generic road trip formula, with a few additions here and there.  Two lovely ladies (Willow Shields and Meg DeLacy) are inexorably burdened by the bourgeois constructs of society, including but not limited to the mind-limiting constraints of the Abrahamic religions, the monstrous bloodthirst of the Vietnam War, and even the imperialist nature of tent construction.  Yet, so it goes.  The girls like music, even when their parents (collectively played by "the man") don't approve.
They don't just like music of the 60's, they like the culture surrounding the anti-authoritarian times, full stop.  They decide the world needs to see their music and the 100-year-old birthday parties (for women that don't look a day over 55) aren't getting the job done.  Inspiration hits and they decide to drive from Oregon to New York to go to Woodstock.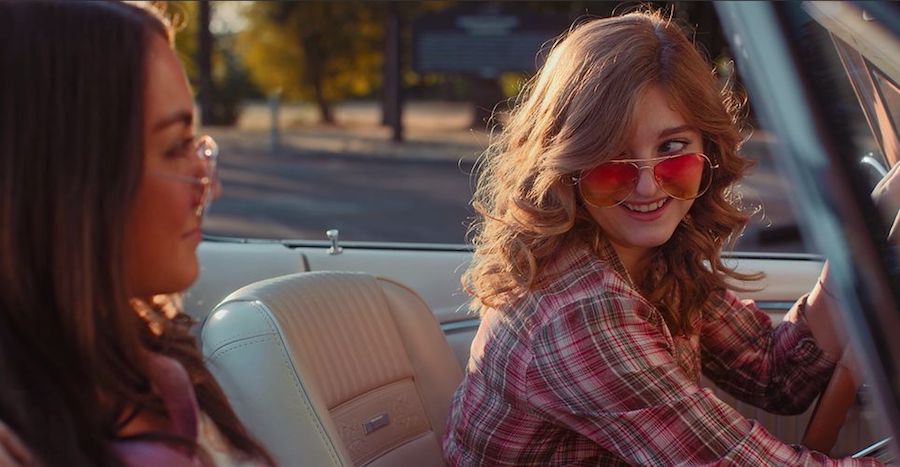 Drugs and people are met, seduced, ingested, and discussed along the way.  And as much as I think the movie wants to distance itself from the status quo of society, it is a bit normal.  It gets lost in a lot of ham-fisted social issues as hijinks after hijinks after hijinks after hijinks are inflicted on the girls.  Some of the events are realistically darker than others, but each time they are presented to us with the same detachment.  It's par for the course for what I have always thought of as the "circlejerk" revisionism of the 1960's and the issues that come with it.  It's a bit lackluster, a bit pandering, and a whole lot Caucasian.
But that all fits in well with the white-girl-socialism that portrays the film's entirety.  There are some funny moments, some intense motifs about friendship and trust, and even probably some good music if you are into that kind of thing or whatever.  As we mentioned above, I am not, and that is okay too.  Because if I learned anything from the PragerU type lecture that this film seems to be arguing against, the politics of the 1960's were actually all about finding yourself and touching others through guitar chords… not collectively owning the means of production through violent and systemic revolution like a certain manifesto has lead me to believe.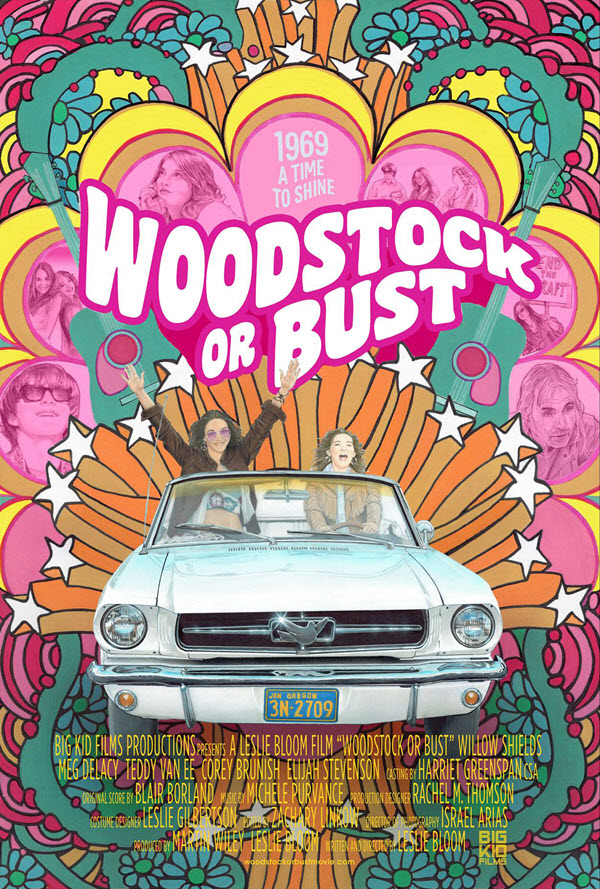 So comrades, I leave you with this, if you are looking for a radical exploration into an era that somewhat changed the political landscape, Woodstock or Bust, is not for you.  If however you are looking for something like a bunch of privileged creative types playing dress up (physical dress up too, as the costume design was dy-no-mte to borrow a phrase from similarly albeit in this case temporally out-of-touch reference) for an hour and a half this might be your thing.  All the Jill Stein level politics will be there to make sure you can pat yourself on the back, but without any of the heavy lifting of actually organizing.
Basically, WORKERS OF THE WORLD, ALRIIIIIIGHT!
For Fans
Summary
In 1969 two teenage singers saddle up their Mustang convertible and head east to debut their original music at Woodstock.