Bring Life To The Party With Unstable Unicorns

Collect the cutest unicorns and use their magical abilities to stab your friends in the back by killing or stealing their cute unicorns! If you can't have them, no one can!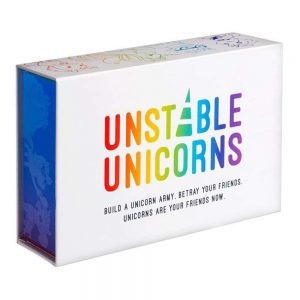 Unstable Unicorns is a game for 2-8 players created by Ramy Badie and published using Kickstarter. This little card game comes in small box that is easy to transport, but offers big fun.
Each player starts with a reference card, a baby unicorn, and 5 black backed cards (all the general playing cards have the black backing). The goal is to be the first person to get to 6 or 7 unicorns. The size of the group will determine how many unicorns you need. Turns are comprised of 4 phases: the beginning of turn phase, where you check to see if any unicorns in your stable have abilities that trigger at this time; the draw phase, where you draw one card; the Action phase, where you place a unicorn on the table in front of you to serve as your "stable" or alternatively an upgrade/downgrade card on the appropriate unicorn. Players also have the option during the Action phase to draw a second card for the turn instead of playing a new card. The final phase is your end of turn, where you count the cards in your hand to make sure they do not exceed 7 cards. If you have too many cards at the end of your turn you must discard down to 7.
The upgrade and downgrade cards mentioned previously are played directly on a unicorn. An upgrade card is usually played to your own unicorn and gives that unicorn an ability or protection. Downgrade cards are usually played on other player's unicorns and makes their life more difficult. One of my favorite downgrade cards is called "Pandamonium," which turns all of your unicorns into pandas. A player can't win the game if all they have is pandas and no unicorns! Unstable Unicorns includes other playable cards that will keep your opponents off balance. A player may also have the opportunity to play a Magic card in place of their regular action. Magic cards are marked with a green star in the right corner. These cards allow you to get rid of downgrade cards or upgrade cards your "so called friends" may have. Magic cards also allow players to wreak havoc and destroy unicorns, but be careful, sometimes they effect your own. The final card type players may have access to is the instant cards, which allow you to play on another player's turn. This card is marked with a big red exclamation mark in the right corner, and the most common version of the card is a "Neigh." "Neighs" prevent your opponents from playing any card and can only be countered by a "Yay" upgrade or a "Super Neigh!" instant card.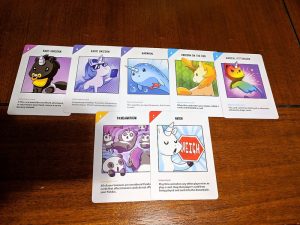 The aforementioned cards provide plenty of shenanigans, but the unicorns themselves can be quite devious. There are three types of unicorns: baby, basic, and magical. Baby unicorns only have the power of being adorable (pink cards pictured above), and when they are destroyed they go to the nursery instead of the discard pile. THERE WILL BE NO HARM DONE TO THE ADORABLE BABY UNICORNS! Basic unicorns have no special abilities, but wonderful personalities (see the purple card in the picture above). Finally there are magical unicorns, which have abilities to help you win the game (blue card in photo). All levels of unicorns count towards your 6 or 7 total unicorns. Narwhals and the occasional Kittencorn also count towards your total score.
The game recommends ages 14 and up to play, which could be due to the backstabbing and aggressive language of the game. Considering I have seen ten year olds playing Magic: The Gathering, I don't think the mechanics of this game are particularly difficult. This game has some similar mechanics to Magic, and those who have played MTG in the past will recognize how the abilities compliment one another and how the stack works. I highly recommend this game to everyone! The art is adorable, the rules are fairly easy to learn, the replay-ability is great, and there are at least 4 expansions out so you shouldn't get bored. It is also a very affordable game to add to your collection. This game works best in a party setting, making it a great gift for any high school graduate to take to college with them. I can see this game being a hit in college dorm common rooms.
Have opinions on Unstable Unicorns? Let us know in the comments!
Gameplay

Art

Design / Mechanics

Construction