'Bird Box' Movie Review

Netflix stepped up their game this year, dropping a high amount of original movies. With original content already running abundant for the streaming service, it was in 2018 that we first saw their award contenders come to play. Big blockbuster style movies from blockbuster style directors and award contenders that are gathering up nominations. In the mix of it all, was their December horror suspense movie, Bird Box.
The problem with Bird Box is from the outside looking in, it appears to be a movie grabbing the coattails of John Krasinski's A Quiet Place. Released earlier in 2018, A Quiet Place was the comedian's first attempt at creating and directing horror. He accomplished this so magnificently that A Quiet Place changed the horror game and climbed to the top movie lists everywhere (Project-Nerd's list will be released the first week of January).
To be completely blunt, I made a joke about it before watching Bird Box, letting my friends know I would be watching with anticipation of finding it to be a copycat and comical. But all joking aside, Bird Box is exactly what Stephen King claimed it is, a solid and suspenseful drama.
First thing, Bird Box is not scary. I mean, it has startling moments and some of the scenes are absolutely horrifying, but that's based on the involvement of small children having to take on a harsh reality as well as an incredible use of suspense by Director Susanne Bier.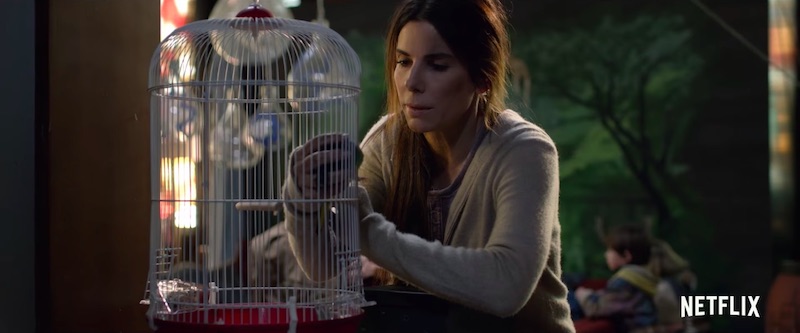 The underlying concept of Bird Box is weak. Very weak. The premise is that the end of the world is brought on by these slow moving massive creatures that, if looked at, cause you to kill yourself due to either seeing your worst fears or your darkest memories and thoughts. There are also human disciples of these creatures, who don't kill themselves but try to force others to do so.
Again, there's a reason I made fun of this movie prior to viewing.
But Bird Box is good. And it's good because of a strong cast and a phenomenal delivery of the weak premise. Take that weak idea and now give a single mother (Sandra Bullock) the reality of dealing with it blindfolded, as well as guiding two blindfolded children down a river to a safe place. Add in the concept that, as a father, anything regarding the possible harm of children in movies absolutely horrifies me on its own.
Things are complicated even further by following the Mallorie (Bullock) and children story down the river while simultaneously following the events five years prior that caused the dramatic unraveling of the world and the slow deterioration of the lives around Mallorie.
The first hour of the movie is incredibly suspenseful. It's helped along by Bullock's strong acting as well as her fellow castmates, Trevante Rhodes, John Malkovich, Sarah Paulson, and others all stuck in a house together trying to find a way to survive while also trying to figure out what the hell is even going on.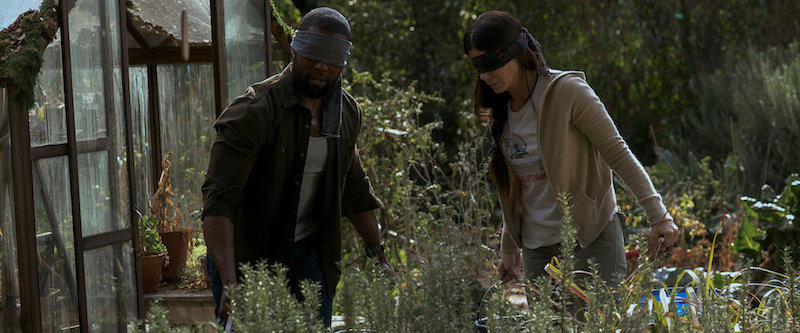 As Bird Box unfolds, it has its issues. Some of those weak premises are used to drive the plot forward. It had to happen for the turning point in the film, a little over halfway through, but it doesn't take away that the premise to set up the strengths of the film could have been better.
Bird Box isn't scary because it's somewhat predictable. It's safe. Nothing that shouldn't happen happens. People are going to die, yes, but only the characters that need to die to move the plot forward. But the element of parenting through such a horrific period, is what makes you forget about that predictability for a moment and actually take on the fear the characters are feeling.
Even without that parenting element I'll just say, we as movie goers are spoiled. Predictability doesn't make a movie bad, even though it can take away from its ability to be great. And that is about where Bird Box sits. It's a very suspenseful and dramatic film. It's strongly written, but with weak bones. Bullock proves once again how strong of an actress see is, and a little bit of John Malkovich makes everything better. Be ready for a hard-to-breath first hour followed by some weak mechanisms driving a plot forward that ends in a satisfying manner.
Movie Review
Summary
Bird Box is a well acted and well developed film built on a weak premise and some weak mechanisms. Horror, suspense, and drama fans will find some enjoyment in the Netflix Original Film.