Two Is Company – 5 Great Two-Player Board Games

One of the hardest parts about being a board game addict is finding someone to play with you, constantly. Unfortunately, many of us do not have the time to host a board game night every evening so here are some suggestions that are phenomenal two player games. These games make a great game date night or time with your BFF.
5. The Institute for the Magical Arts from Dr. Finn's Games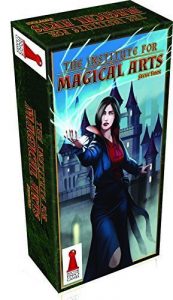 Upon glancing at the description of this game you may think that it is supposed to be a Harry Potter spin-off game. Although that was not the intent,  it is hard to miss how well this game would fit in the Harry Potter universe. The Institute for the Magical Arts is a school for witches and wizards. The headmaster of the school has disappeared rather mysteriously. Promotion time! All of the school's professors are battling it out to see who the new headmaster will be.
The instruction booklet to this game is huge and makes learning the rules daunting. However, once you learn the ropes it is a very simple and quick paced game. Each round is played in 5 phases. Essentially, five resource cards and the portal are laid between you and your opponent. Each person bids on the resources they want or they can send tokens into the portal. Resources are distributed and portal assignments are finalized. The process continues until someone reaches 20 points. The portal is a gamble, you can have huge failures or big rewards from sending tokens into the portal. Tokens sent to the portal can gain you victory points if you can have the most tokens in the portal at the end of the game. If you have ever played Magic: The Gathering you will be able to pick up on this game's mechanics in no time. The directions and phases are written on the cards which helps remind players where they are at. This game does have some intricacies so it is not the best for brand new or super young gamers.
4. Boss Monster by Brotherwise Games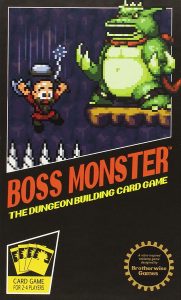 This is a 2-4 player game that still plays well as a two-player. The concept of this game is very interesting. You are playing as the boss (ultimate bad guy) in a dungeon and you are building your adorable 16 bit dungeon so that adventurers will come and perish at the hands of your minions.
The rules and phases are pretty simple. You and your opponent draw your main boss randomly. Then each person gets 2 spell cards and 5 room cards. You get your first room for free and continue to build to the left of that room. Each player can have 5 rooms maximum at a time, but you can remodel a room once you have reached your limit. The first time you make it to 5 rooms your boss levels up and you get to activate their special ability. The different rooms attract different types of adventurers and the first dungeon to claim 18 souls wins!
With two players, you don't get a chance to use the spell cards as much as in a 3-4 player game. Having extra players allows for more spell cards to be drawn and utilized. Despite the loss of random spell cards, this game is very fun for two people. It doesn't take long to play through all of the monsters so getting Boss Monster 2 and the expansion pack is recommended. This is a wonderful game for new or younger players as they should be able to pick up on it quickly.
3. Santorini by SpinMaster Games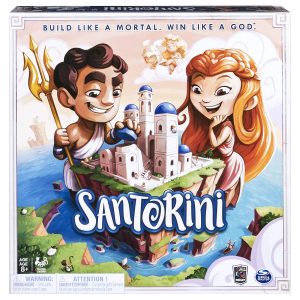 This game is for 2-4 players, but plays best as a two player.
To boil this game down to its simplest form, it is basically extreme tic tac toe. The rules are very simple. Each person has 2 workers and you move around this beautiful elevated board (that is created to emulate the actual Greek Island of Santorini). On your turn you must move one of your two workers and build one section of building. Each building can grow to be three sections high. The goal is to get one of your workers to the top of a tower before your opponent, but your opponent has the ability to place a dome on the top of a building preventing anyone from being able to win using that structure. A worker can move up one level and move down any number of levels, but you have to remember that your worker has to be able to get to the top of the tower in order to win. It is very easy to get yourself caught between various structures of the right size and not be able to reach the top. As you get more experienced with the game you can add God Cards to the mix. The God cards give your workers special abilities and win conditions, which adds another level of complexity. This is one of those games that has a lot of replayability. Simple to learn, easy to teach, and never ending hours of enjoyment. The only reason this game is not higher on my list is because the next two games on my list are more the kind of games I enjoy. I feel like games 1-3 on this list could be organized in any order. This is just my personal preference.
2. 7 Wonders Duel by Asmodee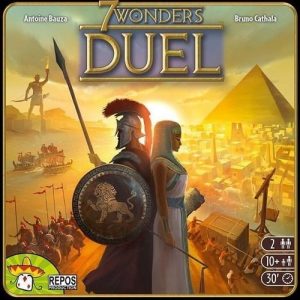 This is a truly great game! It is visually beautiful and a really well balanced resource gathering two-player game.
Like most resource collector type games, your goal is to build a better civilization than your opponent. You can do this by making the most wonders, being the most scientific, or having the best army. There are three rounds where the players battle to get the resources they need to complete their projects. The resource cards are color coded by round and each time the cards are arranged in a predetermined order. There is a scale that can be used to monitor your progress and as you reach certain benchmarks you collect more points. However, your opponent may attack or steal from you, causing you to lose points. If you have played the full 7 Wonders game the two player version functions similarly. The biggest difference is that instead of drafting, the cards are arranged in specific formations on the table. Playerd take turns trying to get the resources they need. When the cards are gone the round is over.
This game is wickedly strategic and amazingly fun. The only reason this game lost out to my number one spot is because the rules are more complicated than the number one slot. I had to watch "how to" videos several times before it began to make sense (I had not played the original 7 Wonders before playing Duel and that made it harder for me to grasp). It is worth taking the time to learn though! This game is good for new gamers but not great for young gamers.
1. Jaipur by GameWorks
Ever dreamed of being a wealthy merchant on the silk road? Well even if you haven't here is your chance to show off your bartering skills. This game is strictly a two player game and unlike 7 Wonders Duel where you are collecting resources to build civilizations, this time you are just trying to have a monopoly on all of the goods and being the best merchant out there.
Jaipur is deliciously simple. Five cards are revealed at a time and on your turn you have the option to trade for goods, take a single good, or take all the camels. Camels are handy because they don't count against your total hand size; you are only allowed to have 7 cards in your hand at one time. As you get resources you want to try to play them in groups of 3, 4, or 5 in order to receive a bonus. The camels will also get you an extra bonus if you have more than your opponent at the end of the game. Rubies, gold, and silver are the most valuable items, but leather, spices, and silk will be easier to stockpile and result in bigger bonuses. Every turn is a risk because your play may give your opponent an edge. Whenever you take a card, a new card gets exposed and it might be more valuable than the one you took. This game is meant to be played best 2 out of 3, but all three rounds play in less than 45 minutes total.
This game gets my number one because it is very easy to learn, fun to play, and it has great replayability. This game will provide hours of entertainment in a travel sized box. It is great for new gamers and young gamers! I have played Jaipur so much that my cards are wearing out. I have never worn a game out before.
So there you have it, 5 great two player games. There are many others out there and I will continue to try to scope out some more, but these are all great starts for a smaller game night.