"Mamma Mia: Here We Go Again" Theatrical Review

Mamma Mia: Here We Go Again is not consistently entertaining, but by the end, you'll likely be tapping your toes and quietly singing along. The sequel to 2008's Mamma Mia is not nearly as entertaining as the original because it must make do with lesser known ABBA tunes. There are some hits scattered throughout such as "Waterloo," but most of the songs featured in the first half of the film are not as recognizable.
For instance, the movie opens with "When I Kissed the Teacher," a song that barely cracked the top 100 in most European countries. The song is poppy, and with it, the director showcases Lily James' lively personality as Young Donna (Meryl Streep initially played Donna in the 2008 movie). However, James doesn't have a powerhouse voice that properly throws the audience into this musical adventure.
Naturally, the showstopper usually falls later in a musical, but with film, there should be an early opening number that has the power to pull the audience into a new harmonious world. "When I Kissed the Teacher" just left me scratching my head wondering why this young woman ruined a college graduation ceremony. Perhaps that's the academic in me.
Young Donna's story plays out opposite her daughter's in present time, and young Donna has the more engaging plot because she's exploring beautiful locations and meeting somewhat handsome men with long locks. However, Amanda Seyfried as Sophie, Donna's daughter, has the more entertaining actors on her side of the story. Julie Walters and Christine Baranski steal the show with two brands of comedy.
Baranski is a confident older woman eyeing every delicious male treat while Walters is barely keeping up with her salacious friend. The dynamic reminded me quite a bit of Rue McClanahan and Betty White on The Golden Girls. Baranski and Walters deserved a spin-off, the less practiced young actors should have taken a backseat to them.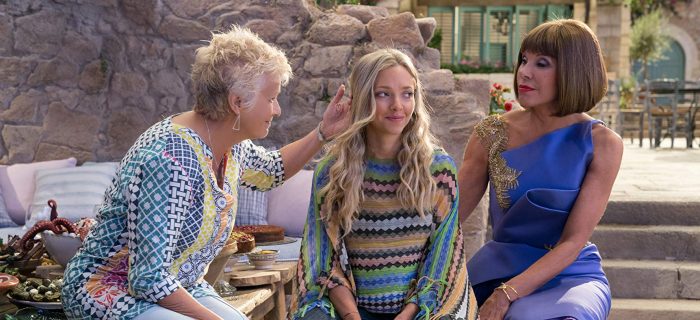 That said, the actresses who played younger versions of Baranski and Walters do an admirable job. Alexa Davies manages to capture the bumbling and barely behind nature of Walters' character while still bringing her youthful energy to the role. Jessica Keenan Wynn, on the other hand, manages to embody Baranski and her shrewd but sensual personality completely.
Lily James is also undoubtedly delightful. She has an enchanting smile, she provides the film with a bouncy and fun performance, and she definitely is a talented singer. I just wish there were more opportunities for her to release in-your-face vocals. Her vocal performance is amusing but not quite engrossing. To give her credit, I'm inclined to believe that the performance wasn't as entertaining because of poor sound mixing and not her performance.
Another thing that bothered me about the film was that Donna is a bit too trusting and naive when being courted by three men. She's so gullible that you might respond to her actions on screen with, "Oh, honey, no" or "Where are this girl's parents?"
Each of the men is indeed charming, but she so quickly falls for them that it is slightly concerning. I think families should be wary of this character's actions because it could send the wrong message to young men and women.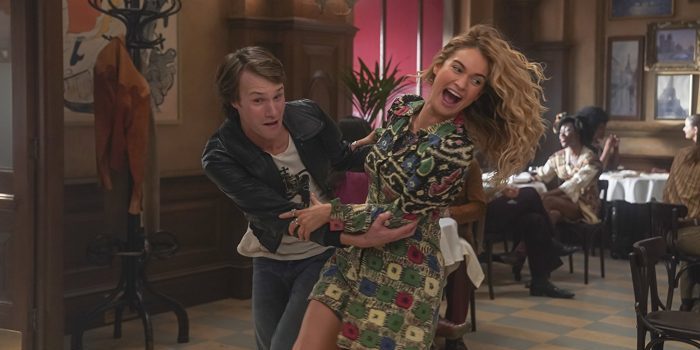 Your daughters might see a person they aspire to be, and the sons might see a person they aspire to be with. And I don't want to insinuate that the relationships are not consensual, but there are moments between Donna and these men in which the men are manipulative.
Young Harry claims he's a virgin, and he wants Donna to be his first. Young Bill has a second bed on his houseboat but indicates that it is full of supplies so Donna may have to find comfort closer to him. Finally, Young Sam seems the kindest and most understanding of the three, but it turns out that he has a secret that compromises his relationship with Donna. The moral for young people is, "Certainly have an adventure, but watch out for devious lovers."
Regardless, Mamma Mia: Here We Go Again is enjoyable especially toward the end when more ABBA standards are re-introduced including "Dancing Queen," "Fernando," and of course, "Mamma Mia."  
Summary
"Mamma Mia: Here We Go Again" is not a consistently enjoyable movie, but it will manage to pull many in by the end with its toe-tapping ABBA standards.