'Mission: Impossible – Fallout' Theatrical Review

Early in the film "Mission: Impossible – Fallout," the new CIA director Erica Sloan, played by Angela Bassett, tells the former CIA director and current Impossible Missions Force secretary, "You use a scalpel. I prefer a hammer." This line perfectly summarizes two opposing covert methods used in "Mission: Impossible – Fallout." On one side is a CIA operative who calls himself August Walker (Henry Cavill), and on the other is a character audiences have grown to trust, Ethan Hunt (Tom Cruise), strategic spy and infiltrator of rogue terrorist organizations.
Walker is a young agent who would rather speak with his fists than jeopardize a mission by playing dress-up and communicating face-to-face with international criminals. This contrast is an interesting one, and writer/director Christopher McQuarrie skillfully plays the audience by frequently returning to these ideological disparities.
In one particularly tense scene in a nightclub bathroom, Walker and Hunt have to find the elusive agent who worked for Solomon Lane (the villain played by Sean Harris in both this film and the previous one) who calls himself John Lark. When this unlikely duo finds who they believe to be Lark, each agent responds differently. Hunt, a veteran in the field, wants to knock Lark out with a chemical composition. Walker would much rather swing his fists around and knock the target unconscious with his superior strength. Scalpel meet hammer.
Hunt steps up to Lark, but their mark is no slouch. He sees Hunt on the prowl, and refusing to be prey, Lark reacts swiftly with a series of superior defenses. Hunt, not wanting to be out combated by a younger man, does his best to respond with a series of moves to knock this formidable foe out. Walker has no time for a series of blows. He wants action now and to end this ballet of fists, so he attempts to manhandle their adversary by throwing him around the surprisingly pristine bathroom and thrashing at him like Mike Tyson in the ring.
Eventually, Lark is knocked out by Walker when he violently swings Hunt's computer bag at the assailant's face. The young agent is proud of his finishing blow but quickly learns when Hunt attempts to create a mask of Lark's face with his computer that his assured attitude created more problems than it solved. Hammer meet scalpel. Hammer break scalpel.
This contrast persists during the entire film and McQuarrie proving his expertise as a screenwriter chooses not only to feature the differences between the two characters. McQuarrie understands to make these methodological distinctions work cinematically, each of them must acknowledge the potential strengths in the other's methods. Hunt must be willing to be the aggressive brute, and Walker must be more strategic.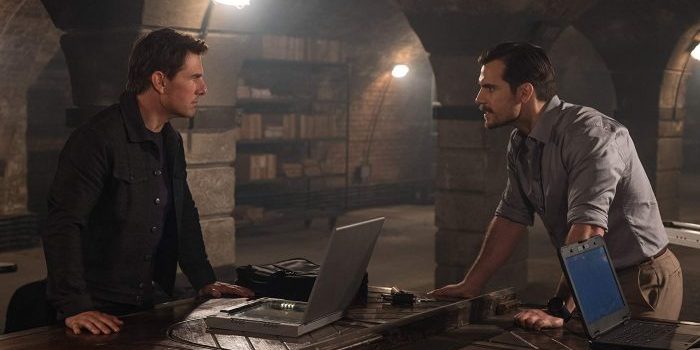 Sensing an uneasiness amongst my readers, I must reassure you that I have not spoiled the movie. To properly spoil it for you, I would have to wield plot points like Walker wields fists and swing them around madly pummeling you sentence by sentence. And I think it's safe to say that if I were to do that, I'd quickly grow weak because there are so many delightful surprises in this film. Not once but multiple times I audibly reacted to the twists.
Perhaps you'll see them coming, and admittedly, I don't envy you because there is nothing quite like being surprised by a clever reveal in a movie theatre. With the previous installment, "Rogue Nation," McQuarrie wrote some devilishly delightful revelations, but with "Fallout," he has raised the bar. Whoever makes the next Mission: Impossible film will face a great challenge when trying to top this installment's surprises. And what I love about McQuarrie's confidence as a writer of "Fallout" is that he doesn't save all of his deceptions for the conclusion of the film. He sprinkles them throughout to catch the audience off guard consistently.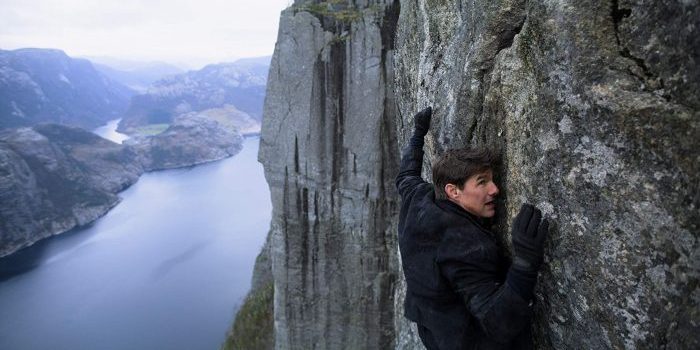 Cruise is often showered with praise for these films because he's fifty-six-years-old and still holding his own amongst younger actors such as Henry Cavill, Simon Pegg, and Rebecca Ferguson. Plus, he's doing most of his stunts, which is unheard of for a twenty-something actor, but for an actor who got his start in 1981, it's practically mythic. But let's not forget Christopher McQuarrie who continues to surprise at fifty with brilliant screenplays and action direction that tops many of the greats that came before him.
McQuarrie started his career in the early to mid-nineties with Bryan Singer. His first film was barely known, but his second "The Usual Suspects" is firmly planted in the cultural zeitgeist of the '90s. That recognition of McQuarrie's second film is owed to his eleventh and best film yet. He is a writer/director who is continually finding a new voice, and I can't wait to hear it again with his next movie.
Summary
Christopher McQuarrie delivers an incredible thrill ride of twists and turns with brilliant performances from Tom Cruise, Henry Cavill, Rebecca Ferguson, and Simon Pegg. Should not be missed!