Stuff I Want: The Eye of Agamotto Prop Necklace

Gift buyers… I've come to bargain.
Kudos to BlingSoul for releasing an awesome replica The Eye of Agamotto prop necklace inspired by the prop from the hit Marvel films, Doctor Strange and The Avengers: Infinity War.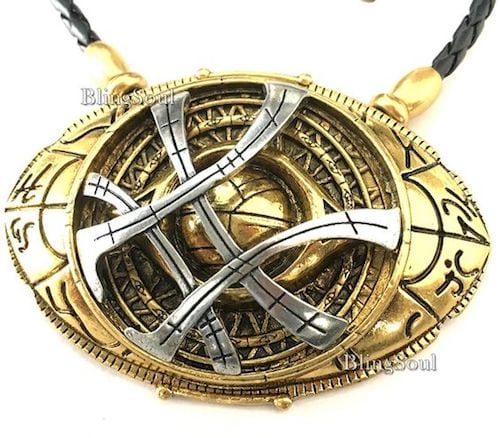 Set your rules in the world of fashion and amaze all the masses around you by attiring this colorful and attractive Eye of Agamotto pendant necklace. This elegant necklace has been inspired by the famous character which can be used as necklet also. The Eye of Agamotto infinity stone necklace is a very important relic that can be quite dangerous if used in the wrong hands, it can sort of manipulate probabilities which are the part of doctor strange the Eye of Agamotto story. All those who are seeking for an inspirational necklace with the exact look, then this is what you need. This eye-catching Doctor Strange amulet is designed very creatively and artistically by our master designers.
The amulet is 10cm (3 inches) wide and 5cm (2 inches) high. The leather cord is 70cm (28 inches) long with 5cm extendable fastening for comfort. And, this is only one size, as Amazon has multiple size options.