'Deadpool 2' (Spoiler Free) Theatrical Review

Going in, I have to admit, Fox and Ryan Reynolds outdid themselves this time. For every successful and fun marketing scheme we saw for the first Deadpool movie, we saw even more for the sequel, that to be honest, I was expecting more of a name from. From the viral marketing to the Celine Dione single to the re-release of Fox titles with movie money featuring Deadpool on so many classic covers (Revenge of the Nerds, Predator, Office Space). But that should have been the first sign of things to come for the movie. Everything the first one did great, we were going to get in abundance here the second time around, and that doesn't always mean success.
Deadpool 2 continues the fourth-wall breaking, self-acknowledging, over-the-top joking antics of the anti-hero Deadpool, once again perfectly portrayed by Ryan Reynolds. This time he's out to prove to his long time girlfriend, Vanessa (Morena Baccarin), that he can be more than just a merc with a mouth by vowing to protect Russell (Julian Dennison) from the time traveling Cable (Josh Brolin) by enlisting the help of a super duper team consisting of Domino (Zazie Beetz), Bedlam (Terry Crews), Zeitgeist (Bill Skarsgard), Shatterstar (Lewis Tan), The Vanisher (Suprise Cameo), and of course Peter (Rob Delaney). Let's not also forget the other heroes Fox has allowed to crossover from the X-Men franchise, Colossus (Stefan Kapicic), Negasonic Teenage Warhead (Brianna Hildebrand), and now Yukio (Shioli Kutsuna).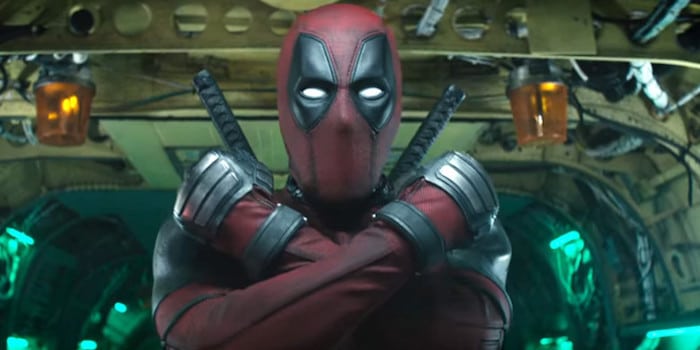 So is this a full-on X-Force movie?
Well the trailers teased we were heading that way, and we know that's already next on Fox's list, but let's not go down that road because we aren't Reynolds and aren't dishing out spoilers just yet.
Deadpool 2 has it's pluses and its negatives, just like most sequels. Where it fails is in its attempt to do everything the first one did great, times a million. The fourth wall is broken so much that it no longer stands, Deadpool's acknowledgement of being in a movie is incredibly overplayed, and those opening credits… what was even going on there? My love for Super Troopers 2 was due to the team's ability to acknowledge and even pay homage to what made the original so great without cramming the same antics down your throat for an entire two hours a few years later. Deadpool 2 falls on the opposite side of the coin by doing just that.
Moving away from the plot schticks, the acting is about what was expected as well. Reynolds is still a perfect Deadpool, getting writing credit due to the amount of dialogue his own personal self adds to the character he was born to play. Beetz as Domino was either perfect or just luck; either way any time Beetz had a scene the movie was better. The rest of the supporting cast, no matter how small or large the role, was fantastic too outside of one major role; Josh Brolin. Brolin falls flat as Cable, which was very disappointing considering his role in the pre-release marketing and his excitement for the character. Either it was too much of a commitment to a phenomenal Thanos in the other MCU or it was that Cable's character isn't as comical as every other character in this movie, including the real villains, making him seem less… well, there. Just something about Brolin's role felt like it just wasn't on par with what else Deadpool 2 was giving us on the acting and character fronts.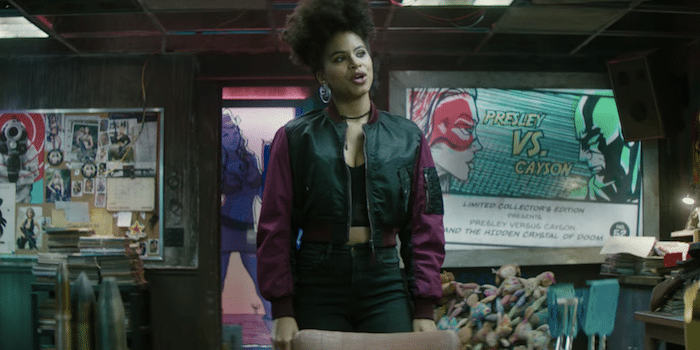 However, those are the negatives for what else is a very fun and action-packed movie. You might appreciate the over-done fourth wall breaking and self-acknowledgement, which is fine by me, I won't pass any judgement. So if neither of those will draw a complaint from you, feel free to get carried away by the gory non-stop action, the hilarious jokes and awkwardness, the return of Dopindor (Karan Soni) and Blind Al (Leslie Uggams), as well as all the other little gems littered throughout what is actually a very well written superhero movie plot. In fact, the action and plot for Deadpool 2 were much more impactful and exciting than the first along with some of the jokes landing much harder; especially the series of events in probably the best post-credit scenes from any superhero movie to date.
So complaints aside, Deadpool 2 is actually exactly what we expected. A shit ton of Deadpool crammed down our throats (just the way he likes it) with some fun teases at new characters we want to see more of. So Deadpool 1 fans rejoice, as Deadpool 2 is just a lot more of it.
Theatrical Review
Summary
Deadpool 2 is actually exactly what we expected. A shit ton of Deadpool crammed down our throats (just the way he likes it) with some fun teases at new characters we want to see more of.