'Long Lost: Volume One' Comic Review

Long Lost starts as a sort of slice-of-life, with something sinister brewing in the background. We meet Piper, her little puppy Pockets, and Piper's sister Frances (who seems spastic, but not a bad person). In between scenes of Piper attempting to house-break Pockets, keeps running into weird pieces of flesh and odd-shaped roots both in her dreams and in real life.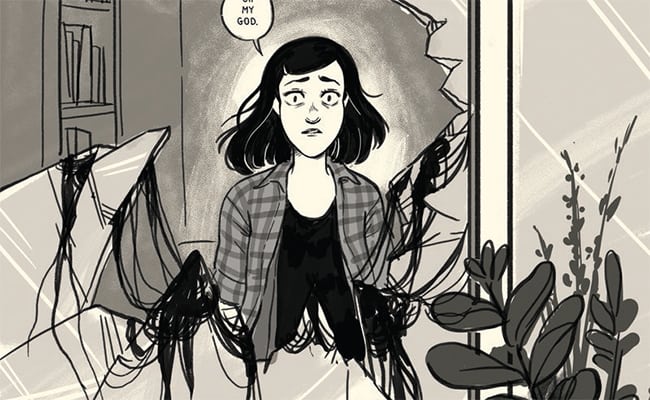 The grotesque comes to a head when Pockets goes missing and Frances shows up at Piper's for an unexpected visit. Both girls are met by a tall, cloaked being in a mask who invites the two to their estranged mother's birthday and disappears in front of their eyes. Piper and Frances must now make a dreaded trip back to their home town of Hazel Patch, where flashbacks and bits of prologue before each issue allude to a dark and painful past that neither girl really wants to come to terms with or even confront. After a rather disastrous car ride to their Aunt Jody's, Piper and Frances find Hazel Patch exactly how they left it: run-down and depressing. Bad quickly becomes considerably worse when the girls learn that Hazel Patch is NOT exactly how they left it, but somehow much, much worse with an unnatural sickness plaguing the residents. For reasons unknown to us as the readers, the townspeople blame Piper, Frances, and their Aunt Jody for the most recent turn of events, and the three must escape into the woods and search for the cause of this bizarre infection.
The art of Long Lost is done almost completely in black and white, with the characters and backgrounds drawn on the simple-but-realistic side of comic styles. It works well to set the characters in the real world and make the supernatural elements stand out as distorted and gruesome. Keeping the comic in black and white with only certain items being stained with faded color also adds to the horror film-feel.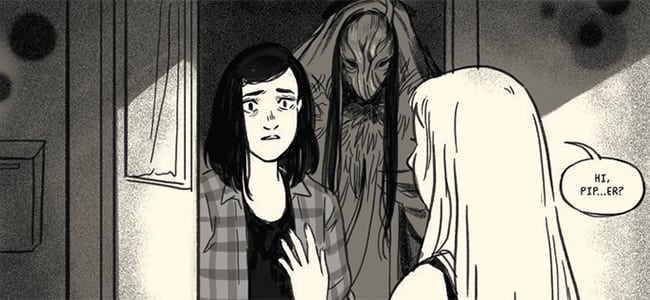 I really enjoyed issues 1-6 of Long Lost. The world of the comic completely pulled me in to the point of when I finished the last issue of the volume (after getting over the frustration of not having more to read, since issue 6 ended on a cliff-hanger) and walked out of my office, I was surprised it was still daytime with the sun out and not cold and dark like it had been in the comic. I would definitely recommend Long Lost to any fans of mild supernatural horror or even fans of dark fairy tales (the kind where normal people stumble upon hidden arcane elements), and am looking forward to seeing the story continue in issue 7 and beyond!
Comic Review
Buy 'Long Lost' Online!
The first trade collecting Book One of the critically acclaimed debut from Matthew Erman and Lisa Sterle, Long Lost is the story of two estranged sisters who find themselves drawn back to their small southern hometown after an invitation from an otherworldly creature. The pair are compelled to unlock the disturbing mysteries that are hidden in Hazel Patch.