'Sharknado 5' was Sharktastic
Another Sharknado for the books, and this one was even sharkier than before. Starting in London, we meet Fin, April and Gil as they prepare to meet with a special UN assembly to discuss the safety of the world. But when Nova calls with an amazing new discovery, that meeting is put on hold as Fin goes off to see what she has found.
In a style reminiscent of Indiana Jones, Nova has discovered that sharknadoes are nothing new to the human race and the key is a special fin-shaped stone. Fin and Nova steal the stone, leaving a weighted bag in its place. Naturally this triggers a trap, and they rush out just before a rolling shark head and a wave of sharks overcome them.
Back in London, the Sharknado crew is hit. While his parents are off fighting the sharknado, Gil is left with Nova. As the winds pummel them, Nova wisely has Gil try to hold on to the stone as means to keep him safe. Obviously this plan was severely flawed, and he is taken up into the sharknado. Luckily, he is wearing a special British-developed helmet that creates a force field around him that keeps him safe. The helmet also acts as a GPS locator. Seriously, the Brits developed some pretty cool anti-shark technology in a very James Bond way.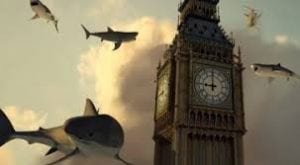 This is where things start to get great. Amidst all the celebrity cameos (I'm looking at you Abby Lee and Brett Michaels), London is destroyed and we find out that this sharknado is no ordinary one. This one has the ability to teleport. And boy does it! Taking us all around the world, we get to watch as the 'nado takes out one big city after the next and the sharks eat up one celebrity after another.
Now, back in Kansas, the rest of the Shepard family is building a bunker…but we won't dwell too much on this throughout the entire movie or review. The basic premise of this subplot is, once again, a sharknado is going to rip through Kansas and they are prepared this time…or so they think. Though, really, any true Kansan would already have had a shelter in the style of a basement or cellar, and wouldn't be watching the 'nado from the front porch.
What about that stone? I hear you! Well, that stone was just a long-awaited prize for the Sharknado Sisterhood (someone please tell me how I can join that) and is a step closer to ending all sharknadoes for good. Nova and her team have discovered various sites that, with the key, will save us forever. But first they have to save Gil, who is still floating around inside the sharknado.
Now we are at my favorite part. The sharknado blob, yes there is a blob of sharks, is attacking Tokyo. It's still the sharknado, but now it has transformed into something much more terrifying: a Sharkzilla. Gil is now trapped in Sharkzilla when Nova and a select team go in to save him. Naturally this fails, Nova is mortally wounded, and my interest began to wane slightly. I mean, come on. Nova was pretty dang awesome, a great female lead, kicked tail, and helped solve the mystery. I digress. Finally, Fin agrees to stop the sharknado the way Nova told him to in the first place, mostly because he believes Gil is dead and there is no hope for him.
Awkwardly transporting to the great Sphinx, Fin and April begin the quest to end all sharknadoes. They find a machine left from the last outbreaks and use it. Sadly this destroys the pyramids, but at least we found out they weren't just tombs or objects left from alien contact. Finding that this alone won't work, they head outside to stop the ocean from over taking the world and infesting it with sharks. Fin, with the help of a staff and a well-placed relic, parts the sea a'la Moses style. April, on the other hand, sees that this alone won't work. Thanks to her still bionic body, she overloads herself and saves the entire world. In the aftermath, Fin finds her head (yes just her head, she's bionic remember) among the rubble. In a very Stella-esque way, he cries out her name.
Now, the world has been destroyed and thrust into a very post-apocalyptic scene. Fin has wandered the world with April's head in a hobo sack on his back searching for any other people. I guess at this point I should note that the rest of the Shepard clan has been taken by the sharknadoes as far as we know. But what's this? A jeep coming from the distance? In a really bizarre twist, Fin is picked up by a now adult Gil and they head back to save the world and their family. Ending in the style of Indiana Jones, we are left with a "To be continued…" and way too many questions.
Overall, I really enjoyed this installment of the Sharknado franchise. The celebrity cameos were well done, more so than previous movies. The not so subtle references to current pop culture were brilliantly timed and didn't seem overly out of place. I give serious kudos to the writers for adding in a Hamilton reference in a shark movie.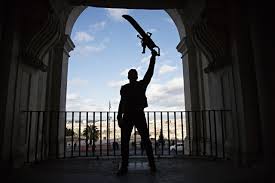 The CGI was just as terrible as we would expect and have come to love. The acting was just as spot on as usual and kept the same tones as the previous movies. Lucky for us, if you hadn't seen the previous movies, Syfy showed them all in order before the premier. Though truly, if this was your first Sharknado movie, you really wouldn't have been too lost.
The ending, again, left us with many more questions and a need to know what happens next. At first I was quite upset at how this ended but, upon reflection, this is pretty normal for this series. It is a great ploy to keep people watching and the franchise going.
Overall, I give Sharknado 5 four out of five sharks. It was another fun ride and I honestly can't wait for the next installment.