"Pirates of the Caribbean: Dead Men Tell No Tales" Movie Review

I was ready to hate this movie. I saw the trailers and thought nothing about this film would work. Javier Bardem came off as too silly, Geoffrey Rush was overly dramatic, the franchise was clearly setting up the new Elizabeth and Will type couple, and Johnny Depp was up to his overplayed shenanigans. Then the reviews came out months later from major critics and all of my reservations with the film felt justified.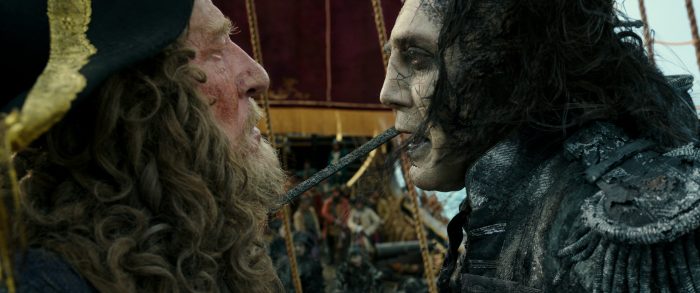 However, I was pleasantly surprised how enjoyable I found this movie to be. I'm not saying that it's totally brilliant and well done, but it was entertaining most of the time. That being said, it was a complicated mess of a plot that made zero sense, but for better or worse, Captain Jack Sparrow can still carry a film.
The film is still Jack's but there are plenty of new characters and plot points as well. Captain Jack is down on his luck, and a monstrous new captain named Salazar (Javier Bardem) is on his trail. The only way Salazar can be stopped is if Jack obtains the Trident of Poseidon. However, the drunken captain is not alone on this journey. Accompanying Sparrow is Carina Smyth (Kaya Scodelario), a brilliant and beautiful astronomer, and Henry Turner (Brenton Thwaites), a traitorous young sailor in the Royal Navy. The stakes are higher than ever in this rip-roaring, swashbuckling adventure.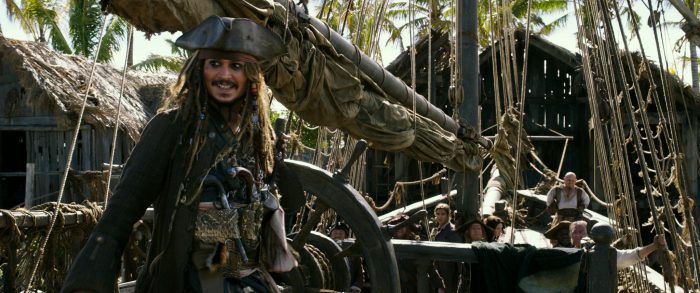 Writer Jeff Nathanson brings to life this new adventure with a mix of action, humor, and fantasy. Unfortunately, Nathanson is not able to strike a strong balance between these three elements, but it's a respectable effort by the screenwriter of Catch Me If You Can and Rush Hour 3. The reason Nathanson's script doesn't effectively work is because it is too bogged down in plot and seemingly random character connections. In the same way Star Wars is struggling to break from the Skywalker family, Pirates of the Caribbean can't seem to leave the Sparrows and the Turners behind.
Additionally, Nathanson's script fits together too neatly. The scenes move quickly, the plot points are spoken throughout, and characters conveniently show up in the right place at the right time. I think that's a fair criticism of a film. Convenience should not be the goal. When compared to a puzzle, Pirates of the Caribbean has 50 pieces that any child could assemble in minutes, but I must admit that when the child looks down at their finished product, it will still make them smile. Last week's film, Alien: Covenant, on the other hand, is 2000 pieces and a bunch of them are missing or destroyed, so the assembler gets frustrated before they've even reached the end.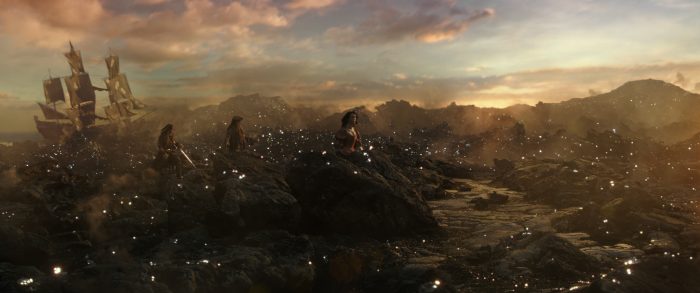 That's not to say that Dead Men Tell No Tales is not a complex project in other ways. Take for instance it's overuse of CGI. I don't know who decided the Pirates films need to be glorified CGI fests. I personally don't think these films work on that level. The magic inherent was never the supernatural elements of these films; it was the focus on character development and humor. When action works best in these films, it possesses human stakes and a bit of wit. Now this franchise is using big set pieces and computer generated behemoths not because the story demands it but because they think the audience demands it. Perhaps Disney's data is different than my own, but I don't think anyone requires massive effects to enjoy themselves at the movie theater.
Look at Logan, a film that deconstructs the superhero genre, it works because writer/director James Mangold focused on character and character evolution. Pirates may not be an R-rated blood-fest like Logan, but it could still take a page out of its book. Refocus on character and the audience will come along for the ride once again. If the creative team behind this franchise doesn't, then it may soon enough be forced into Davy Jones' locker.
"Pirates of the Caribbean: Dead Men Tell No Tales" Movie Review -

80%
Summary
"Pirates of the Caribbean: Dead Men Tell No Tales" is an overcomplicated blockbuster, but Johnny Depp makes the experience enjoyable.