"King Arthur: Legend of the Sword" Movie Review

I despised this movie. "King Arthur: Legend of the Sword" was boring. It was ugly. It was a Frankenstein's monster of tonal shifts. I will never see this movie again, and I don't encourage anyone to waste their time with it.
I've written 42 words so far about this movie, and I'm tempted to submit my review to the editors. However, it wouldn't be fair to attack a movie without citing evidence.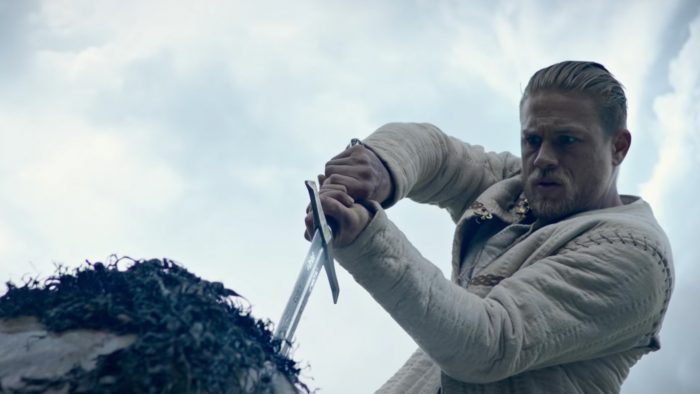 The beginning is one of the worst expository scenes I've ever seen. I had no idea who any of the characters were and why I should care about them. Some might argue that people have a base knowledge of the legend of King Arthur, so they can use that previous knowledge to fill in the blanks. The problem with that argument is that I've read many of the legends of King Arthur and his knights of the round table, and I still had no idea what was happening.
Eventually, it was clear that Arthur's parents died in the opening, and he was adopted into a brothel because it's a "gritty" place to put the main protagonist? Then there was a montage of him growing up and learning martial arts. I don't remember that from the legends. After he learned kung-fu, karate, or tai-chi, Arthur started earning gold coins from his martial arts master and from other odd jobs. Both of these moments were forgettable.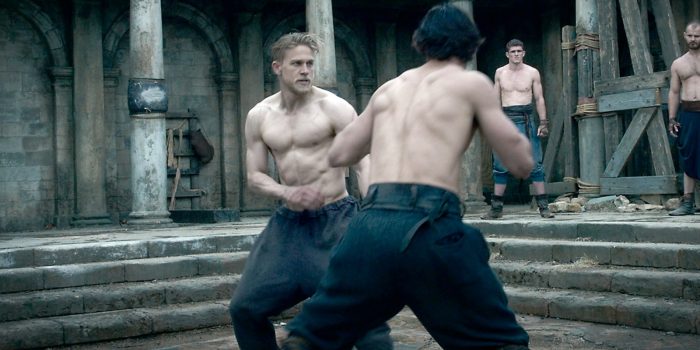 This montage of growing up, martial arts, and coinage had potential. It used director Guy Ritchie's filmmaking style well, but that style wasn't present throughout. Instead, "King Arthur" was a baffling mix of "Lord of the Rings" style action, video game nonsense, and Ritchie's style. It's a bit of a cliche for a reviewer to say that this movie doesn't know what it wants to be, but never has that phrase ever been so appropriate for a movie.
Also, it's easy to point fingers and say Warner Bros., the studio behind the film, clearly didn't let Ritchie embrace his style and forced him to make a by the numbers medieval epic. My finger is not pointed at Warner Bros only. My finger rests in front of Ritchie's nose and everyone who worked on pre-production for this film. Watching the scenes, a violation on my eyes, led me to believe that no time was devoted to storyboarding this film. In fact, I think they made these fantastic sets, sewed time-appropriate costumes, and hired a bunch of actors with accents then began shooting with no attention to how to frame a shot, especially for an action film.
Had they storyboarded this project, they would have realized that no one could possibly discern what is happening in the action sequences. Did Zach Snyder step in to oversee the CGI action? It honestly wouldn't surprise me if that is what happened.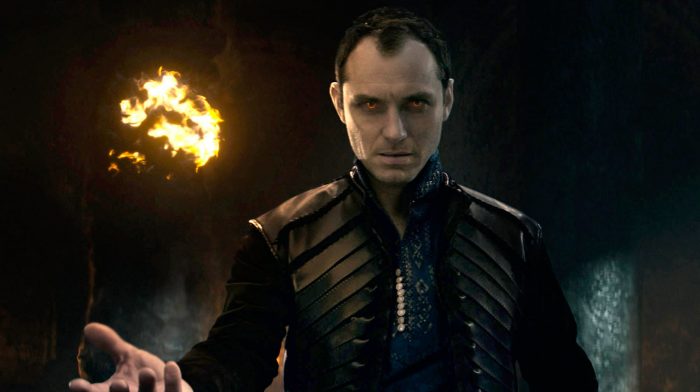 Okay, now it is time to point the finger at Warner Bros. WB, stop making gritty reboots of awesome properties. I gave you a pass for "Batman v. Superman" because I thought the themes present in the film were powerful, but that film does not showcase what is cool about Batman or Superman, and this "Legend of the Sword" nonsense is a travesty to King Arthur's name.
Warner Bros., you have access to some incredible properties, and you consistently fail to produce thoroughly engaging movies with them. You failed with "Godzilla," "Suicide Squad," "The Legend of Tarzan," and now "King Arthur: Legend of the Sword." We've talked about this before. Simply because "The Dark Knight" made hundred of millions doesn't mean all of your major properties need that gritty tone. The tone is not what made that movie work. It was the time the Nolans put into writing and developing the project. Develop your projects, and stop producing garbage.
Here's hoping I'm not going to have this rhetorical conversation with myself when "Wonder Woman" comes out in a few weeks. My hopes aren't high.
"King Arthur: Legend of the Sword" -

60%
Summary
"King Arthur: Legend of the Sword" is one of the worst medieval epics ever made.