"Guardians of the Galaxy 2" Movie Review

Once in a blue moon or purple planet, audiences have the opportunity to see a sequel that is better than the original film. Marvel Studios' "Guardians of the Galaxy Volume 2" is absolutely one of those sequels. Even more surprising is how writer/director James Gunn was able to take his grounded original film about a motley crew of outcasts and improve upon it for the follow-up. That is no easy task.
The sequel has more emotional character arcs, epic set pieces, and even more consistent humor than the first film. Gunn also effectively shows an impressive amount of restraint throughout. In the second scene of the film, the Guardians face off against a terrifying, tentacled beast, and rather than showing this epic showdown, Gunn focuses in on the adorable antics of Baby Groot. The action is pushed back and the little dance-machine is in the foreground. In these opening moments, you might ask yourself: Is this just going to be the Baby Groot movie? In scenes that follow this one, Gunn responds with a profound "No!"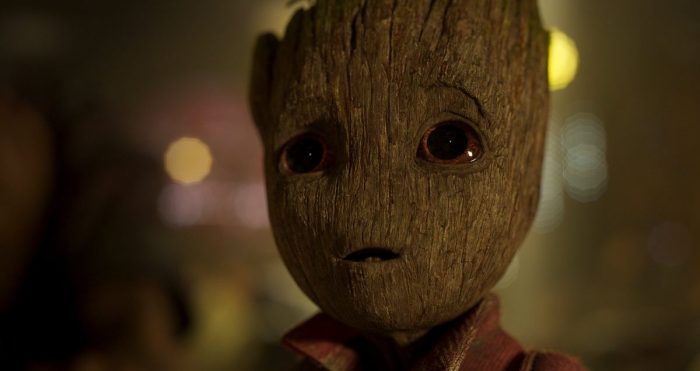 The brilliant director manages to use Baby Groot sparingly for ultimate "Awww" factor
And humor. Gunn shows this same restraint when dealing with another character, Drax the Destroyer. In the first film, Drax was revealed as a character who took everything literally, which made for some hilarious scenes. A worse director would throw Drax and Groot haphazardly into scenes to strike that easy laugh, but Gunn is a professional.
He knows he can't overwhelm the audience with the same style of humor, so with Drax he gives us just the right amount of dialogue and infectious laughter without going overboard. I mention the laughter because Dave Bautista, who plays Drax, has the best laugh ever captured on screen, and Gunn knows exactly where to put it and how long it should last for chart-topping giggles.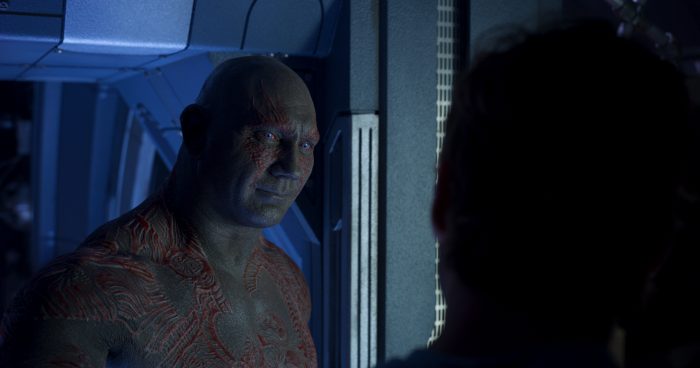 Along for the ride are of course Gamora, Star-Lord, and Rocket Raccoon, perfectly voiced by Bradley Cooper. I liked Rocket in the first one. He had a chummy relationship with Groot, he let Star-Lord have the business, and he sure knew how to wield a blaster. In this film though there's so much more to him than witty repartee and blasting bad guys. This Rocket is cunning, more inventive, and surprisingly was the character that I emotionally connected with the most. I told you; Gunn is a professional. I don't know how he does it, but he manages to make audiences care for a talking raccoon. Peter Jackson, a more seasoned action director, could barely do that with his giant gorilla, King Kong.
As I write this, I'm realizing I haven't even told you the plot, and I don't think I will. Famous writer William Zinsser said about film criticism to not give away important plot points and to keep any details simple. I'll do him one better by telling you nothing because the plot is secondary to character development, and that is rare in modern blockbuster filmmaking. I tip my hat once more to James Gunn for this impressive feat.
If you're worried that you won't be able to connect to the animal character or the tiny tree, don't you worry. Gunn still has more heart and soul in his never-emptying bag of magic. The human, Star-Lord, finally meets his father and has some beautiful moments of joy but not before questioning the legitimacy of his father's intentions. The writer/director strikes a perfect balance that will resonate with any fan, who has ever had his/her fair share of conflict with their parents.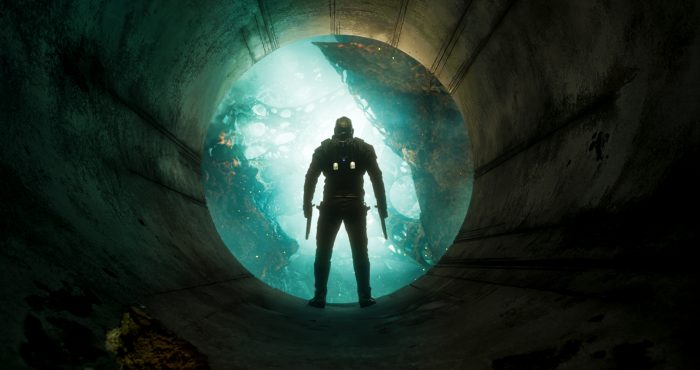 Gamora also faces her own familial problems with the more present inclusion of her sister Nebula. They bicker, they get into physical altercations, and Nebula even tries to kill Gamora with a spaceship. You know, you're basic family drama.
Ultimately, that's what this film is. It's a family drama set in the most breathtaking worlds you've ever seen on screen. Gunn didn't set out to only make the best new action, adventure, comedy film. He set out to make a film that spoke to the hearts and souls of all people in the world who have ever conflicted with their family, friends, or colleagues. The message becomes this: At the end of the day, if you can set aside your differences, and you can embrace what makes you kindred spirits then you can accomplish anything. Thank you, James Gunn.
Movie Review
"Guardians of the Galaxy Volume 2" -

95%
Summary
"Guardians of the Galaxy Volume 2" is the best science fiction sequel since "Empire Strikes Back."