Top Ten Worst Video Game Movies (Part 1)

With all the video game movies like Assassin's Creed, Angry Birds and Warcraft coming out, it feels like a good time to reflect on the checkered past of video game adaptations. I'm as psyched as the next person for a video game cinematic universe, but history has taught me to mitigate my expectations.
The movies described in this article are examples of what can go horribly wrong when video games hit the silver screen. They're so bad, they make you wonder if the Tetris movies might actually be a dumb idea (yes, there's going to be a movie about Tetris). Be warned, this article will contain spoilers, but it's for your benefit. Its better you don't watch any of these anyway.
10.) Tekken (2009)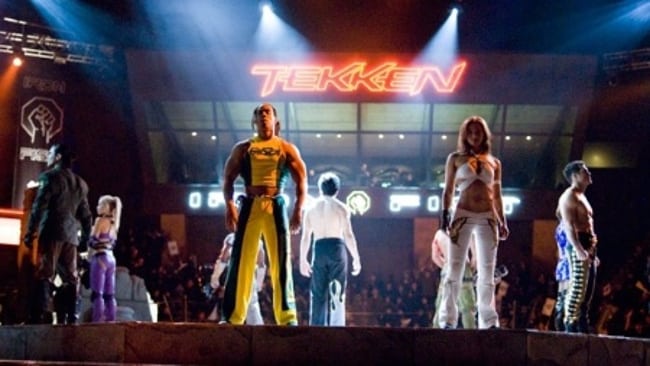 Tekken opens with the song Your Goin' Down by the Sick Puppies and just keeps trying too hard from there. The story centers around Jin Kazama living on the streets followed by the standard rush to the action: Jin's life sucks, his mom gets killed, he fights in the Tekken Tournament. The Tekken Tournament is, of course, being held by the Tekken Corporation in Tekken City (which I can only assume is on Tekken Planet in the Tekken Galaxy).
Though people fight and use the word Tekken a lot, this movie should not be associated with the game in any way. Adaptation is fine, but the characterizations are way too off. Kazuya is a wealthy playboy instead of a stone cold murder machine and, worse, Heihachi is a good guy! Heihachi and Kazuya even start off as buds even though, in the game, Heihachi threw Kazuya's ass off a mountain when he was 5 years old and they never really patched things up. Best line ever right before Heihachi gets shot: "I am Mishima Heihachi! I am Tekken!" Did he mean the corporation or the city? Or the tournament? I still have no idea what Tekken means…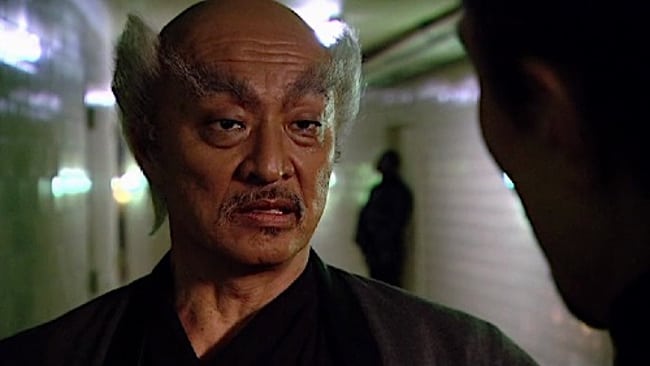 The only people who came close to earning their paychecks in this movie were the costume designers, and it's pretty bad when the best person in production was the seamstress. Unfortunately, their strict fidelity to the game's look is actually a little too spot on.
There was really no way to make Heihachi's hair look right in live-action, but man does it look stupid. If they were going to use this hair, they really missed out on adding Paul Phoenix, because that wig-piece woulda been epic. Ultimately, the costuming winds up looking like cheap cosplay that's out of place in real life. Raven's costume looks cool in the game, but he looks like a reject from Running Man in live action.
Speaking of costume design, the entire cast consists of pretty, oiled up people. Tekken has more voyeurism than Megan Fox in a Michael Bay movie and, of the entire cast, the top of Christy Montero's buttcrack is by far the most compelling character. You may think I'm exaggerating, but this girl doesn't own pants that even think about covering the top inch of her butt cheeks, and they certainly show up on screen more than good fight choreography.
Every fight goes the same way: Jin gets his face beat, lays on the ground bleeding, has a flashback to his dead mom, stands back up to some inspirational music and wins the fight. Every time. Every. Damn. Time. And there are way too many flashbacks of the same thing. I've never wanted someone to forget their dead mother so bad in my life.
The worst part is, Tekken could be a good movie (see: Tekken the anime) and the action could be spectacular. But of all the cool characters in the game, they use Yoshimitsu, the guy with the katana, to be in a movie about fist fights. Good choice guys. Steve Fox is Jin's old mentor for some reason and never boxes. Eddy Gordo is the only character who fights like he does in the game, and he loses in about twenty seconds.
This movie is nothing but low-rent Bloodsport starring people dressed like Tekken characters. The story is terrible, the fights are crap and it's a waste of everyone's time. But at least you get to see Kazuya in bed with Nina and Anna Williams because…reasons.
9.) The Wizard (1989)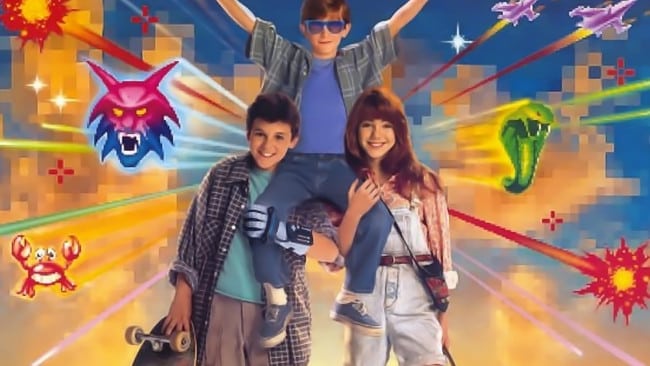 First off: Fred Savage. On top of that, Christian Slater and Beau Bridges (getting Beau Bridges is always like the movie saying they couldn't afford the good Bridges).
The movie opens with a kid walking for 5 mins. This kid is Jimmy (i.e. The Wizard) and he's trying to walk to California. Maaaan does this kid want to go to California. The word "California" is seriously 95% of his dialogue. Jimmy is very talented and single-minded, but gets into all kinds of trouble because he does weird stuff, causing his parents to consider putting him in a mental institution because people didn't understand autism in 1989.
Long story short, Jimmy and Fred Savage run away and they meet a tough red-headed girl named Haley who is also running away. Kids were apparently just running amok in the late 80's. Because Jimmy rocks so hard at video games, they hatch a plan to "hustle" arcades to fund their journey to the West Coast. You remember this from back in the day don't you, when random businessmen would hang out in arcades to wager vast sums of money on Ninja Gaiden? Wait, you say that NEVER happened? Like, ever?
Anyway, one of the villains is a menacing 5'8" nebbish man with a receding hairline and a bolo tie. This guy acting tough is less believable than Fred Savage having an adult acting career. He's been hired by Jimmy's parents to find the boys, but Christian Slater and Beau Bridges decide to find them first for some reason and keep interfering with his job. Not sure how he's the villain in all this, but I didn't write the movie.
The other villain needs no introduction: LUCAS, the Golden One! The three encounter the gaming legend that is Lucas on their travels and he challenges Jimmy to a match. They get to his house, and that's when Lucas whips out his secret weapon: the Nintendo Power Glove. He then proceeds to school Jimmy in Rad Racer before dropping the line from hell, "I love the Power Glove…it's so BAD." Shivers. Every time.
As memorable as Lucas is, the most magnificent line in the whole movie has to go to Spanky, one of the many members of twelve-year-old Haley's wide network of trucker contacts (don't ask). He's driving them somewhere and says, "I'm already in a world of trouble when Ol' Pete finds out I stole his rig. Do you want me to get a ticket too?"
It doesn't seem weird until you realize there was no mention of "Ol' Pete" before this, there was no rig stealing scene at all and Spanky owns his own rig, so why would he need Ol' Pete's rig regardless of who the hell Ol' Pete is?! I seriously thought I had a stroke and forgot what movie I was watching.
Jimmy practices 96 different games in preparation for the finale, but the actual tournament is just two games. So the montage of Jimmy practicing for the tournament ends up being longer than the tournament itself, but the final game they play is the brand new Mario 3, one of the biggest reveals at the time. Mind = Blown. For some mysterious reason, I couldn't wait to play it once it came out…maybe while using a Power Glove…
This was brainwashing at its finest. I liked this movie when I was younger because I liked videogames and The Wizard was a pretty sweet feature-length commercial for Nintendo. They marketed that bad boy up, down and side-ways. I would be surprised if someone could find a scene without product placement. Overtly and subliminally, this movie was designed to convince millions that Nintendo was the most magical thing in existence. They even tried to convince us that the Power Glove didn't suck.
In the world of The Wizard, not only could Nintendo make you money (in 1989) but, as shown when Christian Slater and his dad bond over Mario, it also brings families closer together. Dammit Nintendo, is there anything you can't do? It was manipulative as hell, but to be fair, it at least tried to have a story. Which is more than can be said for a lot on this list, even if the story is just "Nintendo kicks ass".
Either way, the Toby Maguire Easter egg makes it all worth it.
8.) Double Dragon (1994)
If Joel Schumacher's Gotham took a steaming dump on The Warriors, it would look like the post-apocalyptic setting of Double Dragon. It's gawdy and the streets are crawling with gangs who have no cohesive theme. Some of them are Mohawk sporting thugs, some look like sports players and some are dressed like mailmen. The costuming is all over the place and every single skin cap line is visible, literally all of them. No one in this movie could be bothered to even pretend they cared when they were making this.
The "plot" of Double Dragon centers around a powerful medallion, which turns the bad guy into a cardboard cutout with shadow powers and turns the Lee brothers into bedazzled karate-strippers who can possess people. "Why?" you may ask, but you would be a fool to expect an answer.
Though most of the movies on this list have terrible casting, this movie actually gets 75% of it right. Alyssa Milano plays the spunky female lead, T-1000 is the villainous shadow king, Jimmy is played by Iron Chef (Mark Dacascos) and Billy is played by Scott Wolf. And before you ask, yes, Scott Wolf is terrible. At least Iron Chef actually knows martial arts. Gotta love the white-washing too. Jimmy and Billy are supposed to be biological brothers, but one of them is clearly Asian and the other is the whitest slice of Wonder bread in the loaf.
This movie also has cameos from Andy Dick, Vanna White and George Hamilton: celebrities at the top of Hollywood's list of who-gives-a-shit. Oddly, they all play themselves and work on a news program together. Did they all quit their jobs and become news journalists? Why are they in this movie? Why any of this?
Whenever there's action, it's painfully obvious that Scot Wolf is not nearly coordinated enough to fight…or act…or probably dress himself without help. All of Wolf's "fight scenes" are edited to hell in attempt to cover up how much he doesn't know karate, but no cameraman is that good. While Jimmy's windmill-scissor kicking two thugs at once, Billy's feebly tapping some guy with a traffic cone. After Jimmy does a double front flip off a car, Party of Five gives his opponent a noogie. You get the impression that Billy is supposed to be the comic relief, but that's totally unnecessary in a movie so hilarious to begin with.
Of all the cringey one-liners, Wolf has the cringiest. Burt Ward would be embarrassed by these puns. At least there's also plenty of tasteful fart humor and the two brothers hilariously Home Alone screaming whenever they're in danger. Some may defend the low-brow writing in Double Dragon by saying it's for kids, but that is an insult to children. This movie is for no one.
Even Alyssa Milano in booty shorts can't save this movie from being garbage.
The most disappointing part is the two brothers don't fight over who gets the girl at the end (which is seriously how the video game ended). If it had, Iron Chef would have at least beat Scott Wolf's ass and left me with some sense of satisfaction for sitting through the whole thing.
7.) King of Fighters (2010)
Double Dragon was made in a river of cheese that was the 90's, but King of Fighters was made in 2010 and has no such excuse. The fighting is boring, the effects are lame and the story is borderline insane.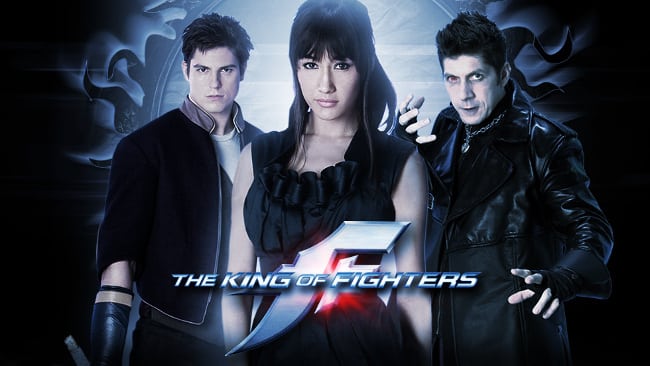 All of the contestants of the fighting tournament use earpieces that send them into another dimension so they can…like…fight in another dimension I guess. What? Why don't they just fight in this dimension? Then, Rugal takes over the earpiece dimension and changes the rules so he is super powerful and he threatens to kill anyone who enters. But, and they never point this out, there is no reason for anyone to go into the earpiece dimension to fight Rugal now, but they all do anyway. Then, randomly, there's a floating ball of snakes sometimes. What the hell is going on?
The main character is Mai, played by Maggie Q. Other characters from the game make an appearance as well, but about a million liberties have been taken with them. Vice and Mature are written as hot lesbians who end up fighting in skin-tight black leather outfits for most of the movie because…reasons. For some other reason, Rugal often fights using various sports themes such as hockey and baseball. Rugal is also portrayed by Ray Park, an amazing stunt man who really shouldn't say stuff. It's like the production team made sure to make every mistake they could.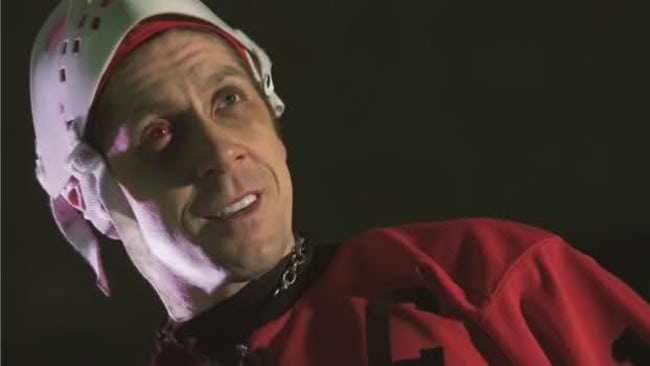 White washing rears its ugly head again as Kyo Kusanagi, a Japanese character, is portrayed by the very obviously Caucasian Sean Faris, best known for his starring role in Never Back Down. (I bet he wishes he backed down from this roll!  Boom!) In several flashbacks, Kyo is a Japanese child. He's even a Japanese baby in a picture his father has! But all grown up, he's Sean Faris. Japanese kids can't grow up to be white adults you stupid movie! Did you think no one would notice?! God you suck!
6.) House of the Dead (2003)
How does Uwe Boll keep getting work? This movie is like a masterclass for bad writing. For one, it has nothing to do with the game besides there are zombies and they get shot occasionally. Instead, generic dumb kids go to an island infested with the undead, yadda yadda yadda. This movie rips off every ridiculous horror cliché ever and the random nudity is so gratuitous that you kinda just get used to it. At one point, a topless blond casually chats with Clint Howard while he's wearing full-body murder garb and it seems like the most natural of things. To Clint's credit, he does keep a gentlemanly amount of eye-contact.
As terrible as the whole thing is, the special effects are what make this movie really special. Initially, the zombies have glowing red eyes, but someone quickly realized that looked dumb and they have regular eyes the rest of the movie. Even worse, quick snippets from the video game (yes, the really dated arcade game) randomly flash during transitions and action scenes…and sometimes just for the hell of it. Remember when Uwe Boll used comic-style images in between scenes of The Hulk? It's like that, only more jarring and pointless.
Zombies, indiscriminate nudity, all of it I can accept. But one of the dudes pukes right in his girlfriend's face and she just changes her shirt without dumping him immediately. Later that night, they even almost have what he refers to as "humpity-bumpity" (that's right…"humpity-bumpity") even though he spewed chunks on her mere hours earlier. Then, the same dude gets knocked over in a porta-potty, so he gets covered in feces. Even without her covered in vomit and him soaked in human waste, you can almost smell how much this movie hates you.
The best part is when one of the actors straight-up forgets a line and nobody even notices. He literally says, "The Spanish were trying, uh, from falling the sands of the Limeys." I swear to god, that's word for word with subtitles. What in the hell does that mean? They couldn't take five minutes to fix this? It was a voice-over you lazy bastards!
In fairness, this movie seems to embrace the ridiculous extremes of both horror and video games. Absolutely nothing is taken seriously. If anything, it's a bizarre mix of action and intentional(?) humor that coalesces into an odd train wreck you can't look away from. The movie ends with, I wish I was making this up, a full-fledged sword fight between one of the hot girls and the zombie leader. ARE YOU NOT ENTERTAINED?!