'Kong of Skull Island #1' Comic Review

Written by James Asmus; Illustrated by Carlos Magno; Coloring by Brad Simpson; Lettering by Ed Dukeshire; Cover by Felipe Massafera
---
Kong of Skull Island begins with an unknown narrator explaining the faults that lead to tragedy. Readers will later realize the narrator is a storyteller. She has been documenting two conflicting tribes, the Atu and the Tagu. The elderly storyteller explains that insignificant quarrels over respect, opposing royal families, tribe traditions, and pride have divided the tribes. Not only that, but their opposition to one another has rendered them vulnerable in a dangerous way: they are blind to the threats of nature.
This reckless disregard for threats beyond those of man will send both groups of people into hazardous territory. I mean that quite literally; their disdain for one another will be tested as the tribe must unite to save their people from a natural disaster. However, it seems as if fate is not on their side. Even if the people manage to avoid the destructive forces of their home, Skull Island will surely have deathly situations in store for those seeking refuge.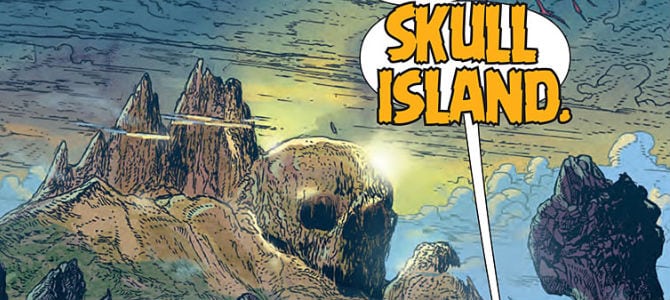 I had high expectations for Kong of Skull Island. Unfortunately the comic fell short—at least, it did so in terms of clarity. Throughout much of the comic, the panels seem to jump around incoherently. It made the comic difficult to follow and ultimately difficult to enjoy. I will admit that I had to read through the comic twice to clear up my confusion and truly get to know characters.
Once you get past the jarring jumps in perspective, the art is impressive. The illustrations and coloration are a couple of the comic's strongest attributes. In fact, I think the art is enough to persuade readers to continue with the series, since the storyline is fairly basic and somewhat familiar. In all honesty, the basic concept (of people divided only to reunite due to the forces of nature) has been seen in other works. So, unfortunately for Kong of Skull Island, it makes the initial conflict less thrilling. Of course, that changes to a degree when Skull Island is brought into the picture. While that island may signal death and disaster for the people depicted in the comic, it provides a potential turning point for the story to truly get its footing.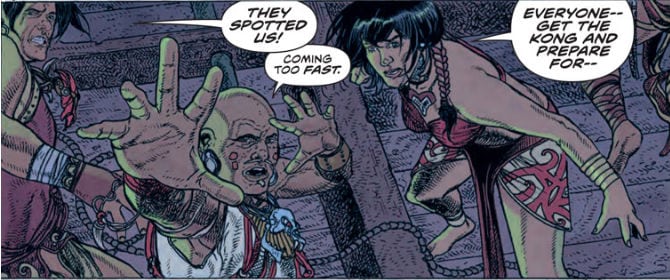 As of right now, it is hard to say whether or not Kong of Skull Island will deliver a praise-worthy comic adventure. This first issue's conflict did not grab me. Personally, it had a predictable quality to it; of course, it is difficult to have much else when you are working with twenty-five pages and need a reason for people to set foot upon a notoriously dangerous island. That said, I do think it deserves a chance to develop its story further. After all, there are six issues in the series, and I know for a fact readers will enjoy the artwork.
Comic Review
BUY ONLINE
BUY 'KONG OF SKULL ISLAND #1' ON AMAZON