'Lumberjanes/Gotham Academy' #2 Comic Review

written by Chynna Clugston Flores; pencils by Rosemary Valero-O'Connell; inks by Maddi Gonzalez; colors by Whitney Cogar; letters by Warren Montgomery
---
The second issue of Lumberjanes/Gotham Academy picks up with the events immediately following the end of issue one. That being said, the start was a little jarring and made me question, "Wait, how did they get here again?" After double-checking the end of issue one, though, it all made sense.
The story picks up with Gotham Academy student Olive and Jen, the Lumberjanes' scout leader, waking up in what appears to be a "retro" teenage girl's bedroom, in what they correctly presume to be Greenwood Lodge. If you'll recall, the two were kidnapped my floating, cloaked, deer-like skull-faced monsters at the end of the last issue (so my initial confusion even made sense from the characters' perspective). The two fumble around a bit trying to figure out why there is a clean (as opposed to dust-filled or decrepit) room filled with 1980s-era furniture and accessories inside an abandoned lodge resort. They ultimately begin what becomes a theme over the course of the issue with the teenaged characters freaking out over how different and old things from 1986 were (thanks for making me feel old, comic…), like Olive's reaction to a pink rotary-dial phone.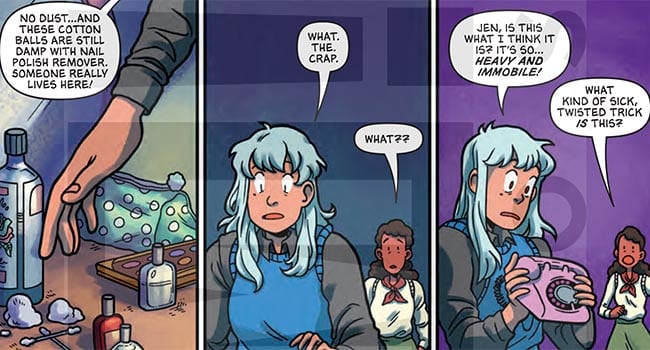 Meanwhile, the rest of the characters are back at camp bickering over whether they should charge in head-first with a rescue operation or actually make a plan first (I can only assume the reason this is such a hard decision for them to make is due to the fact they're all headstrong teens). We have some more culture shock from the Gothamites (no internet at camp?! and what's an encyclopedia?!), but ultimately the two groups come together and hatch a plan.
I feel like a lot of the clues/reveals about what's going on in Greenwood Lodge and the whole 'mystery-solving teens' story elements are undercut by a combination of the kids' retro-culture shock and needless indecision. Yeah, it makes sense for the characters to be acting this way, but because of these additional plot points Lumberjanes/Gotham Academy #2 really had a whole different vibe from #1. Not to say I didn't enjoy it—I just found it to be a slow point in the overarching story.
As with issue one, I thought the art style of Lumberjanes/Gotham Academy suited issue two equally well, with its simple, cartoonish style and rich colors. The style and coloring did not change from issue one to issue two.
Overall, the comic series is developing nicely. I may not have enjoyed #2 as well as I did #1, but I still think it's worth the read. It's a fun comic with well written young characters of both genders, and it toes the line of the 'mystery-solving teens' genre without crossing over into any super-campy Scooby-Doo territory. I know I'm definitely looking forward to the release of Lumberjanes/Gotham Academy #3!