Dungeon Delving: How to Get Started in Table-Top RPGs Part 3

Over the last two weeks, you may have seen my other articles about table-top RPGs. Check out part 1 and part 2!
This is part 3 of the series, where I will cover starting a campaign and finding a group.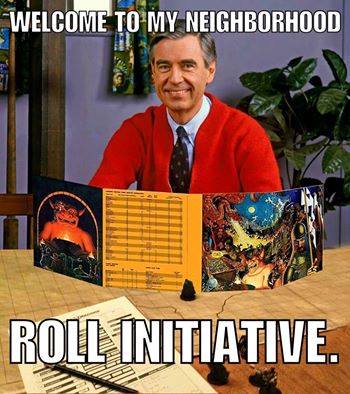 All I need now is a group and a DM/GM. What do?
This is easier if you have nerdy friends. Being a Game Master can be intimidating. After all, you are the sole person creating a fantasy adventure for your friends to enjoy. Not everyone thinks they are up to the task. That is simply false, especially if you are starting out with one of these beginner sets. You have all the tools you need to get started, so the only thing holding you back from creating epic, memorable adventures is yourself. You may not be great your first time behind the screen. Heck, you may not even be good. But with time, the more you read your rulebooks and play the game, the better you will get. The most beautiful part of table-top RPGs is that there is no limit to what you can do. Many players subscribe to the philosophy of "the rule of cool." More than just being a fun rhyming phrase, the rule of cool states that anything can go in a game, provided it's super cool. Don't like a way a rule is worded in the book? Word it how you want. Make the game work for you, your players, and what you and your players believe to be fun.
The responsibility of being the Dungeon Master can be a lot. You prepare the adventure, and are responsible for describing all the results of any possible instance that can happen. Seems like a lot of pressure, but both of the starter sets discussed in part 2 of this series offer tools to help with that. The rest is your imagination, to which there is no limit.
To be the master, you control all Non-Player Characters, their actions, thoughts, words, feelings, and beliefs. You direct the flow of combat, help the players with what they need to complete their journey. Sometimes, you even slaughter every player character. These things happen in games, but overall, it is your job to make sure everyone is having fun. For some groups, that might be wave after wave of enemies. For other groups, it could be hours at a tavern or shopping for magical items. Some DMs use voices to portray other characters, others just change their posture and demeanor. And others stick to the standard "they say this" style. Any of these are fine. There are no winners and losers, only those who walk away from the table having a memorable and fun night.
If you find yourself having difficulty forming a group of friends, and aren't courageous enough to GM a game with strangers, look into joining a local D&D Adventure League or Pathfinder Society game. Chances are that if you purchased your supplies from a gaming store, they could very well have one of these groups that meets in the store on a weekly basis. This is the perfect way to dive in and meet folks with similar interests as you. If the gaming store does not have these sanctioned events, you will likely be able to make friends and start your own groups.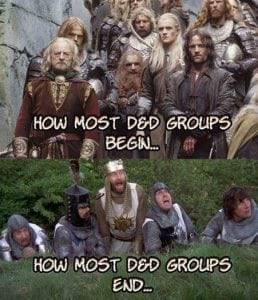 Alternative ways of beginning your adventure
D&D and Pathfinder are flexible. That is part of their appeal. You can play in almost any format, and there are even ways to play online! If you are having trouble finding a group, there are several resources available to help.
One of the most used platforms is roll20.net. Roll20 is called "System Agnostic" in that it can be used for any RPG system. A lot of folks who play online use this. Others use Skype or Google hangouts. Roll20 gives a ton of tools to make the game more accessible to all players and Game Masters, such as access to maps and graphics that Skype and Google Hangouts can't offer. It is definitely worth checking out for anyone having a tough time getting friends together in the real world.
More on actually finding people: as said earlier, if you frequent a gaming shop, you will likely be able to find some like-minded individuals. But first and foremost, ask your friends, family, significant others, co-workers and acquaintances if they would be interested in an adventure. If that all fails, you could always try r/lfg on reddit. Here, you can post the type of game you are looking for as well as your location and hopefully find some players. More specifically is r/roll20lfg if you are looking for an online group using roll20 as mentioned above.
Getting a regular meeting group and fitting busy people's schedules can be a challenge. It's a lot like herding cats. Sometimes it just doesn't work. If you're lucky, you may even be able to join in on a group already in progress. There are a ton of options to make things work how you want them to. Chances are you know someone who has played some time before. Use the people around you as a resource; most players have no problem giving advice. If you have any questions feel free to contact me on Twitter!