'Lucas Stand #1' Comic Review

Written by: Kurt Sutter and Caitlin Kittredge; Art by: Jesus Hervas; Coloring by: Adam Metcalfe; Lettering by: Jim Campbell
---
There are many essential elements one must consider when crafting a good story. Theme and setting, plot and dialogue… many threads are woven into the fabric of a good narrative. Another of these threads must be characterization. Many would consider the quality of character to be the most important aspect of constructing a story. An engaging character can instantly pull you into a piece of fiction even when the story may be lacking. Conversely, a well written story can be bogged down by a lack of effective characters.
Writer Kurt Sutter understands the concept of a good character, which he demonstrates here in this gripping first issue of Lucas Stand. Kurt Sutter is best known for his work on Sons of Anarachy and last year's boxing drama, Southpaw. I enjoyed Southpaw but have only seen a few episodes of SoA even though I recognize its glaring popularity. Sutter seems to favor gritty anti-heroes filled with rage and vendettas; these character types are popular today in comics, film, and television. The key to creating an anti-hero and making him or her work is to give the character proper motivation for being both despicable and heroic. Some writers are unable to capture this delicate balance, but Sutter nails it with Lucas Stand.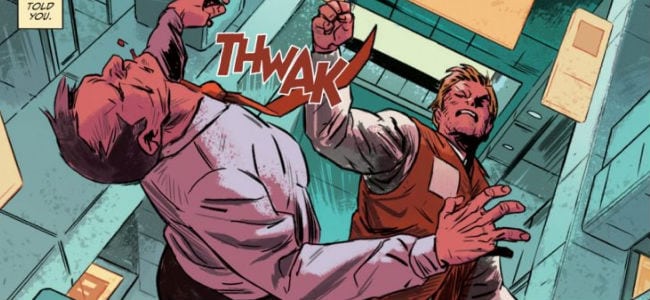 The more despicable an anti-hero is, the harder he or she will have to work in order to obtain atonement. It is the size and scale of this redemption arc that allows audiences to become enthralled with characters they once despised. At the beginning of the story, Lucas is a drug addict, alcoholic, and all-around poor-natured fellow. He gets verbally abused by his condescending boss and responds in kind by knocking him out: Lucas isn't a nice guy.
But in the midst of his toxic personality, we are given some reasons to be sympathetic to him. He is a war veteran who was wounded severely by Taliban enforcers. He now has to numb his ailing body with alcohol and opiates just to live a normal life, but of course this substance abuse fuels his inner rage and dissatisfaction. Lucas goes on a bender and, while intoxicated, causes a family to drive off the road and perish. At this point, Lucas realizes he's hit rock bottom. He puts a gun in his mouth and pulls the trigger. This is where our story gets interesting.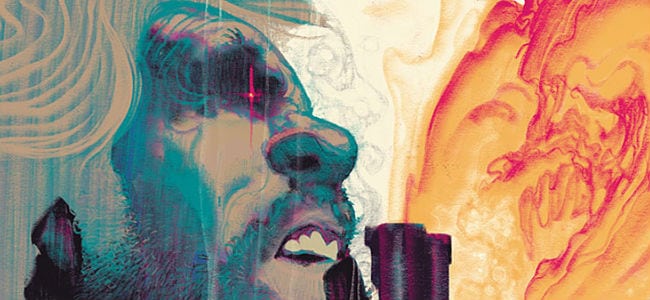 Redemption arcs are all about getting a second chance. Sometimes a character will get a second chance whether they welcome it or not. In Lucas Stand, Lucas is solicited by an otherworldly spirit (in the guise of a military general) to become a time-traveling spectre tasked with hunting demons throughout history. It's quite an assignment, but Lucas has the training to pull it off. He also has "a lot of little sins and a couple big ones" for which he needs to atone. Lucas is at first resistant to this proposal but reluctantly accepts. He's immediately thrust into his first mission, which involves taking down a demon in Nazi Germany–an interesting place to redeem yourself.
Lucas Stand is Kurt Sutter's first full comic-book series. His fierce, edgy writing style is perfect for this type of fiction. This first issue is quite enjoyable and sets the stage for the riveting, demonic spy thriller this title aims to become. Lucas is a great character who would be fun to read in a number of different settings, and this particular one suits his character perfectly. In the world of comics, anti-heroes are prominent and character is king. Judging from the first issue, Lucas Stand promises to deliver on all accounts.