"Ghostbusters" Theatrical Review

Seeing "Ghostbusters" is one of the best experiences you can have at the theatres right now. I warn you that this is not a recreation of all the subtle, dry humor made famous in the original film. This reboot gets in your face and in many instances demands that you laugh at it. I would go as far to say that this isn't so much a reboot of the original film but instead a reboot of the "Real Ghostbusters" cartoon.
Everything about this film is cartoony to the max and there is something incredibly exciting about that because it works. The reason that it works for me is because there are jokes surrounding the ludicrous visuals on screen. That was the issue with the Ninja Turtles sequel from weeks ago. They had the cartoon angle but forgot to write jokes. Screenwriters Paul Feig and Katie Dippold made sure they had humorous jokes sprinkled throughout to always keep this action-oriented comedy engaging. Without jokes, this movie never could have worked.

The heavy lifting in terms of the writing was on Feig and Dippold, but jokes will never work without the perfect performers to deliver them. Feig masterfully cast this movie with the assistance of his casting associate, Peter John Kousakis, to match the scripts tone and expression of joy. Melissa McCarthy, Kristen Wiig, Kate McKinnon, and Leslie Jones are not the original Ghostbusters, but they are the perfect Ghostbusters for 2016.
Comedy has changed since the original "Ghostbusters," and it doesn't make a ton of sense to not allow that progression. Bill Murray understood that. That's why he consistently refused to make a sequel to the 1984 classic. Additionally, I think the subtlety and dryness of that film is something relegated to quirky indie films today. That's not to say that that is bad. I love the original more than this new film, but I don't think a proper sequel would have worked.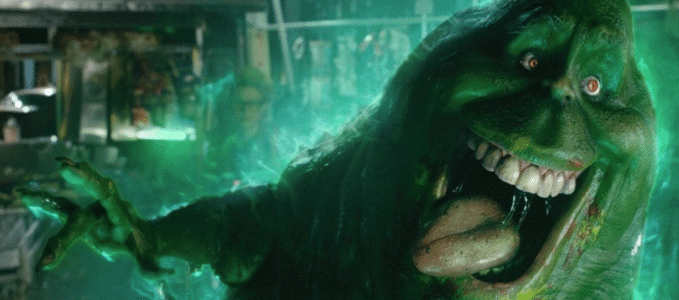 Feig and his four leading ladies understood that and brought their own comedic flair. It's big, bold, beautiful, and in your face. Does Kate McKinnon mug at the camera from time to time? Of course, she does! She's good at it. Does Leslie Jones yell a few times? Why wouldn't she? She's supposed to be the most normal of all of the "Ghostbusters." Then there's Wiig and McCarthy, who don't exactly play to type but still have a ton of fun doing it.
Honestly, nothing about this film will "stand out" per say, and it's not an instantly quotable movie, but it is seriously a ton of fun from beginning to end. The ghosts are scarier, the laughs are bigger, and the characters are zanier. I'm certain that this won't enter modern comedy classic status like Feig's film, "Bridesmaids," but it is immensely entertaining. I'm tempted to go see it again this morning because I feel like I missed so many jokes, and I want to delight in the colorful visuals again.

I leave you with this, I think it's fitting that the gaming app Pokemon Go and "Ghostbusters" were released within two weeks of each other. They are both mindless fun that will face their share of haters.
These haters will question the sanity of the country when people flock to the theatres both to see the new "Ghostbusters" film and to catch that Charizard by the movie theatre, instead of wallowing in the misery of the state of the country.

Note: Pokemon players, I don't actually know if there is a Charizard near the movie theatre. I'm simply making a point. Both of these harmless creations will bring great joy to the fans that can appreciate them.
I encourage those who want to attack these returning pop culture icons to resist the temptation because escape is good once in awhile. Also, your Blu-Ray, DVD combo pack of the original film is still there for you to watch so if you'd rather not give this new team a chance then watch the original again. The original and reboot both have a place in this world because they both provide entertaining escapist fun. 
"Ghostbusters" Theatrical Release
summary
: "Ghostbusters" is a fantastic reboot of the franchise thanks to thrilling effects, wonderful acting, and an in-your-face attitude. It's not 1984's "Ghostbusters." It's a "Ghostbusters" for a new generation.