'The Girl Who Leapt through Time' Blu-ray Review

Before I watched Mamoru Hosoda's traditionally animated film The Girl Who Leapt through Time, I knew it only as the notable precursor to his brilliant standout Wolf Children (which I reviewed here on Project-Nerd). After watching a second time, I'm pleasantly surprised to learn how many generations this story has been able to reach. In fact, The Girl Who Leapt through Time has kept people coming back since 1965 when it was published as a sci-fi serial and then, soon after, collected into a novel. There were TV and film adaptations in the '70s through the '90s and a Japanese-animated film that won the approval of both fans and critics in 2006.
Now, to commemorate the movie's 10th anniversary (and to coincide with their localization of Hosoda's newest film, The Boy and the Beast) FUNimation has released a Blu-ray edition of Girl Who Leapt, complete with English and Japanese tracks.
The Movie Itself
Makoto Konno, high-school senior in Tokyo, has a typical life. She's decent at school and has two guy friends with whom she likes to play baseball; of course, there's also a bit of romance that works into the plot and characterization—thankfully to good effect. But the plot gets much more complicated when Makoto finds a device that lets her "leap" through time, a limited number of times. It's not long before she's having fun reliving karaoke sessions for a total of ten hours, retaking quizzes for perfect grades, and even trying desperately to stave off death from a fateful accident.
In retrospect, the originally serialized format of this story makes sense. Events seem to progress from one stage of circumstances to the next, all revolving around the big crux in the plot. Some may balk at the idea of time travel, dreading the ever-common plot hole or, if you're like me, the kind of temporal claustrophobia that comes with movies like Groundhog Day. Or they may just eat up all the compulsive plotting in a yarn as enjoyable and time-tested as this.
Either way, the standout here is Hosoda's emotional and tender depiction of a relationship between friends on the verge of adulthood. The Girl Who Leapt through Time invests many layers of meaning into the climax with these characters but stops short of distracting melodrama. Instead, we get an authentic presentation of the world and the kinds of things these people care about. More simply, the integrity of the plot and characters is strong, and I appreciate their treatment. For that reason alone, this film earns my hearty recommendation.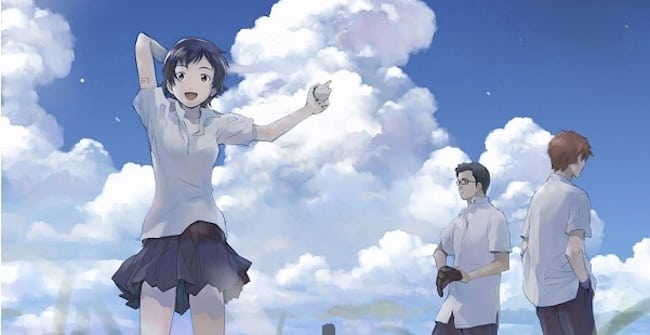 Presentation
Visually, FUNimation's Blu-ray release of The Girl Who Leapt through Time is perfectly fine, as expected. If anything, the clearness of the image quality exposes how rough the animation sometimes looks—probably because of budgetary reasons. Unlike Wolf Children, which for instance dazzles with beautifully detailed landscapes and cityscapes, the look of Girl Who Leapt is simpler and sometimes not as impressive as those in later efforts from Studio Chizu. In fact, the animation is perfectly fine and not bad at all–this quality is apparent in the Blu-ray's 1080p HD presentation.
I first saw this movie a few years back in the original Japanese audio, but this time I watched the English dub. Admittedly, I usually prefer the English dub when it comes to anime—the emotion in the performance registers more effectively in my native language, and all that. But with this movie in particular, I must say the Japanese track is better performed and better fitted to the characters. Girl Who Leapt also sounds great; both English and Japanese tracks are presented in Dolby TrueHD 5.1.
Extra Features
Extras here are as you'd expect of any FUNimation release—they don't burst with additional content:
• Feature Commentary
• Feature with Storyboard
• Feature with Storyboard Commentary
• Premiere Screening Event
• Direction File ~a talk with the director~
• Behind the Scenes at Premiere Screen Event
• Hanako Oku "Garnet" Music Video
• Theatrical Trailer; US Trailer; Promo Clip
• More trailers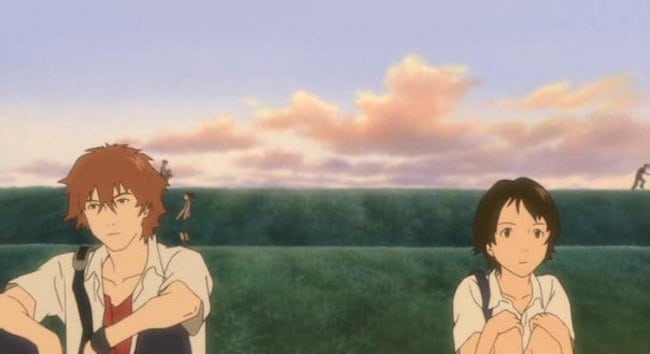 Final Thoughts
People have been calling Mamoru Hosoda something akin to "the next Miyazaki," but of course that basis of comparison isn't really valid; both of these visionaries are irreplaceable, and both are different from each other. One thing they have in common—probably a thing that helped each earn international acclaim—is their nuanced depiction of life, even trivial details. Hosoda, especially, is a master of showing us moments where characters are simply enjoying being alive, relishing in the senses, sharing that joy with others. Frankly it's effervescent, and that infectious feeling leaves you smiling like an idiot during The Girl Who Leapt through Time. It's what put Hosoda on the map.
Blu-ray Review
Movie Itself -

90/10

Video Presentation -

90/10

Audio Presentation -

90/10

Extra Features -

60/10