E3 2016: 'The Legend of Zelda: Breath of the Wild' Breaks Series Boundaries

For E3 2016, Nintendo decided to break away from both Sony and Microsoft. Nintendo did not host a lengthy conference that showcased developers and trailers for their upcoming games. They also did not follow their own pattern of releasing a carefully orchestrated Nintendo Direct highlighting their upcoming releases. Instead, Nintendo decided to focus almost its entire E3 2016 efforts on showing off the newest addition to one of their oldest running series: The Legend of Zelda.
The Legend of Zelda: Breath of the Wild is joining Nintendo in breaking conventions, taking familiar characters, items and artwork and injecting them into an open world. There is so much to cover with how this new game is unique to the series, I'll be breaking down the features into categories.
Open-Air Adventure
Nintendo is defining Breath of the Wild as an open-air adventure, and in getting our first glimpse at Hyrule that definition is fitting. Those familiar with the series can get a great sense of the scope of this world, as the map clocks in around 12 times the size of the one in Twilight Princess. For those lucky enough to get their hands on it at E3, the 20-minute demo contained only 1-2% of the map. Following in the steps of another previous title, A Link Between Worlds, the dungeons in Breath of the Wild can be completed in any order. These dungeons are named Shrines of Trials, but their size and length will likely vary.
Luckily, Nintendo has added a few ways to get around such a massive world. After opening a shrine, Link can fast-travel between it and any other previously accessed shrine. Additionally, Link can now climb any object his heart desires. See a mountain off in the distance? Well Link can climb that, as long as his new stamina meter doesn't deplete before he gets to the top. Link also has the ability to glide through the air and even surf down hills on his shield, opening up a wide range of ways to explore this massive new world.
Weapons, Items and Crafting
One the most surprising changes that caught my eye during E3 gameplay was the new equipment system. Link does not start his adventure with a trusty sword but instead must use the resources around him, such as a tree branch or a woodcutters axe as a weapon. However, don't get too attached to that tree branch; weapons now include a durability statistic and will break over time. If your branch breaks in the middle of a fight, then try and steal your enemy's weapon and use it against them! Weapons and armor now provide damage and defense stats, highlighting a new RPG element to the series.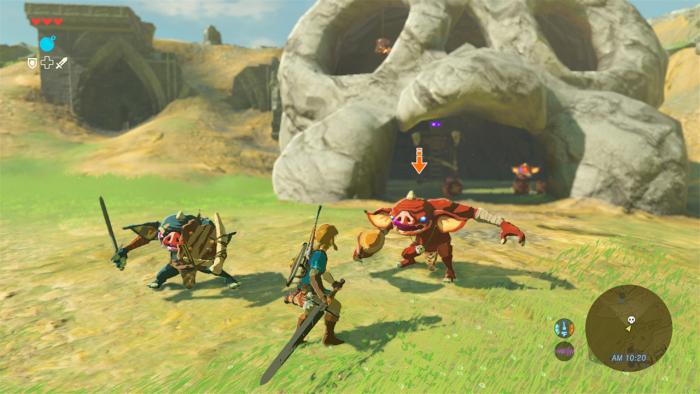 As you begin to take your first steps in the newest Hyrule you will notice plenty of items you can grab, like apples, mushrooms, and even meat from animals. Instead of using traditional hearts you find in patches of long grass, Link now needs to eat food to recover health. In finding or building his own bonfire Link can combine a few different ingredients to cook himself a meal, thereby increasing the effectiveness of the food he consumes.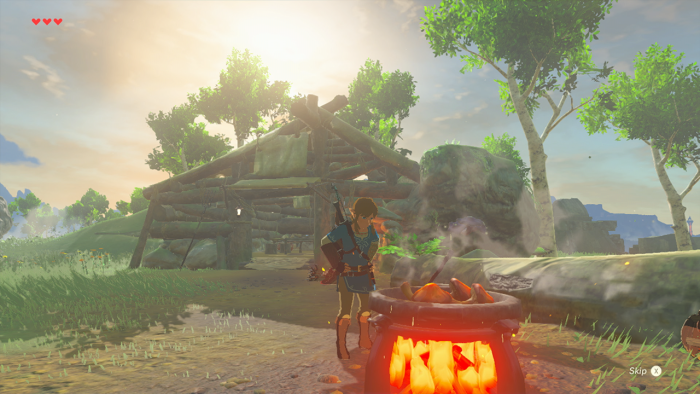 A Technological Hyrule
The Legend of Zelda: Breath of the Wild breaks a lot of boundaries, and one massive change is the abandonment of traditional magic in favor of technology. When Link awakes in a Resurrection Chamber after 100 years of slumber, he must unlock the only door using his newly found Sheik Tablet. The world of Hyrule is clearly recovering from some sort of technological age, but the specifics on how the world came to be the way it is won't be known until the game releases. The Sheik Tablet can be used to scope enemies at a distance, revealing their exact health pool. It can also tag landmarks you can see on your map for a reference point.
Breath of the Wild focuses on Link's exploration of Hyrule to not only save the world but also to learn what happened to it in the first place. As you wander the massive forests, mountains, and deserts, you must equip Link with the appropriate gear. For example, without equipping armor that makes Link warmer, you would continually take damage in a cold environment. This addition helps expand the depth of the game and places more emphasis on the items you acquire.
Overall features
Nintendo kept its new console, the Nintendo NX, under wraps at this year's E3. However, they did announce the The Legend of Zelda: Breath of the Wild will be the same experience on both the NX and the Wii U. They also mentioned the Wii U gamepad will not be required to play the game, freeing players up to use the smaller Wii U Pro controller. Finally, Nintendo announced the game will support select Legend of Zelda Amiibo, including 3 new figures to be released in 2017.