Right Round, Baby: A Beginner's Guide to Collecting Vinyl (Pt. 3 of 3)

Previous Steps
Don't Be Intimidated
Buy Whatever Makes You Happy
Cast a Wide Net
Start with Used Records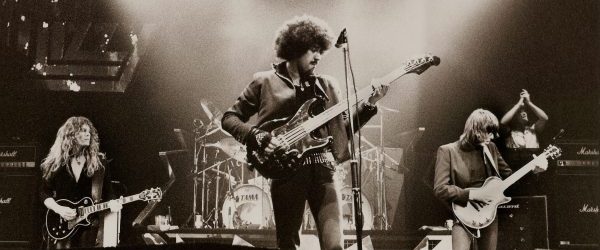 5. Share Your Hobby; Work with a Friend/Partner
This is pretty simple. It's just more fun having someone to discuss and share your findings with—someone to show off your haul to. Keeping your collection to yourself is a little like playing Gears of War 3 and having no friends to play Horde Mode with. It's just a better experience overall when you have a partner to assist you in cutting down wave after wave of Locust scum. I encourage you to develop some little collection mini-games of your own. A good friend and I used to (still do) comb through store's stacks looking for any and all Thin Lizzy records. It became a sort of "Phil Lynott bingo." It was more than just one-upmanship as we both have a very real passion for the band; it was just a way to add another fun dimension to the hobby. I guarantee, if I ever stumble on to a copy of Shades of a Blue Orphanage anytime soon, he'll be the first to know. It's good to have a vinyl wingman, i.e. someone who'll watch out for good records for you.
You might recall from part 2 that I struggle making it to garage sales, so my friend (my aforementioned Thin Lizzy comrade, who also happens to hop garage-sales on the reg) will shoot me a text when he comes across a record he thinks I might be interested in. It's a state of record-collecting symbiosis that I highly recommend you seek out and develop for yourself.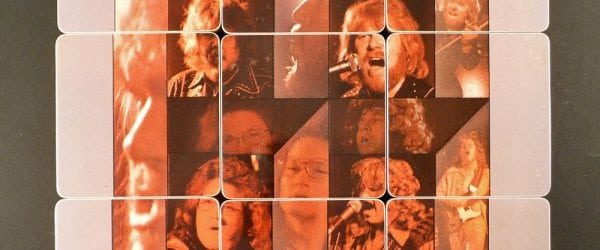 6. Grow Your Knowledge Base
Just like any other hobby, the longer you're at it, the more of an eye for detail you will develop. You'll start seeing the differences between record grades (there's a ton of resources out there explaining these: M, NM+, NM, VG, etc.) so I'm not going to dive into that. Ultimately, you'll find out for yourself what imperfections you can live with and which ones you can't. You'll start to weigh cosmetic flaws against potential audio flaws. Just recently, I bout a BTO record (that's Bachman-Turner Overdrive for those of you who don't like "Taking Care of Business"). It looked like it had been molested by the mouth of more than one hound… not the record itself, obviously (or I would've passed), but two of the corners of the LP cover were pretty diced up. I slid the record out of the inner sleeve and there were no noticeable flaws to the disc itself, so of course I spent the 2 bucks to take it home. It was Bachman-Turner Overdrive II, and believe it or not, I had never previously found it in a shop. I wasn't going to let a few rough corners keep me away… and neither should you, provided the price is reasonable. And $2 is always reasonable.
7. Diversify
Don't be afraid to use your collection as a means to venture into new musical territories. There's not much need to elaborate here, just get out of your comfort zone. The great part about doing this with records is that you can find so much for so little. You probably wouldn't take a chance on some stuff you've never heard of if you were paying full price for the CDs in Best Buy, but if you're digging through a $2 bin of LPs, then let it fly on something you're a bit curious about. When I started collecting, I primarily focused on 70s and 80s classic rock albums. Now, my favorite types of records to look for are 60s and 70s Soul and R&B albums. I have no doubt that this hobby opened that wonderful Motown door for me, and I'm very grateful for that.
Additional Tips
Keep them out of the sun/keep 'em cool – I learned this the hard way. A hot car will doom a record and it doesn't take long for the warping to start. I know it sounds like common knowledge, but you can't always control where you are and how much time you have, so be prepared.
Watch out for price gougers – These people suck. They're only out to make a buck. Never give this scum the satisfaction by paying way over top dollar. Take your chances on finding it in a store for retail price or wait for a re-issue, no matter how bad you want it.
Buy plastic sleeves for all your records – They're cheap, they protect your covers, make them easier to handle/slide in and out of shelves, and improve the overall aesthetic of your collection.
Play with your organization method – I keep it pretty basic with a straight alphabetical setup, but play around with your own arrangements. Maybe go by genre, or go, dare I say, autobiographical ("No f***ing way!").
Track your collection – Trust me, it's a good idea. Unless you like constantly second guessing whether or not to make a purchase based on the fact that you're pretty sure you already have it, but can't really remember, but think you've seen it on your shelf, but don't recall for certain… I think they even make apps specifically for this but I just prefer to keep a Google spreadsheet.
Branch out – Dig into some 45s. They can be a lot of fun, too. You'll need a 45-RPM adapter; your turntable may have come with one if it was new, otherwise you can get 'em for a buck or two in any record store.
Keep them clean – I'm not some whack-job who's constantly rubbing down his records. But it's certainly not a bad practice to keep a cleaning kit handy. I keep mine next to my turntable and will occasionally put the felt cleaning bar to use before I start one spinning. If nothing else, it helps to keep your needle clear of dust and debris.
In Review
Don't be Intimidated – Don't apologize. I once bought a Survivor record because it had this fantastic tiger cover art. I was pathetically self-conscious checking out and I even qualified it to the owner saying, "I'm not a big Survivor fan, but this cover's too good to pass up." I hated myself for saying that. Not because it wasn't true, I was primarily interested in the cover, but who f***ing cares why I bought it. I liked it. I've had store workers commend my choices and laugh straight in my face, and after time you'll learn to treat both reactions equally.
Buy what makes you happy – Go with your gut. Don't place a lot of weight on value and mint records, particularly in the beginning. Buy something because it strikes a chord in that blood-pumper of yours, for whatever reason.
Cast a Wide Net – Take advantage of all the resources out there: local record shops, thrift shops, garage sales, etc.
Start with Used Records – Used records are cheap and a good way to get the ball rolling while learning about the different aspects of your new hobby. New, contemporary records are expensive and can kill your momentum. Even though I say, "start with," 10 years in, your collection will likely still be 90% used records.
Share Your Hobby, Work with a Friend/Partner – Find your record wingman. Share your experiences. Work in tandem.
Grow Your Knowledge Base – Nothing complicated here, just allow yourself to soak in some of the finer aspects of the hobby and take note of the natural progression of your observations.
Diversify – Change it up. Broaden your horizons. Get weird with it.
---
Hey, guys. If you enjoyed any part of this, come back and see me again. I'll be writing some cool weekly music features, specifically a weekly feature breaking down LP album art, so stop by for that. I'll also continue to share some more stories from my adventures in album collecting and will occasionally review some new releases and dial up some various top 5/10 lists.