'Lumberjanes/Gotham Academy' #1 Comic Review

written by Chynna Clugston Flores; pencils by Rosemary Valero-O'Connell; inks by Maddi Gonzalez; colors by Whitney Cogar; letters by Warren Montgomery
---
Crossover series, in my experience, can be either a fun novelty or gratuitous pandering. Lumberjanes/Gotham Academy manages to be the former, though my opinion could be shaded by my thus-far limited knowledge of either series. In any case, I found the first issue of this 6-part series to be a fun blend of supernatural adventure and a little detective-style mystery.
The story features the main kids from both Lumberjanes and Gotham Academy (as you would expect), all of whom have ventured into the woods outside of Miss Qiunzella Thiskwin Penniquiqul Thistle Crumpet's Camp for Hardcore Lady-Types (which has got to be the coolest camp name I've ever heard). The Lumberjanes are out in search of their scout-master Rosie, who had sent up a distress signal while alone in the woods, and the Gotham Academy students have absconded from said academy in pursuit of Professor Macpherson, who mysteriously disappeared from her office earlier that day. The two groups naturally run into each other and team up.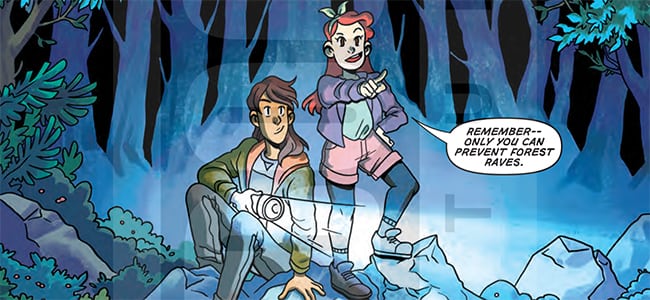 The contrast between the more analytical meddlers from Gotham Academy and the sort of spastic, mercurial scouts from Lumberjanes is interesting, to say the least. Given that this is the first issue, the two groups haven't quite gotten enough interaction with each other to really mesh, but seeing how they end up coming together in the following issues promises to be a fun journey.
Lumberjanes/Gotham Academy is drawn in full color in a style that is differs from both series, though I found it to be slightly more like the simpler style of Lumberjanes than Gotham Academy's large-eyed anime-esque style. In any case, I did think the art suited the story and characters from both titles equally well.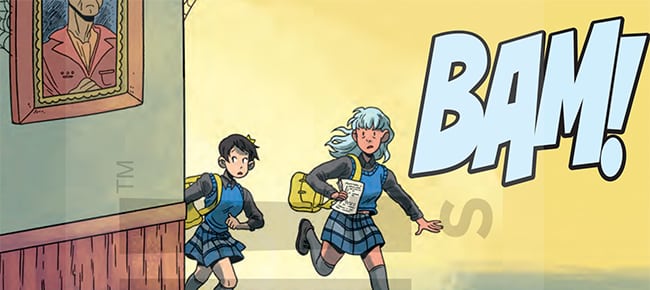 In conclusion, I enjoyed reading Lumberjanes/Gotham Academy #1. It was a fun, light-hearted adventure tinged with some sinister supernatural happenings (that are largely yet-to-be explored). It's a comic that can easily be enjoyed by readers of all ages, and I'd recommend it to fans of both existing series, as well as any new readers looking for something fun.
Comic Review
BUY THE COMIC
BUY COMIC ON AMAZON