Interview with 'Powers' Co-creator Mike Avon Oeming

Recently Project-Nerd was recently able to touch base with Michael Avon Oeming, the co-creator of the comic book and online streaming series Powers, to discuss the upcoming second season, his new upcoming project for DC's new imprint, Young Animal, and his career in general.
Powers was created by writer Brian Michael Bendis and artist Michael Avon Oeming. It was originally published by Image Comics in 2000 and later moved to Marvel's imprint, Icon. The series follows the stories of Agents Christian Walker and Deena Pilgrim, who work for a specialized division of the police force, Powers, which focuses on humans who have superhuman abilities.
Powers is The PlayStation Network's flagship online streaming property. The first season is available on the PlayStation Network, DVD, Blu-ray and iTunes. The second season recently premiered on the PlayStation Network on May 31st.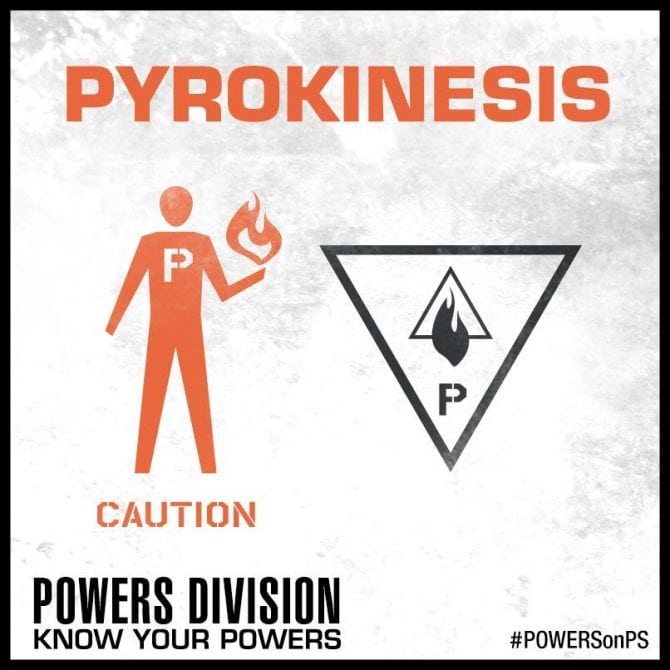 Hi Mike,
Thank you for taking the time to discuss the comic series Powers, the Powers TV series, and your upcoming DC Project.
To start, professionally, how do you prefer to be addressed? Mike, Michael, Michael Avon Oeming, Mike Avon Oeming (as you are presented on the cover of each series of Powers)?
Mike: Mike works!
Now, let's discuss your comic Powers, and the new TV series based on this awesome comic.
PN: What was your favorite part of Season 1, and how would you like to see those stories evolve in Season 2?
Mike: It would be how the actors and writers interpreted Powers the show to have its own life. We didn't want or expect a carbon copy of the book, otherwise the goal becomes imitating us instead of reaching to build the best possible story. The comic is a guide, not a mandate.
That said, now that we have a foundation and are on our feet, now we can bring it closer to the comic without misstepping in trying to do so. Watching the characters come to life through the actors choices was my favorite. Eddie Izzard had to build it from scratch, there wasn't much for him to go on from the comics–but Sharlto as Walker really had to bring it. Walker is quiet and mysterious in the comics, which is not easy to pull people into, especially for creating a genre world; so he wore his emotions on his sleeve and that was really cool.
PN: What are you most looking forward to seeing with Powers Season 2?
Mike: Now that we've established our world and characters, I'm most excited for two things. First, we have an all new look to the show, new FX and a new visual look that feels like the comics–Noir, shadows, colors! Secondly, Deena starts out in Season 1 pretty straightforward, a hero with a bit of attitude, but nowhere near the damaged character we have in the comic, which is kind of our backbone. There were little seeds planted last season that bloom in S2 for Deena…kind of the same for the other characters; so much was set up for them in S1 and is ready to explode now. Most importantly, S2 is more Walker/Deena centric.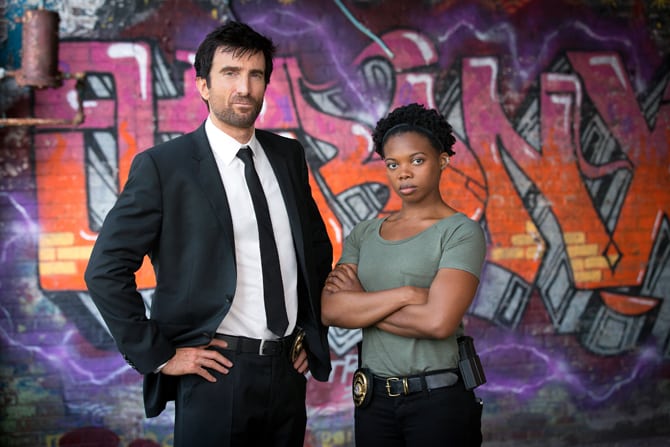 PN: In Season 1 of Powers, we learn fairly quickly that Detective Walker was a former Power. In the comic series, however, it took several issues for that information to be revealed. From a character-development standpoint, how do you feel that change benefited the story?
Mike: By letting Walker open up, he invites the viewer into the experience instead of keeping the viewer at a distance. You can play mystery, but it can be really tough and cold. We were doing that in the pilot for FX, which didn't pan out. That version of Walker can work, but when you have an explosive actor like Sharlto Copley you want to let him explode, not be subdued and read between the lines.
PN: What other changes did you appreciate for the sake of the TV universe?
Mike: We got more into the specifics of Powers, defining their levels moreso than we did in the comics, so that was both fun and informative. Our set designers came up with great props and signs that really informed the world, and I even stole some of that back for the comic!
PN: What from the comic would you have liked to see included in the TV series that wasn't?
Mike: Maybe just the Walker/Deena banter, we spent a little too much time with Walker and Johnny rather than Walker and Deena, but we have them together a lot more in S2. Again, that all comes from building a story from scratch, and Johnny Royalle and Walker had a deep history, so it made sense that it grew into a bro story.
PN: Who is your favorite Powers character in the comics? Does that differ for the TV series?
Mike: Deena is the secret star of the comic, and she's the anchor in the show. I love that we are starting slow with Deena in the show. She doesn't start out as extreme as she becomes in the comics, but that gives her a LOT more room for a big character arc. We can take her on a further journey, and Susan Heyward is just the right person to do that.
PN: How did much control did you and Bendis have over the production?
Mike: We were actually very involved in the show, which is very rare to include the comic creators directly in an adaptation. Brian was one of the head writers for S1; he and Remi Aubuchon are the head writers for S2. I did a ton of production art for both seasons and the art directors and costume designers often ask for my input which feels great because they don't have to. I spent some time in the writers room for S2 and that was fun. So we aren't "no show producers" we are there from start to finish, Brian is there for the entire thing, poor guy. I say that because it is exhausting!
PN: Were budgetary trappings of a TV show something you had to consider as part of the creative input in the show?
Mike: Luckily, we had a pretty large budget. It's how we've snagged so many A-list actors, especially for S2.
PN: What is it like when the special effects aren't what you imagined?
Mike: S1 was a learning experience, that's for sure, and we've put all those experiences into S2, with all new FX and wire work. As an artist, I imagine these things all the time–when someone uses their powers, does it light up the room? Is there a sonic blast? Wind? How do the other characters react to it? There is a lot that goes into FX, and you have to plan for it, it can't just be tossed in over the shots.
PN: Do you think there are things that just can't be done, for practical reasons, in the Powers TV show?
Mike: No, I think imagination and ingenuity are the only limitations. There are always clever ways to handle problems; you just need to have the imagination to see them.
PN: How do you reconcile that sort of thing with the general excitement of one of your creations making it to Television?
Mike: The upside to Powers having taken so long to develop has been that it has dulled my excitement. I don't mean that in a bad way, I mean I've learned to enjoy each step as it happens. I've learned there is no need to get excited about the next step or "what if."
PN: How does producing a TV show effect your work as an artist?
Mike: I've learned a bit more about story structure, about what the audience expectations are and how to play off of that, like casting. I always thought I was pretty good at cast ideas, but I've learned beyond the business end of things, like who is available when and how much they cost; but there is more of an art to casting that I cannot put my finger on. But look at our Powers cast, Noah Taylor, Eddie Izzard, Adam Godley (Breaking Bad), Enrico Colantoni (Person of Interest), Sharlto Copley (District 9), Tricia Helfer (Battlestar Galactica) and Michael Madsen! Even if you don't know all these names, you'll know their work, and that work carries weight that comes into casting.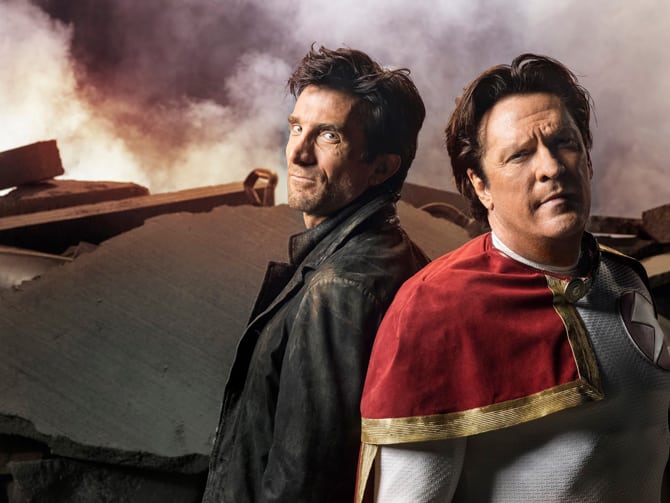 PN: Why live action? Was Powers ever considered as an animated series?
Mike: No, we've never had an offer or any serious conversations about Powers being animated or CGI. I'm glad it isn't because then we'd really have to copy the comic and I find that much less interesting than seeing our characters interpreted by our cast.
This year it was announced at Emerald City Comic Con that you would be teaming up  Gerard Way and Jon Rivera for a new DC project, Cave Carson has a Cybernetic Eye.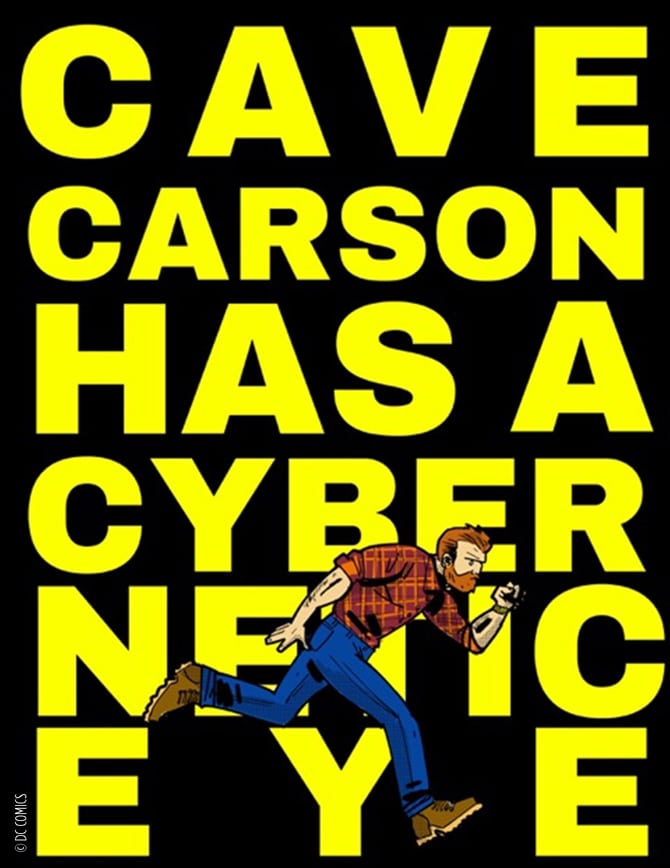 PN: Can you tell us about your new project?
Mike: Well, it's super early yet, I've only drawn a few pages. Cave Carson is an obscure adventure character from the '60s and Silver Age comics. He explores the inner workings and dimensions of the earth, and we are doing a very trippy play on that. We are really pushing page layouts and design.
PN: Are you excited to work with breakout writers Gerard Way and Jon Rivera?
Mike: Of course! Gerard has vision, big picture ideas and concepts. Jonathan backs that up with details and structure. I'm really enjoying just getting in the scripts, doing some sketches for them and editor Molly Mahan, bouncing ideas around and then diving into the pages.
PN: What do you have to consider when taking on the helm of a Silver Age comic book character? What type of research have you done for this book?
Mike: It's been lots of fun looking into those books. Some great art and imagination, especially in a time when reference for stuff like the inner earth was pretty rare. They didn't have the internet back then and barely had color photo books, and yet these artists did an amazing job putting that world together.
PN: What are you most looking forward to in telling this new story?
Mike: These new page layouts. When the story calls for it for us to really play with story and layout, we are really going for it. Making the page a maze, or giving it the feel of descending the earth, or the lack of direction you feel in the dark, and some downright psychedelic stuff is happening both in the story and art. I think it will take people by surprise.
PN: If you could draw any book or character, what would it be?
Mike: Oh, the New Gods are up there on my very short list. Marvel's Thor would be something I could draw for awhile. I wrote some Thor and that was fun.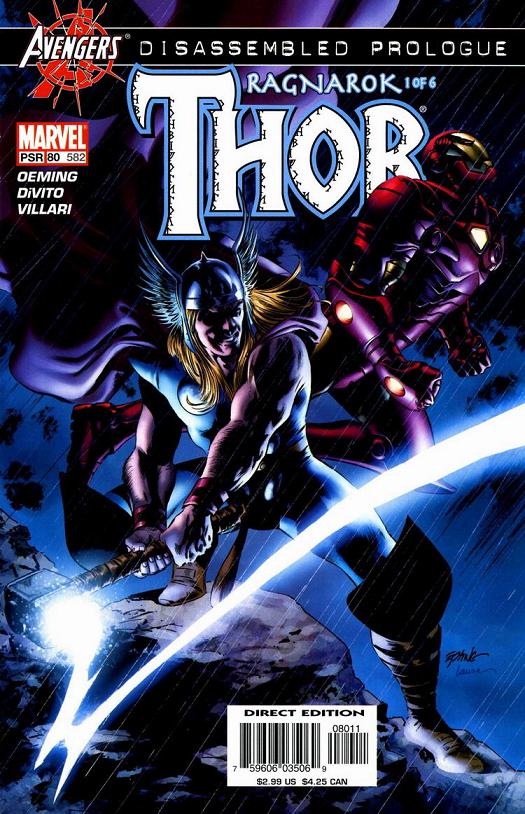 (2004 – 2005 Avengers Disassembled: Thor)
PN: Going back to when Powers was created, how did you meet Brian Michael Bendis and decide to work on a series together?
Mike: I met Brian and David Mack together at a store signing in Pennsylvania around '98. We all clicked right away, and Brian was doing Crime Noir comics, something I wanted to get into. I was developing this comic book style, very cartoony and iconic, something Brian thought would go great on this Noir Superhero mashup. We took a big chance by doing it in color, because color is much more costly (especially then); so it was a gamble, but thanks to Jim Valentino at Image and some good timing on other projects blowing up for Brian at the same time, Powers sales rose quickly, something that rarely happens in comics.

PN: You've previously worked for Valve, the company behind the Half Life, Portal, Team Fortress series and Steam. You were involved with Portal 2: Lab Rat, a comic based on the Portal series. What went into making the comic? Did it have any impact on the game production?
Mike: My days at Valve were great, full of personal ups and downs, and every day was exciting. I came there knowing nothing about digital art, I only drew traditionally, but there I learned lots of new techniques. Not just technical ones like drawing on the computer, but all kinds of techniques from the other artists. I came in to bridge the gap between comics and games, and we made lots of comics for fans to read when they weren't playing games. It was great content for the websites and we expanded the narrative of the properties there. But in the long run, it was a "Golden Cage" scenario for me; everything was great, but I felt trapped. I was spoiled by creator-owned career and while I had LOTS of freedom at Valve, I still felt boxed it. It was great time and I still have a good relationship with them.
PN: I hear this asked a lot at conventions, and I've always wondered how someone of your stature would respond–What is your advice to young aspiring comic artists? How did you get your start, and what you would you recommend to people looking to get into creating comics?
Mike: I'll put on my old man voice here–In MY day, it was much harder to break into comics. There were gates and those who guard the gates into comics. There was no internet or web comics, so if you weren't drawing for Marvel/DC you had to put your own money up on the table to publish your work, and you might not even break even… Now with the internet, Tumblr and more, all you have to do is the work. Good or bad, original or not, you can make a comic, put it online and many more people will see your comic than most printed comics. So if you want to be a comic creator, it's up to you to do it, only you guard the gate now.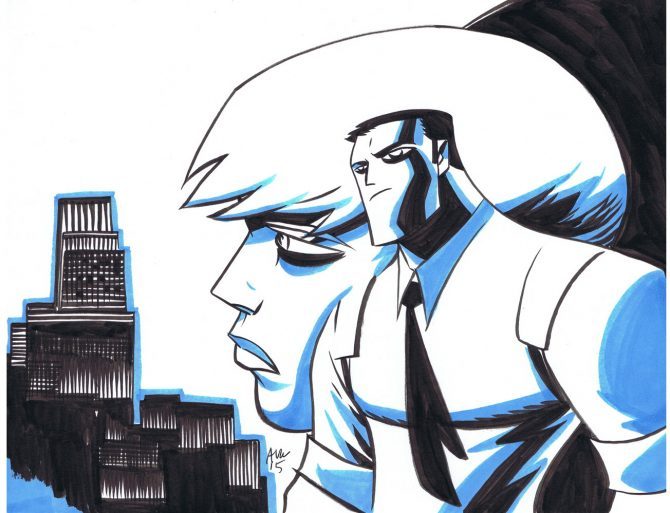 PN: In closing, is there anything else on the horizon for you? What are you most looking forward to in the future?
Mike: Wow, good question. I'm looking forward to seeing how Cave Carson goes, to see if we get a Season 3 of Powers, and of course, continuing to do more Powers, though having a show really hurts our production schedule on the comic because the show takes up so much time. It's a high class problem, but it's still a problem. I'll be working on a TV show about Conspiracies on the History Channel coming up as a "reporter," which is crazy and fun, but I can't say much else yet… I also have other projects I cannot wait to get to, so I'm very blessed that I have a life where I can concentrate on creativity and family.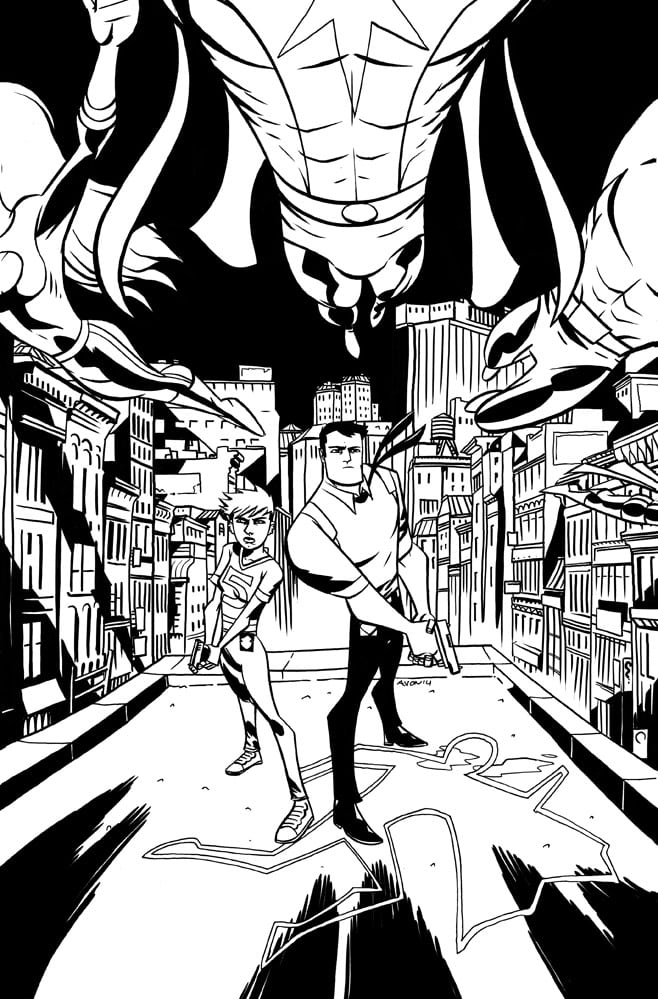 The first season is available on the PlayStation Network, DVD, Blu-ray and iTunes. The second season recently premiered on the PlayStation Network on May 31st.