'Vinyl: The Complete First Season' Blu-ray Review

HBO's original programming has always been in a league of its own. The network got a great start with The Sopranos back in 1999 and since then there have been countless great shows with a huge resurgence recently thanks to the success and quality of Game of Thrones. In the new wave of programming, HBO has given a number of different series a try, one of which being Vinyl, a fictional look into the recording industry during the 1970s.
Vinyl may be fictional but it takes a good hard look at the realities of the industry. From the many record companies popping up and fighting for rising stars, to the drugs, sex, and well…rock 'n' roll. The storytelling captures it all in a fantastic way and that's in part to Martin Scorsese and Mick Jagger being members of the team that brought the show to television.
Richie Finestra (Bobby Cannavale) is at the heart of the story; a majority owner of American Century Records with plenty on his plate. He's constantly fighting for the next big thing, whether it's a musician, money score, or even a quick fix. His life gets turned upside down quickly due to a huge mistake and it drives him back into a bender with alcohol and drugs consuming him. This hits the dominoes just right to start the unraveling as his wife (Olivia Wilde) begins to question their relationship, the other owners begin to wonder how long it will take for him to bring them all down, and the musicians, both talented and not, begin making decisions that change the formatting of the company.
It's complex. As complex as the record industry probably still is as well as how crazy the 1970s were.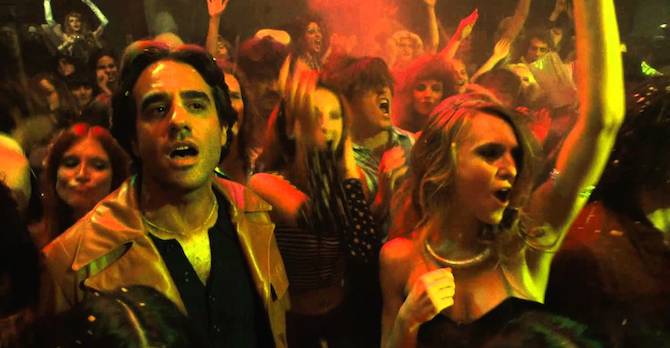 Through ten episodes, the creative team strings together a broken mess of a character's world; in a masterfully crafted way it resembles something you would only find on HBO. If there was any complaint on my end it was that at times I felt lost. But it wasn't due to poor writing or production, it was because keeping up with Finestra's world seemed nearly impossible at times, and the team making the series did such a great job replicating it you start to feel some of the confusion and stress he does.
Vinyl has a great team of actors in front of the camera with well-known and rising star Olivia Wilde having just limited screen time. Her role is crucial for the series but it felt wasted at times. Cannavale is fantastic as Finestra. The stress alone was something we had yet to see from this actor and, again, as only HBO can do it turned a talented side-man into a leading star.
He is well complemented by the others in his world. Ray Romano is one of my favorites of his partners, but the others complement the group perfectly too. So many personalities are forced into stressful situations and the cast does a wonderful job of making the environment exactly what it should be.
Outside of the production and cast of the show, I haven't said much about Vinyl: The Complete First Season other than I enjoyed it. Telling you what happens in any of the episodes can lead to a spoiler that would transform a first time viewing experience. However, if you like intense drama as well as some 70's style excitement you can definitely find enjoyment in this new series.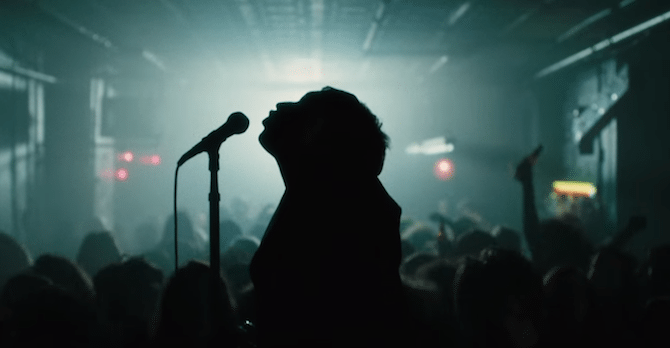 Presentation
Vinyl: The Complete First Season arrives on Blu-ray across four discs. The video presentation reminds viewers that HBO isn't struggling for money. The Mpeg-4 presentation offers a great three-dimensional image with plenty of detail. Colors are fantastic and purposely lean towards a vintage style palette. Vinyl: The Complete First Season isn't something that is changing the face of high definition but it is a clear upgrade over cable television or streaming.
Along with a great video track, it's clear HBO had to bring their A-game with the audio. Vinyl is all about music, and there's plenty of it in the show, setting mood, scene, and tone. Luckily the studio went full HD with a DTS-HD Master Audio 5.1 track that fills the room through every episode. This is truly a great set of tracks with such a diverse use of dialogue, noise, and music that is well balanced throughout all five speakers. The subwoofer remains active throughout and conversation is never lost across all four discs. Vinyl: The Complete First Season has great sound from the opening scene to the finale.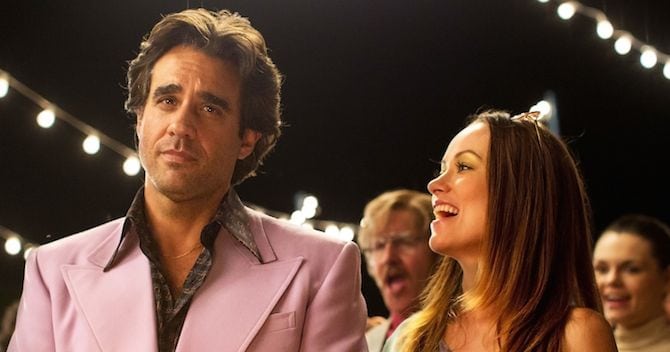 Extra Features
Vinyl: The Complete First Season has extra features, but not as many as I was hoping for. With content like this, HBO had a huge opportunity to include the likes of documentaries, music videos, and more. But instead there are small "Inside the Episode" featurettes as well as a few Audio Commentary tracks. Disc four does contain a good "Making Of."
Disc One
Inside the Episodes: Episode 1 "Pilot"; Episode 2 "Yesterday Once More"
Audio Commentary: "Yesterday Once More" with Bobby Cannavale, Olivia Wilde, Ray Romano, Allen Coulter, and Terence Winter
Disc Two
Inside the Episodes: Episode 4 "The Racket"; Episode 5 "He in Racist Fire"
Audio Commentary: "Whispered Secrets" with Max Casella, Juno Temple, Jack Quaid, Mark Romanek, and Terence Winter
Disc Three
Inside the Episodes: Episode 6 "Cyclone"; Episode 7 "The King and I"; Episode 8 "E.A.B."
Audio Commentary: "E.A.B." with Bobby Cannavale, Olivia Wilde, Randall Poster, Meghan Currier, and Terence Winter
Disc Four
Inside the Episodes: Episode 9 "Rock and Roll Queen"; Episode 10 "Alibi"
Making Vinyl: Recreating the '70s: A behind the scenes featurette that dives into the making with clips, interviews, and more.
Final Thoughts
I don't remember the last time I didn't enjoy an HBO series. Even just the few episodes of Ballers I caught were captivating enough to hold my interest. I say that as I know it's popular opinion and it makes giving Vinyl a try an obvious decision.
Blu-ray Review
Show Itself -

80%

Video Presentation -

80%

Audio Presentation -

90%

Extra Features -

30%