Right Round, Baby: A Beginner's Guide to Collecting Vinyl (Pt. 2 of 3)

Previous Steps
Don't Be Intimidated
Buy Whatever Makes You Happy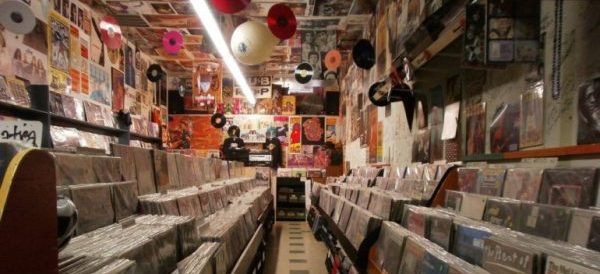 3. Cast a Wide Net
There are a lot of places that sell records. Don't limit yourself to just one. In due time you'll find your honey hole, that trusty old well that keeps pumping out that fresh, clean aqua. But you don't want to depend on just that one spot either. There are multiple resources out there, and each one offers its own unique perks. It's just a matter of knowing what those are and how to take advantage. Here are the ones you need to know about:
Your Local Independent Record Store(s) – Use this as your go-to spot. Think of it as your base camp. I've yet to come across a single one that failed to seduce and charm me in some way. The quirky decor, the creaking of the old floor boards, that unmistakable smell…what's not to love? Most of them have selections that no other resource can match with collections that have been accumulating for years and years–decades in some cases. They can be difficult to navigate and you'll have to dig through a lot of chaff, but if you're willing to put in some time, there's no better place. Be sure to keep an eye out for the bargain bins/racks/shelves as well. There's no shortage of great cheap records out there you can snag for somewhere between a buck and a fiver. Also, take pride in supporting a local independent business, especially a record store. That's a win for all involved.
Thrift Shops/Second-Hand Stores/Flea Markets – These places can potentially take the most work, but you can really unearth some beauties. Records are often spread around, particularly with consignment setups, and there is rarely any kind of recognizable rhyme or reason to how they're organized. But for this reason, you also might be the only one combing through them in quite some time, giving you a nice advantage. This probably isn't your best bet if you're on a schedule or looking for a particular album, but if you got some time to kill, it's a great way to go. Trust me, if you come out with a peach of a record from one of these oft-cluttered places, you'll feel a very real level of satisfaction and accomplishment.
Garage Sales – This is the one I have a very real struggle with. Make no mistake, garage sales are where you can make some of the best discoveries and get serious bang for your buck, but they're also an "early bird gets the worm" type of opportunity, and frankly, I barely even remember what the worm looks like at this point. Keep an eye out for them, though, and get there if your body clock allows. Oftentimes people don't know what they have or just want that stack of "junk" out of their house. My Pink Floyd Dark Side of the Moon and Beatles self-titled (aka White Album) both came out of garage sales and I paid less than $3 for each.
eBay Auctions – Buying used records online can be a bit scary, simply because you're trusting the seller has given you an accurate description and that it's been graded (condition) appropriately. What I'll tell you is that if you go with a reputable buyer with good feedback history, you'll typically get exactly what you're expecting. Read through everything carefully, ask the buyer questions if you want, and then go for it. My favorite reason for record shopping on eBay is looking for record lots, or multiple records grouped together sold in one "lot." Often they're bundled and arranged according to artist or genre and can be as small as just a few and as big as a hundred or more. You can get some good deals this way and build your collection in small chunks. It can be a challenge working around the duds in the lots or records you may already have.
Amazon/Online Shopping – I use Amazon to buy contemporary records, or records I can't find in stores. I always recommend trying your local record shop first; they can often special order titles in, but occasionally the deal or convenience of Amazon Prime might win out. Keep an eye out for online shopping codes; sometimes websites will also participate in promotions–like Record Store Day–and offer discounts and coupons, sometimes offering some really great savings.
Chain Retailers – My last resort is usually a national chain of some kind. It's not that I have a vendetta. I just find them to be the least appealing experience, and they just tend to not have much of an upside. Records don't make any money for places like this, so they don't put a lot of effort into it. They can be good places to go if you have gift cards, and also, keep an eye out for sales. Occasionally places will run a deal for 20-30% off new records, which can really make for some good buys.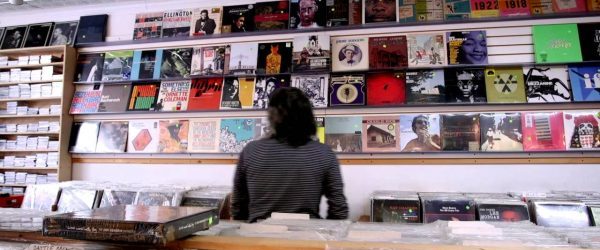 4. Start with Used Records
When you start your collection, you're going to have the urge to start buying all of your favorite contemporary records, and while there's nothing wrong with that, it's not an ideal way to start if for no other reason than you'll be broke before you get a dozen to your name. It might seem as though I'm contradicting my previous tip, "Buy what you want," but that's not my intent. If the first thing you want to do is go pick up a new release you're excited about, by all means, go nuts and enjoy. What I'm talking about is getting the ball rolling on your collection with some cost-friendly records. It's a good idea to come up with a benchmark, say $5, and then just look for records that are $5 or less. It's a sensible way to build your collection without blowing your wad and it also allows you to learn first-hand about important things like value/demand and condition/grading.
I've been collecting for a decade or so now and I still haven't knocked off my top ten list. I refer to those as "splurge records" and usually just put them on a wish list. They make nice selfish gift ideas you can subtly drop to others, or I wait until I have gift cards to pull the trigger. Be patient, you'll get to them. Just think, odds are you own your favorites already, either digitally or on CD or both. Would you rather spend $30 on a single new album that you already have on another format, or would you rather use that same $30 and come away with 5 or 6 used, rough-around-the-edges albums that maybe you've always been curious about but don't own?
There's no shame in looking for value. Even today, I still spend just as much time in the stacks of swill as I used to and it really does pay off from time to time. A quick story to illustrate: It was a typical day of record shopping at my base camp. I'd gone through my usual routine, went through the new arrivals, didn't find anything; went up and down through each genre of the main used section–not a thing; I looked through the new releases. Nothing tickled my fancy; so I moved onto the bargain boxes on the floor and again, I came up empty. I was ready to call it quits and was on my way out when I walked by a few milk crates at the front entrance marked for a $1. I wasn't in any hurry so I dug in and flipped through, one at a time.
In one of those crates I found a single of an '80s pop song that I have a great affinity for. It was "The Promise" by When in Rome. It was a 33 and it included the original song along with 3 remixed versions. I was over the moon. I tried to play it cool when I laid that beauty on the counter. The guy ringing me up likely thought I was on drugs, wondering why this weirdo in front of him was smiling like some kind of Cheshire-Cat loon. I was in my own little world….celebrating…roman candles blasting in criss-cross patterns in sync with my steps, streamers spewing in all directions from an unknown source, confetti raining down like stained-glass snow, "The Promise" playing that magical rhythmic electronic pulse as I David Lee Roth high-kicked out the door into a world that clearly wasn't ready for me.
Check back in next week for the final steps in Right Round, Baby: A Beginner's Guide to Collecting Vinyl.