'B.P.R.D. Hell On Earth: End of Days' Trade Paperback Review

written by Mike Mignola and John Arcudi; art by Laurence Campbell; colors by Dave Stewart; lettering by Clem Robins
---
B.P.R.D. Hell On Earth: End of Days collects B.P.R.D. Hell On Earth  #135-#139, and is the final story arc in the Hell on Earth saga. This collection basically has everything you could ever want in a comic book; it's spooky and over the top in all the right places. There's a guy, whose head is in a jar, who is one-upped by a guy whose whole body is in a jar and looks like a steam-punk Stage Three Guild Navigator. Also, there's gun that shoots ghosts instead of bullets.
We begin with the ever-present Ogdru Jahad trapped in their cocoons. As they rotate we see that one of the seven cocoons is open. Predictably, trouble and adventure ensue—some people get connected psychically to each other, some people shoot ghosts at things, and some other people overcome insurmountable odds and come out as heroes.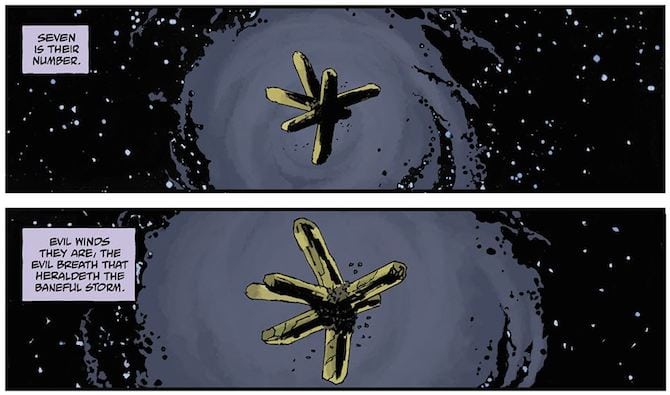 The story focuses on our heroes the B.P.R.D., mainly the pyrokinetic Liz Sherman and the disembodied German ghost Johann Kraus, while they fight to save the Earth from a horde of H.P. Lovecraft-styled Old Gods and the most metal looking villain of all time, the Black Flame. The Black Flame is neatly designed and well written and spends most of the book looking awesome while being awesome.
While the B.P.R.D mythology is dense and layered and spans over 100 books, B.P.R.D. Hell on Earth: End of Days is still pretty accessible to casual B.P.R.D. readers. The creative team of writers Mike Mignola and John Arcudi, artist Laurence Campbell, and colorist Dave Stewart are all in top form and make B.P.R.D. Hell on Earth: End of Days an exciting read.
The creative standout in End of Days is Campbell's ink work—especially in scenes featuring the ghosts or other otherworldly characters. His dry brush technique gives those scenes an ethereal and haunting vibe and really communicates that we are looking at something that is "not from this Earth."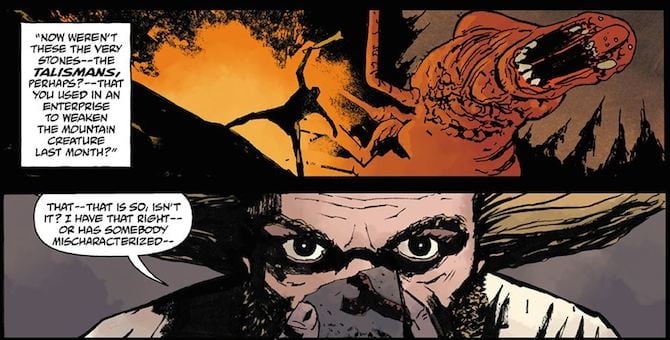 Where the book really succeeds is at depicting the scale of everything—the size of the monsters and the size of the drama—each showing how outmatched our heroes are. A scene that really drives this home is a two-page spread showing several boss-level monsters towering over Kansas while the Final Boss, the Ogdru Jahad, towers over everything on the page. This spread reads really well with the reveal of the Ogdru Jahad on the right hand page, appearing mostly in silhouette.
Overall, the book is a fun and scary over-the-top monster movie crossed with H.P. Lovecraft, with an added veneer of occult spookiness. It stumbles slightly at the end when a character comes from out of nowhere to provide us with a deus ex machina. Aside from that, B.P.R.D. Hell On Earth: End of Days is terrific from start to finish and I am excited to see where the story goes from here.