A Different Kind of Rebirth: Dinesh Shamdasani Talks the Resurgence of Valiant at ECCC

Valiant made some of the coolest comics of the 90's—which was when I became heavily invested in comics. By combining a unique licensing agreement allowing for usage of some classic Gold Key properties—Turok, Magnus, and Solar—with original characters like X-O Manowar, Rai, Ninjak, and Bloodshot, Valiant was arguably the first real threat to the market shares of powerhouse publishers Marvel and DC.
That success led to the publisher being bought in 1994 by Acclaim Entertainment, a popular video game developer that began adapting the properties into video games. Despite some initial success, Acclaim shut down in 2004—leaving Valiant's properties in limbo.
Until, that is, Dinesh Shamdasani arrived to save the day. Currently serving as the Chief Creative Officer at Valiant, Dinesh is one of the guiding hands at the publisher, and it's a good thing—the man is passionate about his comics. Spend fifteen minutes speaking with him, and he'll have you clamoring of everything Valiant has to offer.  It comes from an earnest place, too—more fanboy than CCO, Dinesh believes in everything Valiant is doing.
I experienced that first hand at ECCC, where I spoke to Shamdasani about Valiant's shared universe and their commitment to making comics great again.
---
Matt Carter: Hi Dinesh! Thanks for taking the time out. I consider Valiant one of the comic success stories, because you guys have pulled off this rebirth pretty much.
Dinesh Shamdasani: Yeah, the impossible.
MC: Yeah, they sold to Acclaim and then you got it back in 2005 and started working towards getting publishing back up and running, and that wasn't until 2012.
DS: 2005 we got the assets, so we got the entire library, all the media, and all the rights, and then we had trademark issues we had to clean up, copyright, trademark. We had to put together a business plan; that took a long time. We had to build the right connections, raise some money, at some point we brought Jim Shooter on board, published a few hard covers, test the market. You know, due diligence. We brought Jim Shooter on board, worked with him for about a year. Jim is a very, very, very talented creative individual, also has a number of issues, has a reputation that precedes him. We thought that reputation was accurate, so that was a blow, that was a setback.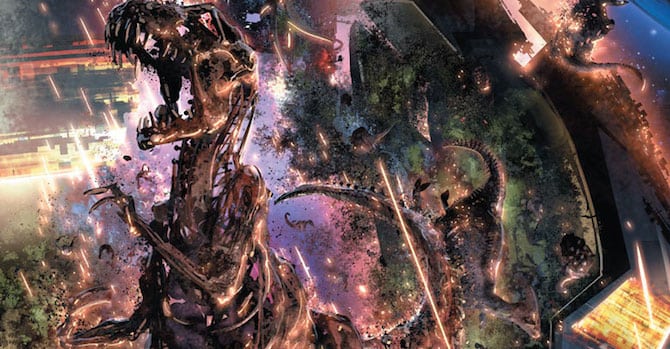 The best thing that seemed to happen to us actually, when Marvel was sold to Disney for $4.5 million it freed up a lot of the key executives at Marvel. We got in touch with Peter Cuneo who was CEO of Marvel. He came on board and became our chairman. He became an investor in the company. We had already built a team consisting of Warren Simons, Fred Pierce, Adam Freeman, Hunter Gorinson. Then we wanted to hire a critical expert to execute all that and then begin working towards the relaunch. What was great about the team that we had is everyone understood that we had to wait to make it good—you only get one shot. Even from 2005 'til that point in 2012, we knew that while we did these few old collections of the classic Valiant. We didn't want to put anything new out there because you only get one shot to make a first impression. We waited for about a year, to get Cary Nord on board to make X-O Manowar awesome, to get Josh Dyshart on Harbinger. Fred Ven Lente on Archer and Armstrong. Clayton Henry, to come out with this massive right hook, and luckily people seemed to like it. That gave us the momentum to continue to run the way we are now and get to where we are now.
MC: Right, 'cause I remember when I was a kid in the '90s, Valiant was one of the most resonant. The interesting thing was that they were one of the first ones that I could think of that had a number of very successful licensed properties, like all the Gold Key characters you guys had, and developed that into a bunch of original properties too.
DS: Yes, now what's interesting is that there were licenses but not in the way you would think. They are sealed documentation. They were licensed in perpetuity, which means that Valiant essentially owned them. They would have them forever. But what happened is Acclaim, in their infinite wisdom, Acclaim made so many great decisions, they made a Turok video game, made a number of Turok video games and never paid royalties on that. Instead of paying the royalties, they decided that they would give back the rights to Solar, Magnus, Turok to another media company at that point, but as long as they published a Turok comic book every so often they would have the rights, no renewals forever. Sweet deal. Sweetheart deal, because the guy who was running Weston Publishing at that point loved Jim Shooter, loved what Valiant was doing. He said these characters are going to better than anywhere else I could put them, so I'm gonna put them into this sweetheart deal. Write whatever deal you want. So it wasn't licensed in the way that we think of licensing now, but when we got involved, that license had been used as leverage against the royalties that Acclaim owed, so they weren't part of the universe that we got involved with.
MC: You've managed to reinvent the company, reinvent the line, but keep a lot of the core things that made the characters great. What's it like now to work because you have none of that baggage left over? What is that like for you?
DS: You know what we did was, we took a really, really classic house or building and it's dilapidated and you want to build it back up to its promise, but you don't want to demolish it and build a skyscraper, so you try and keep as much of the structure—maybe this amazing fireplace, maybe there's a roof. It's amazing, very specific and unique, so you try and keep those elements, but the walls are degrading and the foundation is not right. All that can be redone and modernized, you're trying to do it in a way in which people don't see it, so they look at it and think, "Wow, this must be what it was like back in the day." But it isn't. Structurally, it's more sound than it could have been back then. That's what we've tried to do with Valiant. So we don't have Solar, Magnus, Turok, but we have the universes spun out of them. We don't need Solar, Magnus, Turok. It's an amazing universe. I was a huge Valiant fan growing up. Solar, Magnus, Turok were some of my favorite characters, but they weren't #1. So we were able to launch X-O Manowar, the Harbinger collection, reinvent/modernize what they were, but again keep the core. So if you read X-O Manowar back in the day, it was still the same character you knew and loved because the core concept was right. It was correct. We didn't want to fix it, if it wasn't broken. So we still have visigoths, Aric still steals a suit of armor, comes back to the modern day, but the trappings around that are different. We expanded that universe. We have Armor Hunters. We have Dead Hand. We have Planet Death. The mythology had the potential to change, so that's exciting.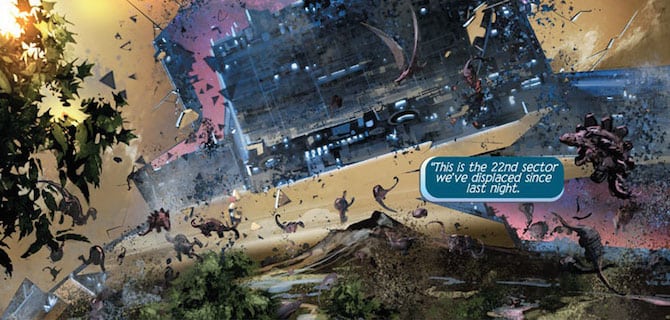 MC: In your talent roster, there's not a single slouch on there. Everybody on your talent roster cares about making good comics.
DS: Yeah, we put our heart and soul, everything, into it. We're not going to give up who we are to put out a bad comic. Life's too short for that, so if we're literally going to kill ourselves, and a number of editors, God rest their souls, passed away in the attainment of glory at Valiant. I'm kidding. No one died. But if we can do everything but kill ourselves to get the books out and make them great then they've got to be great, really great.
MC: Because you guys don't have the luxury of a Disney or a Warner Bros. behind you. so you can't just throw stuff against the wall. You have to actually work harder.
DS: Well, you've heard the saying, "when I'm two, I've got to try harder, when I'm three maybe." In terms of super universes, yes! In terms of industry, no, because we publish ten books. That's another thing we are very cognizant of. We publish nine or ten books a month, so we can get the quality as high as possible. Nine or ten of the best books every month, compared to 100 books at Marvel, DC, or Image, and 90% of them are not worth the money you'd be spending on them. Every year we under promise and over deliver.
MC: One of the things I think Valiant does especially well and better than any of the competition is manage a shared Universe.
DS: Oh. thanks, man.
MC: Marvel and DC always have these shared universes, and they're always nuking it and starting over in some way.
DS: But do you know why that is? Now I hear a lot of fan conversations about this, and I don't think fans understand why that is. You have to understand what happens inside the company to understand why that happens. Now these characters, they're fantastic characters. Spider-Man is an amazing character, my favorite, and I don't know that people understand how many people are involved. For instance, you've got to get bosses and bosses and bosses and bosses to understand why Spider-Man works, and so there's this fear of breaking him, so they evolve the character. They reboot then they evolve the character and in about two or three years in they go, "Oh no. Are we getting away from what makes this character work?" Because they don't really know what makes the character work. Now let's go back to the beginning. When you look at Stan Lee and Spider-Man, he evolved that character for how many years? The character became a different character. I mean the same, but he grew and he changed. That's what people do, and you see this so rarely. I think one of the reasons we succeeded is we really paid a lot of attention to why these characters work or why we believe they work, and we're not afraid to break them, because we want them to change. We want them to live like real people did. XO-Manowar, fifty-six issues Rob Venditti's written for us. When fans read #50–there have been specials and annuals, which is why I say 56—the character will still be faced with choices that the character has to make, and having been introduced to those in issue 1 would have been a different outcome. Today he's going to make certain choices that he could have only made had he gone through those fifty-six issues. That's a beautiful thing, and you rarely see that anymore. Walking Dead does that, but you rarely see that anymore.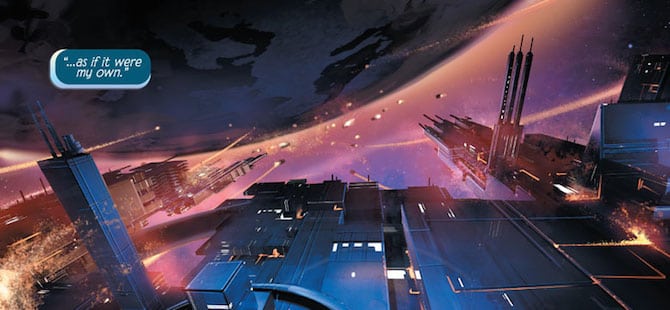 MC: How do you manage this shared universe? You know, there are a lot of characters that pop up in other characters books pretty often. I was talking to Jodi about that with Faith and Archer, because he pops into that book during the story. How much control over that do you retain, in terms of the narrative of the Holcron? How much of it is just kind of a big powwow between you and the writers?
DS: You know, it's funny, because it's a full collaboration, and not just between the editors. We have fantastic editors. Warren Simonson is our new chief. He's a genius. He's a bloody genius. He may be the most talented editor in comics. This creative team that we have, they're the most talented in comics. But also people like Andrew who's standing right next to us, Hunter, Adam Freedman, the sales guys, marketing guys, everybody is involved, and everybody treats it like it's their baby. So I had a meeting last night with Josh Jones and Hunter and Andrew and we were talking about the universe. They have in their minds everything about the universe. They say, listen we've got to make sure we take care of this and we've got to make sure we take care of that, and they want to know what's coming up a year or a year and a half from now. Ideas come from them, but not just from marketing and sales but even editorially keeping the universe together, so it is this big family managing this to become this massive success story with this evolving universe. That's what it takes. It takes a village to raise something like this.
MC: You guys started publishing in 2012. It's immediately apparent that the properties, books, and writers are treated with respect.
DS: That's what the fans demand. If we don't treat the books with respect, if we don't treat the fans with respect then how can they respect the books themselves? We have to.
MC: Tell me about 4001 AD.
DS: I'm so excited about 4001 AD! So Clayton Crain has somehow found a new gear. He's a fantastic digital painter. He's painted Rai for us. 4001 is this crazy story. It's 2000 years in the future, so far in the future it's like nothing we know. Japan has turned into one giant structure that has lifted off into space and became a second orbiting satellite to the Earth, like a second moon. It's controlled by this sentient AI, Father—seems benevolent, but he isn't really because power corrupts; he's basically a dictator. It's policed by one man, Rai. What happens is Rai realizes this Father isn't benevolent and goes to confront him. He loses and is tossed to Earth. 4001 is the story of him putting together a band of heroes from Earth including getting inside this giant building-sized mech suit of armor, racing up to Japan in space to take Father down, only to find that Father has a trick up his sleeve. The entire state of Japan transformed into a Dragon shaped battle station. That's just the first fifteen pages.
MC: That sounds awesome!
DS: It's like nothing you've ever seen before.
MC: But that's the thing, that's the thing I'm talking about with Valiant that I loved growing up, and I love now even more as an adult reading this stuff. You aren't afraid to take chances like that, because you know they sound awesome, and I think it's important in comics to take the weirdest idea you have and go with that.
DS: All you have is your taste, so hopefully our taste is something that resonates with the fans, and we've been lucky so far because it has. So we try and do cool shit that we want to see and when we get that we go out there and beat the drum about it. We market our stuff hard. We think the books are great, and when you feel like you've got great books, you should do everything you can to let people know about them.
MC: It's going to be interesting to see what characters will still be around in 2000 years. What superheroes are there? Who are the offshoots? What is the next generation of superheroes? It does this really great thing, and I think Bloodshot: Reborn does this too very well, because that exists in a different time period from say Faith. By having these different time periods live on, you automatically build a history of that world, without having to go to exposition. It's the best type of storytelling. It's the show me, don't tell me.
DS: It's the beauty of the medium of comics, only comics can do this. Movies can't do this, TV can't do this, only comics can do this. Unlimited budget, jump between times, the juxtaposition of panels. It's fantastic.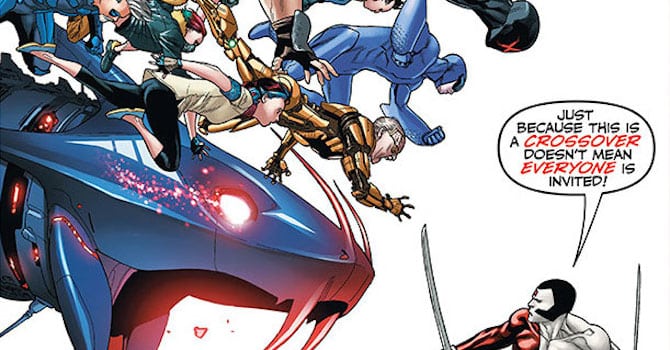 MC: How did you end up at Valiant?
DS: I was a massive Valiant fan when I was growing up. I grew up in Hong Kong. We didn't have any comic book stores—I would read about comics in Wizard Magazine.
I had a friend whose Dad would take business trips to America, bring back comic books and he would basically overcharge us and scam us to get some comic books. I loved Valiant.
When I moved to America to go to college, I was finally able to read all my comic books. I got them all on e-Bay, and I read them all and devoured them, and they blew my mind. They changed me. When I was working at Hollywood—I worked at Universal Studios—Spider-Man came out, X-Men came out, and I was disenfranchised with the direction that goes on. I remember the characters I loved, what's happening to them, looked them up, found they were bought by Acclaim Entertainment, big video game company. They had mismanaged them. Through no fault at Valiant, the whole company had shut down, so I decided to go to the auction, do some due diligence and learn something.
The due diligence part of the auction was so immoral, the way it was handled. Despite the fact that 87 companies, Marvel, DC, every major studio, every major video game company put money down to due diligence. Only three went to bid. I'm one of the three because no one could figure out what assets they were buying. We managed to, my partner and me, at the time. We were kids at the time basically. We took all the former employees out for drinks and dinner, got all the documents we could, put together a picture of the assets, and even then we came in second. We were lucky because there was a fourth party who couldn't afford to bid but had filed an intent to use trademarks.They basically were going to blackmail the winner. The winner pulled out, we came in, got a reduced price, and a two year legal battle on the trademarks. That's the start of how I got here, just dumb luck.
MC: Are you psyched?
DS: Oh yeah, this is crazy. I have to pinch myself sometimes. I look at the wall of characters we have up here, and it's crazy because I'm in the vortex, the eye of the tornado. It's difficult to get that objectiveness when I see how everything's built. Sometimes I just stand here and I look at that stuff and I think to myself, okay. Fifteen years ago, as a Valiant fan, I didn't know Valiant came back, and I see this for the first time. I'm look at that thing, holy shit, look at Faith, look how great she looks. Look at Rai. Who the hell is Divinity? He looks awesome! Did they put in a new character? So I'm excited, man.
MC: No two characters on Valiant are the same.
DS: Yes, we have this plethora of genres that Marvel and DC doesn't have, which is another benefit of Valiant, from period action, to star-faring space epics, to drunken comedy hijinks. We're very lucky because we have realized the universe. Check. We've got all the major characters back. Check. We've expanded the mythology. Check. Where do we go next? Well, we start to build Valiant as if it had never gone away. Where would it have gone next? What new characters come up? Divinity is the first taste of that. Britannia, Savage. The next phase of Valiant over the next six months you're going to see us do things, you're gonna look at this banner, and think "Holy shit. This is not the Valiant I know but in the best way possible where anything is possible. Where are we going to go next? Who's going to pop up next? Where are these stories going to go? That's what's exciting, it's always been the promise of Valiant, so I'm excited for that.
MC: Thank you very much, man. Any chance of seeing Shadowman anytime soon?
DS: Yes, wholeheartedly yes. Lots of cool stuff in the works with Shadowman.
---
Project-Nerd would like to thank Dinesh for taking the time from his busy schedule to sit with us for this interview.