It's Always Morphin Time Somewhere: Kyle Higgins Talks Mighty Morphin's Staying Power at ECCC

If you grew up in the 90's, then you remember that Saban's Mighty Morphin Power Rangers were everywhere. TV shows, movies, action figures, Halloween costumes, clothing, school supplies—they were the definition of ubiquitous.
Something you may not realize if you stopped paying attention, however, is how well the franchise has endured. After the series initial run from 1993 to 1995, Mighty Morphin spawned no less than 19 spin-off seasons and 2 theatrical releases—with a third feature film planned for 2017.
Coinciding with this resurgence in popularity is IDW's new Mighty Morphin Power Rangers on-going series, which launched in January with a #0. Under the pen of writer Kyle Higgins and artist Hendry Prasetya, the series—issue #3 comes out this week—serves as a reintroduction of the franchise, presenting a freshly contemporary and mature take on the Power Rangers while remaining accessible to readers of all ages.
During Emerald City Comic Con, I had a chance to catch up with Higgins about what makes the Power Rangers tick and why they've endured the test of time.
---
Matt Carter: So, Kyle, thanks for taking the time. How's the con been for you?
Kyle Higgins: It's been good! Emerald City is my favorite show of the year, so, any time I get to come back to Seattle is a good time, obviously this year with the Power Rangers being out, it's a bit busier for me—in a good way—and so it's been fun.
MC: Most people, I think, know you from your Batman work. I personally really enjoyed C.O.W.L—I thought that was fantastic. Power Rangers is a very different property from both of those, so what is it about the Power Rangers that made you want to write that book?
KH: Well, I was a fan when I was kid, so there's a combination of factors. The first is that, as I get a little older and become more cynical about the world, reconnecting with things that made me happy as a kid is super appealing. So there's that, but the bigger thing is that I thought for years that, in the back of my mind, that Power Rangers as a comic made a lot of sense and that you could do a really cool series that really highlighted and accentuated the strengths of the concepts and the world without the limitations that the show had. And as a comic, we're not dealing with preexisting footage, or budget limitations, or anything like that, we can kind of do anything. So when Boom! announced that they got the license, that was the other component. Boom's kind of the perfect fit for Power Rangers. Their kind of YA line, they do teenage character books very, very well, their stuff always has personality and the creators they get have unique voices and personalities, and the team behind these books is very dedicated.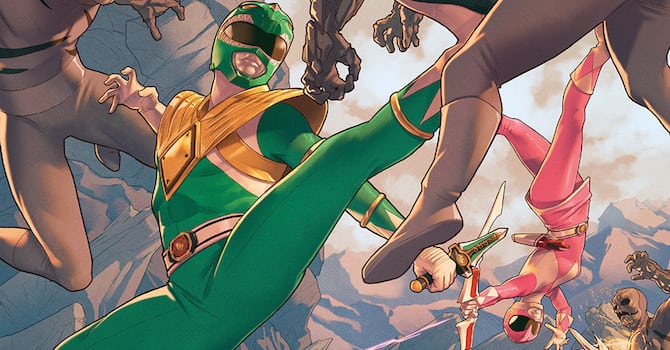 I've always been impressed with the package they put together on a series, and stuff always feels hip. So they released those first couple covers that were originally San Diego prints, and I saw those, and thought, "This is exactly what I thought over the years, any time I thought about Power Rangers as a book, this is it. They totally nailed it with these 5 or 6 images."
So I reached out to Bryce Carlson, the managing editor of Boom! and said, "Who do I have to kill to submit a pitch, like a one shot back up or something?" and he wrote back and said, "You know, your name has come up, we're still looking for the series writer." And I had a hole in my schedule, I put together a pitch. Four years before that when I had just started Nightwing, Bryce and I would talk over G-chat, and I would tell him, "Boom! should do Power Rangers one day," and he's like, "Dude, I'm trying, but Papercutz has the license," so fast forward four years and you see that announcement that Boom! got it. And I'm like, "Wow, you actually, seriously really want to do this."
It was all kind of fortuitous.
MC: I think Boom! has a history of treating their licensed properties with a lot of respect.
KH: And the other thing about it, too, is I pitched what I would do with it, and I told them, "This is what I would want to do if we're kind of on the same wavelength, cool. If we're not, that's totally fine, then someone else would be a better fit." But I wanted to update, I wanted to do it in 2016, I wanted to come in with Tommy's introduction to the team, where we basically used a little bit of general preexisting knowledge just to get us into the story. I wanted it to be clear what the Power Rangers are, but I didn't want to retell the origins in an updated way. I wanted to come in where we came in, and then push the boundaries on some things. And they responded really well, and Saban responded really well.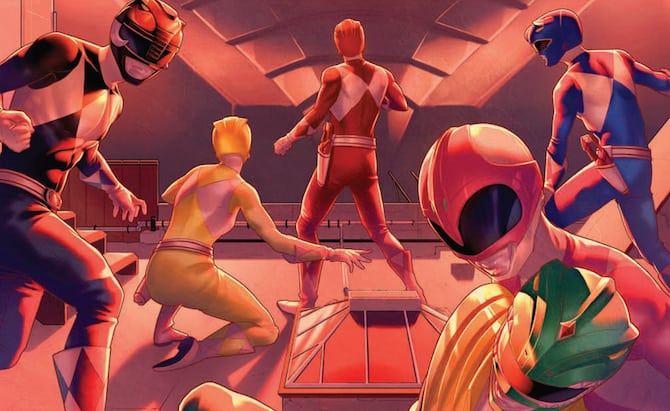 MC: Thematically, what is at the heart of the Power Rangers for you?
KH: Well, it's always been a series about power, teamwork, and friendship, right? Like it's always been a series about inclusion. And that's another reason why I started where I started, with Tommy's introduction to the team, because the idea of looking at a new guy, joining a new group of friends is something that we all experience, whether it be as the new person or as a member of the group who is like, "Oh, there's someone new here, how do I feel about this?" and it throws off the dynamic of the other members of the group.
The example I've cited a lot is like, any Lebron James basketball team over the last five years. I mean, on paper it looks like they should go 72 and 10, and in actuality it takes about half a season for them to gel. So that's really interesting to me, and I feel like that's an interesting way to score the thematic core of Power Rangers. I'm just doing it via Manchurian candidate, so I feel like that's the core of it.
I also think Tommy gets kind of a bad rap because he is definitely the most popular of the Rangers, and he's been overexposed over the years. I do think, though, as a kid, he definitely had the most compelling story to me. The way that he got his powers, the visual design was like the Rangers, but a little edgier. The shield, the dragon dagger, the Zord, he was kind of like a remixed Power Ranger.
MC: I remember the show, at the height of its popularity, he was a big deal when they brought that character in, it took the show that had a steady dynamic and just shook the whole thing up.
KH: And up to that point, the show never really dealt with or explored the Rangers questioning what they do or really struggling with the what their powers mean, and Tommy really kind of had that struggle built in because of how he got his powers and the fact that the powers were disappearing on him when Rita was trying to take them back.
It just felt very compelling as a kid, and that's kind of the best way I can describe what I 'm doing with the book. I'm not writing the Power Rangers as they existed, I'm not writing them as I remember them, I'm writing them as I remember them making me feel. So that series had this epic scope, and this drama that you go back and look at now, it's not quite the way I remember at the time, but as an 8-year-old, it feels larger than life and it felt huge.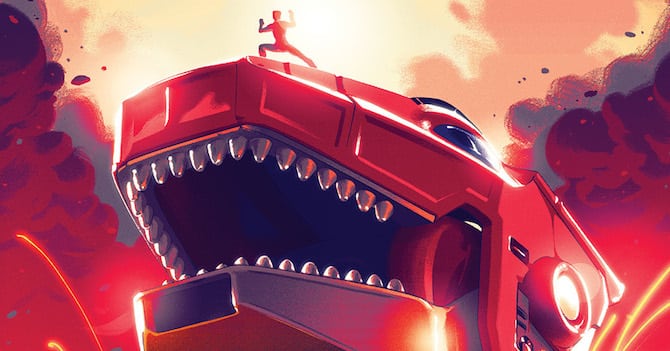 MC: I feel like the show was hugely popular in the 90's, but I think that it was subversively more ingrained in pop culture than people recognize.
KH: Well, I would actually argue that it never really dropped off. It's been running for 23 years. So they've had a different iteration every couple years or every year, and it's been big for a long time. I would say that most people when they think Power Rangers, obviously they think of the original Mighty Morphin, so in that way it's definitely been ingrained in pop culture, but it's a testament to Saban and the core of what this show is about that it's lasted all this time. They still reuse footage, they bring in a new cast every couple years, it's still running really strong.
MC: What I was getting at, though, was there ever any question for you, given that it's a show that largely associated with kids, was there ever a question as to whether an adult audience would respond to it in the way that it has?
KH: No, I mean, I have two thoughts on that. The first is that I kind of don't care, because I'm writing something that entertains me. So there's that. But at the same time, I also did feel like nostalgia for that era is very prevalent right now. So the idea of doing something with Mighty Morphin that took it seriously and was respectful of it, but tried a few different things with it, I would actually say that the series, to me what we're doing is a little bit more of a sophisticated take on it, that's the best way I could describe it.
MC: But still very accessible.
KH: That's the goal, yeah. So with that in mind, we definitely felt like it would be a successful book. We didn't know it would be this successful. The reception's been great, it's selling really well. The numbers came out for #1 yesterday, it's the number two book out of the top 300 for the month of March. But more importantly, what I had heard back from fans and retailers has been overwhelmingly positive about the content of the story. That makes me happy. That's what's exciting to me. I try not to get caught up in numbers. I'm writing for me more than anything, and I've done books before where I was chasing what I thought the audience wanted—I think everyone has—and I think it's a really slippery slope, and you never come out with anything that you're happy with.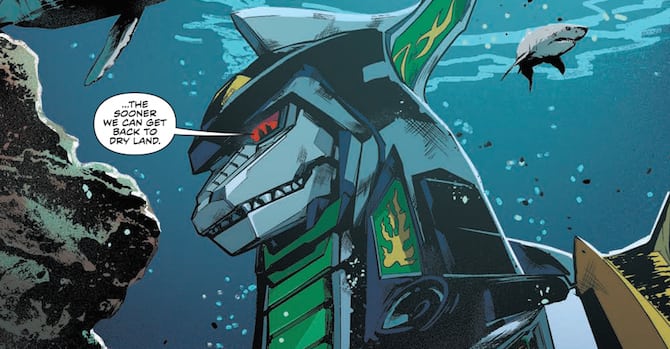 MC: Outside of the Power Rangers, do you have any plans for any other creative work coming up?
KH: I've got a new book at Image called Hadrian's Wall which will be out in August. It's with me, Alex Seigel, and Rod Reese, so it's the COWL creative team, the next book from us. It's about a murder mystery on a spaceship. It's kind of our love letter to early 80's-late 70's sci-fi. So we've got that, it'll be an eight issue mini-series, and I've got two other creator owned books that aren't announced yet that I'm working on, but it'll be a little before you hear about it.
---
Project-Nerd would like to thank Kyle for taking the time from his busy schedule to sit with us for this interview.