Gears of War 4 Beta Preview

The Gears of War 4 open beta recently ended after running from April 25th to May 1st and, being a big fan of the Gears series, I was excited to see what direction The Coalition is taking the new installment and how it would stack up on current consoles. Unfortunately, once I jumped into the beta, it didn't take long for my excitement to turn into disappointment.
The Gears of War 4 beta only featured online multiplayer and didn't offer any sample of the single player campaign. The single player campaigns in previous entries of the series were great, but online competitive multiplayer has never been a strong suit for Gears of War games. Unsurprisingly, this trend continues.
To preface the rest of this article, the single player component of Gears of War 4 could very well be awesome. The early trailers of the campaign look promising and the voice acting is sure to be great but, since the beta didn't offer any hands on time with campaign mode, it just isn't possible to tell yet. That said, the multiplayer component showcased in the beta leaves a lot to be desired.
GoW4 multiplayer has a very limited amount of available weaponry, which is disappointing to begin with, but it doesn't really matter in the long run. Players will only ever need one weapon. This is because the multiplayer boils down to "be the first to shove a Gnasher shotgun in someone's face and pull the trigger."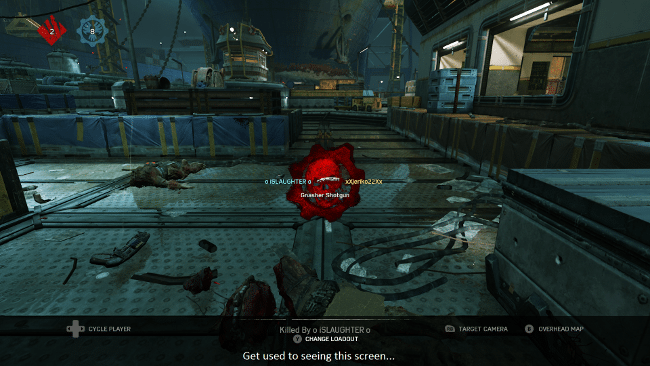 Unloading a full magazine into an enemy with either the Lancer or Hammerburst machine gun merely drops them to their knees, which they can still recover from, but it only takes one point-blank Gnasher blast to send them flying into chunks. And if you want to try using a pistol, you might as well put the barrel in your own mouth for all the good it's going to do you.
If I died 1,000 times during my hands on time with the beta, 990 of those deaths were from a shotgun to the face. The other ten deaths were from a mix of power weapons like frag grenades, Torque Bows (bows that fire explosive arrows), Longshots (sniper rifles) and Dropshots (new explosive launchers that reign death from above).
Just like multiplayer in previous Gears games, these power weapons can be found littered about the battlefield and offer some devastating kill opportunities, but it still won't take long before you get a face full of buckshot anyway. Returning players will recognize all of these weapons except the Dropshot, but this new weapon is really just an inverse of the Digger Launcher from Gears 3 so it isn't anything to get excited about.
Overall, with very little deviation from the series' formula, the gameplay is exactly what you would expect from a Gears of War title: active reloading, run and cover tactics, all the standard Gears staples. However, it seems The Coalition at least tried to spice up the gameplay with vault kicks and yank-and-shank maneuvers that can be performed against enemies hiding behind cover. It's just too bad these moves are worthless. Very few online players stay in cover long enough for you to get fancy and, if they do, both of these moves can be easily countered, which inevitably leaves you eating Gnasher bullets because you were trying to be slick.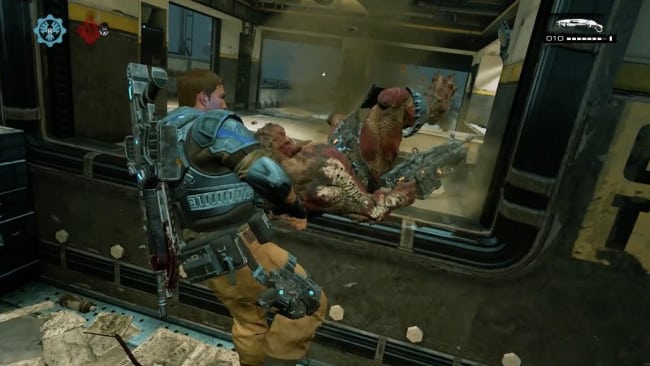 Multiplayer battles are standard 5 vs 5 kill fests, with Dodgeball mode being a tweaked exception. As the name implies, this new mode is governed by dodgeball rules, where if you take out a member of the opposing team, one of your downed teammates comes back into the game. These matches continue until one team has been completely wiped out.
One decent aspect in every mode is that when you rejoin the fray after you die, you will have a few seconds of spawn protection. This keeps you from getting killed immediately and reduces spawn camping, which is a problem with many online shooters. Another decent feature is a scan mechanic that allows you to easily search the battlefield for your teammates and power weapons during a match. You can also tag enemies when you target them, allowing you and your teammates to track tagged enemies throughout the map.
On another positive note, the graphics are really good; landscape textures and character models look great, which is to be expected from such a solid franchise. Sound effects are also excellent and accompany the look and tone of the game. Coupling well with the blood-and-guts action, sounds are loud and gritty, especially when grinding a Lancer's chainsaw bayonet through an enemy's torso.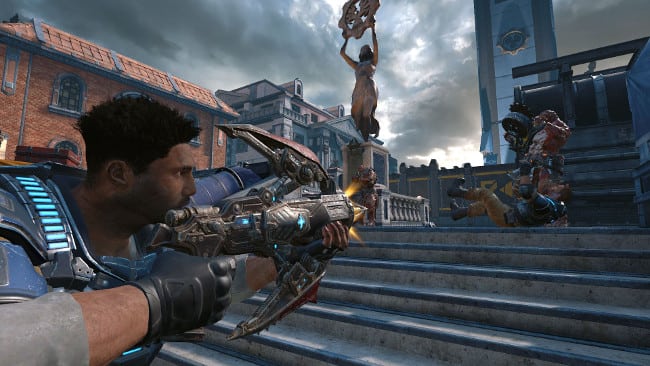 Though Gears of War 4 will have a large number of maps when it releases, the beta only featured three. All of these maps have lots of cover and aesthetically fit the series, but they aren't very big. Their sizes are acceptable for the most part because it keeps the action pumping, but there is little opportunity to seek sniper high-ground or stealth around and pick your moments. Since the maps are so small, you are quickly forced into close-quarters combat with shotguns blazing.
Have I mentioned that multiplayer involves a lot of shotgunning? Seriously, that's all there is to it. The monotonous, one-dimensional multiplayer of the beta was like listening to a piano concert composed entirely of a single note played over and over until you just can't take it anymore and storm out of the theater.
Even after playing for hours and getting good enough that my K-D ratio was favorable every round, I still didn't want to keep playing. There really isn't anything new to the series' gameplay and "shotgun tag" gets really boring really fast. Some players may like the same-old content, but most will wish that The Coalition had added a little more flavor to this new entry.
Hopefully, when the game launches in October, the multiplayer will have more to offer (though it probably won't) and the single player campaign will deliver the quality experience the series is known for (which it probably will). Really, it would have been better if the beta had featured a couple of campaign stages because, based solely on the multiplayer, there is little reason for players to be excited about this game.