'MLB The Show 16' Video Game Review

I never played baseball while growing up: I don't have depth perception, so the already difficult task of hitting a moving ball by swinging a round bat was even harder for me. But that never stopped me from being a fan. I was born in Kansas City and my family moved to Florida a couple years after I was born. Every Spring my family would make the trip over to Davenport, FL to watch our Royals in Spring Training and whenever we went back to Kansas City during baseball season a visit to Kaufman Stadium was always going to happen. Brad Pitt's character puts it best in Moneyball, "It's hard not to be romantic about baseball."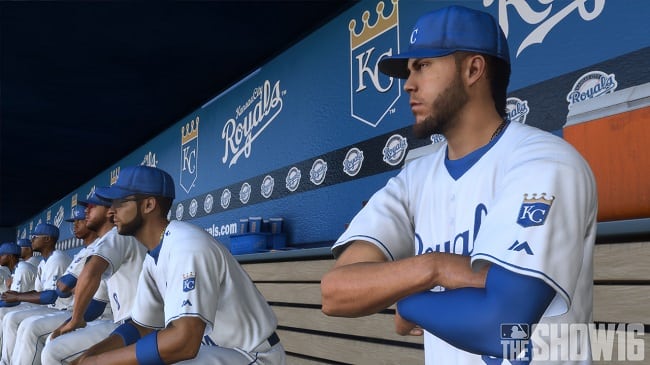 I loved going to baseball games with my family and keeping score on the score card and I used to really like baseball video games. But somewhere around the release of the Xbox 360/PS3 they became incredibly complex. Video game creators became obsessed with realism; everything had to be more realistic than it previously was and finally the technology was catching up and the developers could actually make that happen. So I fell out of love with baseball video games.
Fast forward many years and finally my beloved Royals remembered how to play baseball and I've found my interest in playing a good baseball video game renewed. And after last year's fantastic playoff run by the rowdy Royals, I knew I needed to give baseball games another shot. This is where Sony Computer Entertainment's MLB The Show 16 comes in.
Released just in time for Opening Day of the MLB season, MLB The Show 16 is the premier baseball game for PlayStation owners. Sorry Xbox and PC gamers, this game is a PlayStation exclusive (for now anyways). The newest installment of this yearly game brings a bunch of game modes that will have something for everyone. The funny folks over at Penny Arcade even made a comic about one of the new game's modes, Conquest.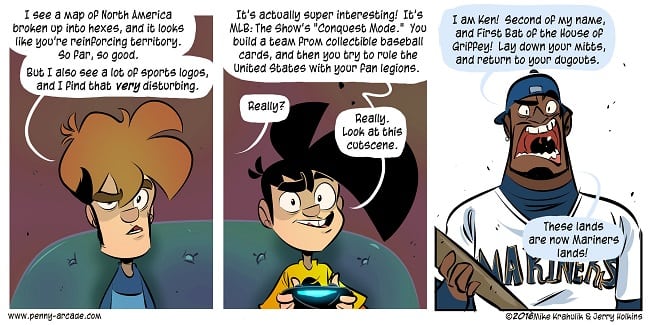 This new game mode is housed inside The Show's Diamond Dynasty, where you collect baseball cards to build a team and use that team in different competitions. Conquest allows you to use your team and build your fanbase to take over the US. It's a strategy game within a baseball game. You still have to play some baseball, short 3 inning games to conquer new territory or other teams' fans, but the idea behind it is more Risk than Bases Loaded.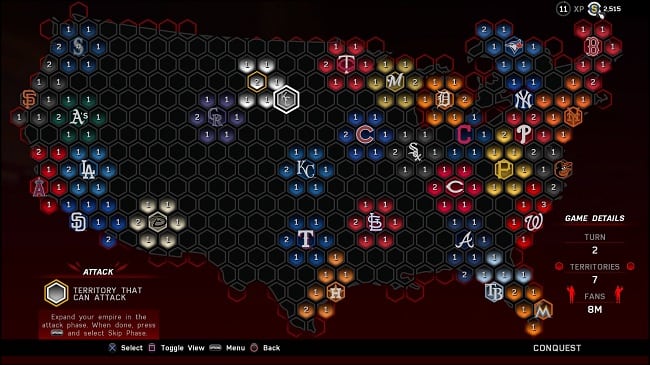 MLB The Show 16 has your standard Season and Franchise game modes as well. In these you'll control all the major aspects of your favorite baseball organization and help guide them to success. In Franchise, you're responsible for player contracts and player happiness. It's a lot to cover but for baseball purists out there, there isn't a more in-depth baseball experience. Season mode is very similar, but you don't have any long term dealings. Your only concern is success this year–nothing more. There's also an Online Franchise mode where you and your friends can run different teams, but I haven't been able to try that out yet.
The game mode I've spent most of my time playing is the Road to the Show. In this mode, you make and play with a new player. You get to decide pretty much everything about this new character: looks, equipment, and abilities. You'll take them through the rookie showcase and get drafted. Once drafted you have to work your way up from the Minor leagues to the Majors. In all this time, you only play as your character. You bat for them and when they're in the field you take part in the plays that involve them. So if you're an outfielder, you don't play or even see when someone grounds out to third.
You get to pick the team you want to be drafted by, so this is something to take into consideration as well. I picked the Royals because they're my favorite team, but since they just won the World Series they don't have need for very many positions. So even though they drafted me, I was traded in my first season and never got to play a game as a Royal in the majors. So before picking a team, make sure to consider the team's needs and your position.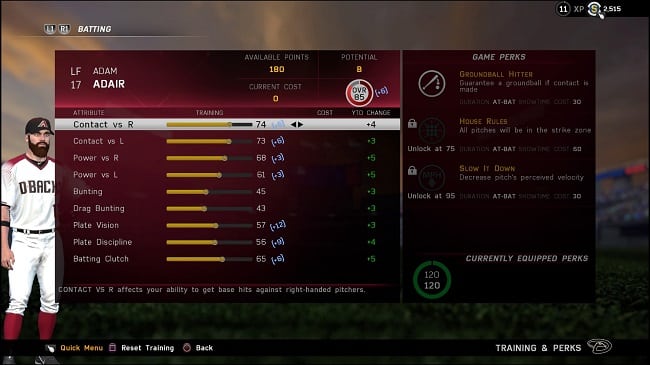 All in all, Sony Computer Entertainment did a great job. The gameplay is smooth and fluid. There are a couple clipping issues with some of the hitting animations but not anything major. Also I've noticed when you're locked in and playing as one player, it can sometimes be hard to track the ball in the outfield, causing problems fielding where there wouldn't be in real life. But again, it's not such an issue as to be a distraction. Generally, a couple mistakes over a 162 game season won't make a huge difference.
The graphics are pretty great. The stadiums are gorgeous and the players look good and fluid in their motions. But there are a few small issues, like every now and then the announcers will mention that the stadium's roof is closed when clearly the roof is open. Or sunlight will be coming through and showing on the players even though they're standing in shadows. These are small things that never really caused me any issue with the actual gameplay and are more cosmetic hiccups than anything.
The audio of the game is pretty standard. There's music for anytime you're not in a game and it's nice to have some sound, but nothing blew me away. The in-game sound effects create an immersive atmosphere. At the plate you can hear fans cheering or jeering, depending on home or away games. The stadium announcer can be heard in the background along with the crowd. The regular game announcers are usually on point with their commentary but they can get a little repetitive. That's to be expected with a sports game as there are only so many ways to say "base hit."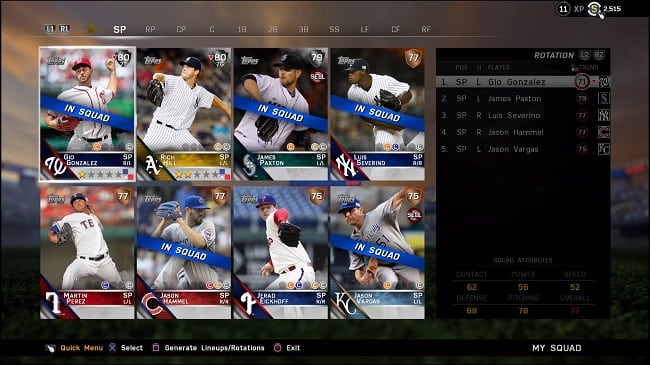 One of my favorite parts of this game is how they tie everything together. They do this by using collectible baseball cards that can help in the different game modes. There are player cards and stadium cards that you can use to build your Diamond Dynasty team. There are equipment pieces that you can use for your Road to the Show player to give them bonuses for everything from hitting to fielding to running.
These cards tie all the different game modes together. So while player creation may be your favorite part of the game, you can still get something beneficial by trying out the Diamond Dynasty. This allows you to continue to enjoy the game while opening up modes that you may have never tried. Whether you're growing your team to take over the US or managing your organization into a multi-championship winning dynasty, there's always something to do in MLB The Show 16. With all the different games modes and ways to play, you can keep playing MLB The Show 16 well into the off-season.
MLB The Show 16 was reviewed on PS4. The game is only available for PlayStation 4 and PlayStation 3. A copy of the game was purchased by the reviewer.