Way Too Late Review: 'Batman: The Long Halloween' Comic Review

Welcome back to the Way Too Late Review, Project-Nerd fans. This month I'm looking at Batman: The Long Halloween. If you listen to the Nerdcast you know that I haven't really read comics, but that is something that I'm going to change. While at C2E2 in Chicago last month I spent some time on the floor with Iggy and Tyler and they helped me pick out some "must read" comics (though, since I'm poor they were mostly from the 1/2 priced boxes).
One story that interested me was Batman: The Long Halloween. I didn't pick it up right away because I was looking for The Killing Joke, or Batman: Year One, or some others that I at least knew the name of. However, both Tyler and Iggy immediately said something to the tune of, "Wait Batman: The Long Halloween is in there? You should get that one for sure." So just like that I had a new comic book to read.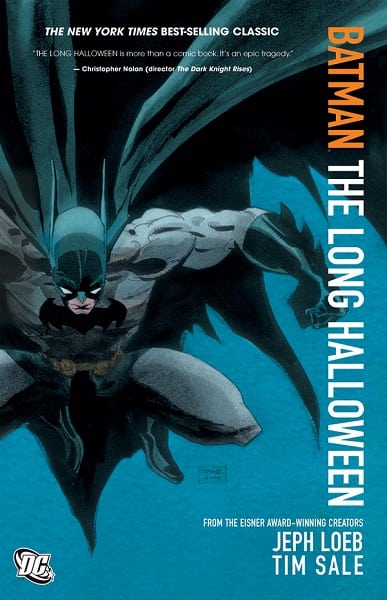 Now comes the time for honesty. Hopefully you know that our series of Way Too Late Reviews are reserved for people who have never read, watched, or played a particular classic. But the truth of the matter is, this is only the second comic story (more than a single issue) that I've ever read. I just never was able to get into comics as a kid. It also means that my review of this comic may not quite be on par with our fantastic comic reviewing team. Okay…I feel better now that's off my chest.
Batman: The Long Halloween is a collection of 13 books that DC released from 1996 to 1997, written by Jeph Loeb and drawn by Tim Sale. It tells the story of the Dark Knight, in his early years of crime fighting, working to solve a series of murders that started on Halloween and take place on holidays. With that setup it isn't a big surprise that you get quite a few appearances from Julian Day, the Calendar Man, who commits his crimes in pace with the calendar. But he's also safely in Arkham, so the mystery continues.
Batman coordinates and works with Commissioner Gordon and Harvey Dent. Reading the story I understood why, when collecting the issues for the trade, they pulled together quotes from Christopher Nolan and David S. Goyer. You can see many of the themes and ideas from this story in their recent Batman trilogy movies.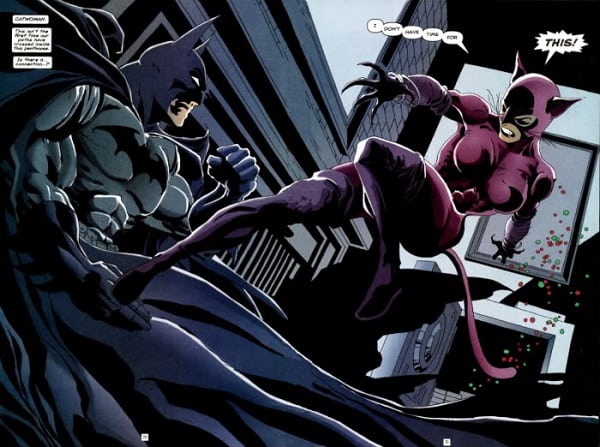 Batman has interactions with many of his most famous baddies throughout. You meet Joker, Scarecrow, Catwoman, the Riddler, Solomon Grundy, and Mad Hatter. It's not all super-villains though, as you get Gotham's organized crime bosses Maroni and Falcone in the action as well. Needless to say you're never left wanting more in the bad guy department, that's for sure.
As my first real experience with a longer comic story, I was very impressed with Batman: The Long Halloween. I started reading it one night before bed to pass some time (too late to start a movie but too early to actually go to sleep) and ended up staying awake and finishing the entire thing. Now it's not like I stayed up and read Lord of the Rings but as a collection of 13 comics, it's a fairly decent length.
The art was what really drew me in. Tim Sale's work with the characters was fantastic. I haven't read many comics but Batman is my favorite superhero—I've seen all the movies and I play all the games—and seeing him in comic action was something that I didn't think would get to me. But it did. Now I like the Dark Knight even more than I did before.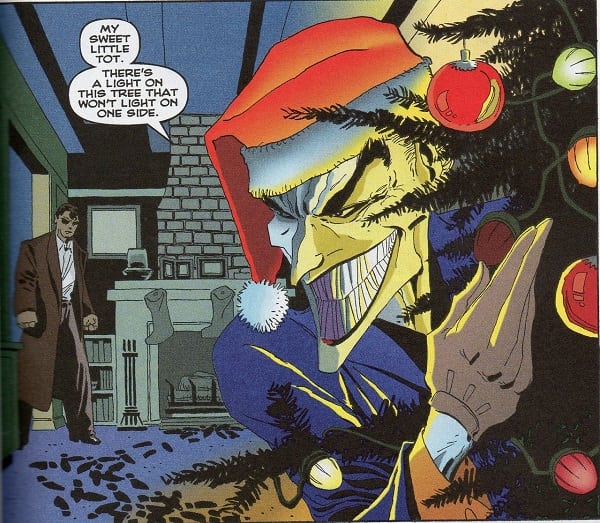 The story is also very good. Some of the side points I felt were spoiled for me by having seen the Nolan Batman movies but the main plot kept me interested. I think that if I had found these books when I was younger I wouldn't have had any problem making it to the comic shop to pick up the next issue each month. Loeb masterfully weaves a story across a long period of time and through many different characters.
To talk about Batman: The Long Halloween's place in comic history you don't have to look much farther than the fact that the cinematic Batman borrowed much from this book. Movies will always be the easiest way to get a character across to a large population. Most folks won't read all the different comic books that are out there and see the different styles that a superhero can take, but they'll watch a movie and for better or worse that representation will be that character for most of them. In that regard, this book solidifies Gotham's mobs and mobsters as part of Batman's world.
Overall, I would say that if you like Batman (and especially if you liked Nolan's Batman movies) you should read Batman: The Long Halloween. If you're like me you'll be happy that you don't have to wait 13 months to see the entire story and you'll probably have friends who will say, "I told you so" about how good it is.