New Comics Wednesday: April 6th Edition

Every week, Project-Nerd gives me a bunch of comics. I read those comics, and then tell you which ones you should read.
Hopefully, it works out for both of us. This week's picks:
---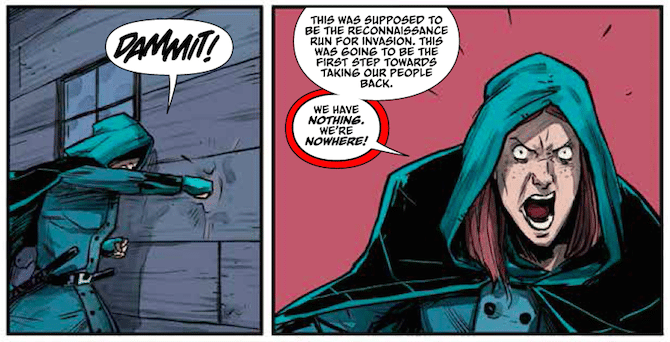 The Woods #21 (Boom! Studios)
created by James Tynion IV and Michael Dialynas; written James Tynion IV; illustrated Michael Dialynas; colors by Jason Gonzalez; letters by Ed Dukeshire 
If, like me, you wondered what the hell was going on with Karen and Calder, this is the issue of The Woods that you've been waiting for.
Filling in the blanks just scratches the surface of the complexity of this story though, because Tynion and Dialynas effortlessly communicate Karen's fluctuations between rage, pain, and sadness by jumping between flashback and present day scenes in a way I don't think I've seen before. It's seamless, emotive, and it's incredibly informative of her character. I'm a huge fan of Michael Dialynas' experimentation with different styles of of storytelling, but this is another new level for him.
Conversely, we see Calder's reaction to Karen's newly hardened personality through his desire to atone for some really well-intentioned bad decisions. It's driven him to some drastic behavior that has knocked him down, yet, he has clawed his way back up the mountain again and again. He may still be the class screw up, but he's learned that actions have consequences.
Karen would do well to remember that, because shit is about to get heavy.
Tynion and Dialynas have put so much dimension into these characters that it's easy to forget that they are just high school kids dealing with some very adult situations. It's all so believable because of the strength of their world building despite taking place in a very strange alien world.
Sometimes, script and art inseparably combine to make a great comic. The Woods is an example of that.
---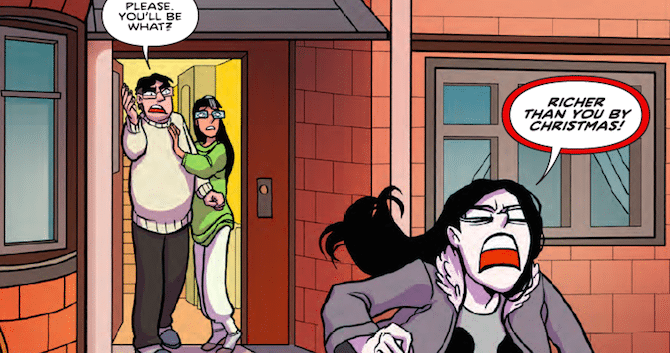 Giant Days #13 (Boom! Box)
created and written by John Allison; pencils by Max Sarin; inks by Liz Fleming; colors Whitney Cogar; letters by Jim Campbell 
When I graduated from college with a degree in music production and engineering, I remember a conversation with my mother where I said, "yeah, I think I might go to culinary school now." After she picked her jaw up off the floor, she reminded me, "Matthew, you owe a lot of money for school." This month's Giant Days is a similar exploration of the complex relationship between parent and child. Esther has decided that she's not going back to school after the summer and her parents return with, "You're not serious, we already paid for this!"
I remember sometime last year saying that a particular issue of this book missed the mark when attempting to blend the real and the fantastic in the way that made Scott Pilgrim such a great read. This month, in an elegantly and thematically connected story about independence, John Allison and the art team of Sarin, Fleming, and Cogar perfected that blend and surpassed that comparison entirely. There's a pretty sweet Nosferatu visual gag and a quick, one panel Exorcist reference—I can't tell if either are intentional, but they're both fantastic. They work because they're metaphoric devices that fall directly back into reality, allowing the story to resonate on first read, and demand a second one.
I'd like to take a moment to let the art team on this book know they are doing some of the best, most accessibly brilliant work in comics right now. They're so good at what they do, that it's easy to fall right into the story and forget how much work it takes to do the things they do. You folks are some of the best in the business. Bravo.
---

G.I. Joe: Real American Hero #227 (IDW)
written by Larry Hama; art by S L Gallant; inks by Brian Shearer; colors by J. Brown  
Larry Hama is one of the great masters of the cinematic comic book scene.
The entire first half of this issue is one big chest puffing standoff between Cobra Commander and Destro, who's got a wrist rocket aimed directly at his old management, and a knife to his eye, courtesy of new teen COBRA protege-in-training, Dawn—whom we met last issue when she bested like, a million dudes on the lacrosse field. It's as hilarious and ridiculous as it sounds, and Hama's dialogue is on point as ever, reminding us that yes, Cobra Commander is indeed a former used car salesman and that Destro's mask is knife proof. It's very Tarantino-esque, and it's super fun to read.
After that, there are some other continuing narratives that are hard to care about, but the book is really worth it just for those first 10 or 11 pages.
My theory stands: Cobra is awesome, and G.I. Joe is kind of lame.
---
Mighty Morphin Power Rangers #2 (Boom! Studios)
written by Kyle Higgins; illustrated by Hendry Prasetya; colors by Matt Herms; letters by Ed Dukeshire 
It's no secret to my friends that I use the classic, 1970's era X-Men as my bar for any superhero team book. They went through their creative rough spots, sometimes the art might've been a little bit off, or the writing might get a little long-winded, but it always embraced the weird core of the genre: a bunch of people with superpowers get dressed up in brightly colored costumes, get into some screwy adventures, save the world, and grow as a group.
By that metric, Mighty Morphin Power Rangers succeeds by hitting all the marks. It's got a bunch of weird kids who know kung fu and yell, "It's Morphin' time!" as they ride around in giant robot dinosaurs—called Zords—to defend the world against weird monsters controlled by a woman named Rita who has two cones on her head. Quite literally, the storytelling possibilities are endless.
One thing the book does really well, and especially in this second issue, is establish the characters through the story. Jason's the responsible one—the "Cyclops" of the group. Zack is the group's Iceman, lighthearted with a lot of untapped potential. Billy, the resident techie of the group is clearly their Beast. Kim is the Jean Grey, generally inoffensive, but with way too much focus on her character. Trini is Storm—collected, yet fearsome when she needs to be. Tommy, the Green Ranger, plagued by the demons of his past, is very clearly Wolverine.
And they're under the charge of a giant, floating bald head.
It's big, dumb, weird superhero comics—and I think they're on to something if they stick with what they're doing.
---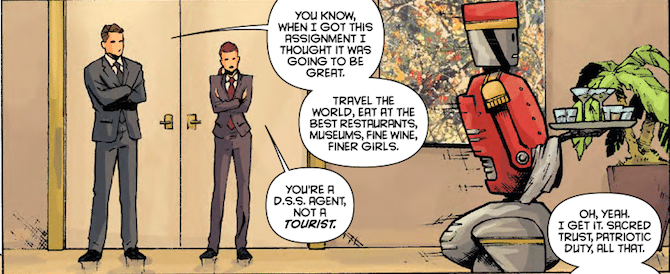 Gold Key Alliance #1 (Dynamite Studios)
written by Phil Hester; art by Brent Peeples; colors by Morgan Hickman; letters by Simon Bowland
Dynamite is basically the king of licensing old properties that other companies have lost interest in or don't want to take a chance on—and when they do it right, it's a lot of fun because they allow the creators to stretch out a bit with the characters.
Phil Hester does a pretty great job with an obligatory introductory issue. As expected, the plot involves the arrival of a dark, terrible power that will bring an unlikely group of heroes together, but the entertainment value comes in Hester's talent for character work, as he re-imagines some of the very same Gold Key characters that helped put Valiant on the map in the 90's—and the mighty Samson, who is a homeless man fighting imaginary monsters in the streets. Add in Turok, now a tribal ranger and reality TV star, Magnus—who still fights robots as a secret government agent—and Solar, a young missionary using her her atomic abilities to provide humanitarian aide to Africa, you've got a very strange cast that kick down a lot of storytelling doors.
Brent Peeples may not be the most experienced artist in comics, but he's got something very important—a talent for storytelling and character acting. Some panels in the comic are practically identical—especially when it comes to close-ups—but it's always very clear what's happening from page to page. I'll take that over flashy artwork any day. Also, he's taken on quite the task, drawing dinosaurs, robots, aliens, and child commandos in the first issue. It takes an artist a minute to hit a stride, and when he does, I think Peeples will be someone to keep an eye on.
---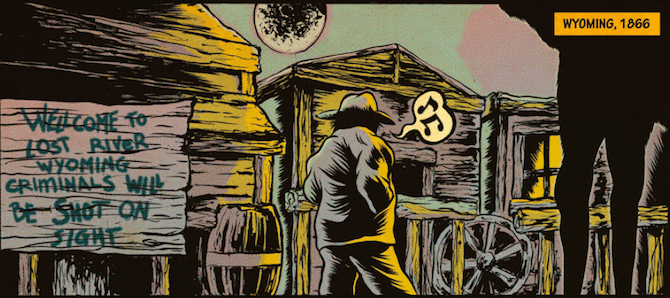 Amazing Forest #4 (IDW)
written by Erick Freitas & Ulises Farinas; art by Jelena Djordjevic, Victor Puchalski, Hyendo Park, Adrian Bago Gonzalez
If weirdo tales with a science fiction bent to them is your thing, then writers Erick Freitas and Ulises Farinas have got you covered with the fourth issue in their Amazing Forest anthology. Just like before, they've assembled a diverse bench of artistic talent to tell stories about dogs that rule the world, sympathetic murder robots, killer teddy bears and…you guessed it—satanically seductive horses. Each artist brings something unique to stories that must've been tailored to their style while playing well together as an ensemble. Personally, I thought that Victor Puchalski's stylized line work and old-school Luchalibre poster color palette to be the most visually striking, but I think there's something here for everyone.
Just, please, be careful around the horses.
---
Also available this week:
Boom! — Bee and Puppycat #10, Escape from New York #16, Last Sons of America #4, Regular Show #34
Dark Horse — Angel and Faith Season 10 #25, Baltimore: Empty Graves #1, Call of Duty: Black Ops III #4, Lobster Johnson: Forgotten Man One-Shot, Lone Wolf 2100 Vol. 2 #4, Predator: Life and Death #2
Dynamite — Army of Darkness: Furious Road #2, Bobs Burgers Vol. 2 #10, Miss Fury Vol 3 #1, Vampirella Vol 5 #2
IDW — Angry Birds #4, Eighth Seal #5, My Little Pony: Friends Forever #27, Star Trek #56, Uncle Scrooge #13, Victorie City #4, X-Files Season 11 #8
---
Project-Nerd is a press partner of BOOM! Studios, Dark Horse Comics, Dynamite Entertainment, Alterna Comics, Valiant Comics, and IDW Publishing. If you would like to see your studios' content included in our weekly release article, please contact our editors.