Women's History Month: 31 Days of Power Volume 8

The heroes in our comics should reflect the world around us—and that means they should be diverse in their backgrounds, ethnicities, preferences, and genders.
In that spirit, we are culminating Women's History Month by honoring these final five female characters in comics history. Thank you for reading along with us all month.
---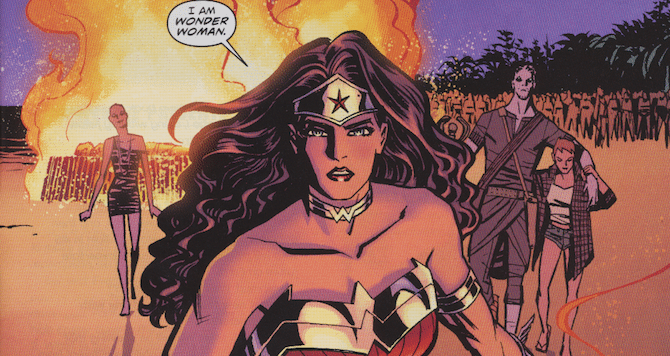 Wonder Woman
First Appearance: All Star Comics #8 (Dec. 1941)
Created By: William Moulton Marston
Alter Ego: Princess Diana of Themyscira, Diana Prince
Wonder Woman is an icon.
Yet, so few actually know who she is. Where her male contemporaries, Superman and Batman, gain front page headlines for their exploits, Diana Prince's stories are barely ever mentioned outside the confines of comic conventions. Where the male two of DC's 'Big Three' have had numerous iconic storylines over the years, Wonder Woman has been left struggling with only a handful of memorable story arcs to her name.
In Tim Hanley's book, Wonder Woman Unbound: The Curious History of the World's Most Famous Heroine, he posits that Wonder Woman is the superhero everyone knows, but knows nothing about. She is a Princess. She is an Amazon. She has a lasso of truth. She wears indestructible bracelets, and sometimes drives an invisible jet. Her costume is rather on the snug side.
Yet what do we know of her character? Who are you, Wonder Woman? Are you the demure and petite secretary you were so cruelly relegated to during your tenure with the Justice Society? Are you the stylish, yet powerless martial artist you were downgraded to in the late 60's?
Was renowned feminist, Gloria Steinem, right about you when she described you as representing "…many of the values of the women's culture that feminists are now trying to introduce into the mainstream: strength and self-reliance for women; sisterhood and mutual support among women; peacefulness and esteem for human life; a diminishment both of 'masculine' aggression and of the belief that violence is the only way of solving conflicts."?
Are you the fierce and unrelenting warrior presented in Mark Waid and Alex Ross's Kingdom Come epic, an ideology that seemed to make sense of you to a lot of fans for the first time and forever stripped away any thought of you being anything other than a warrior? Are you George Perez' fantastical Wonder Woman? Greg Rucka's political ambassador? Brian Azzarello and Cliff Chiang's God Of War?
Or are you beyond such petty distinctions?
Are you, as creator William Moulton Marston envisioned you: "psychological propaganda for the new type of woman who should, I believe, rule the world"?
Or are you someone who has grown beyond your creators? Just as when you appeared on the first issue of Ms. Magazine in 1972, do you now belong to the readers, to the world to imagine and conceptualize you in any way they see fit? You are not like Superman, nor his shadow, Batman, you are far greater than them.
You continue to evolve, to reflect the world around you, to mirror the aspirations of those who would draw strength from you.
You are Wonder Woman.
Unique. Indefinable. Invincible.
An icon.
---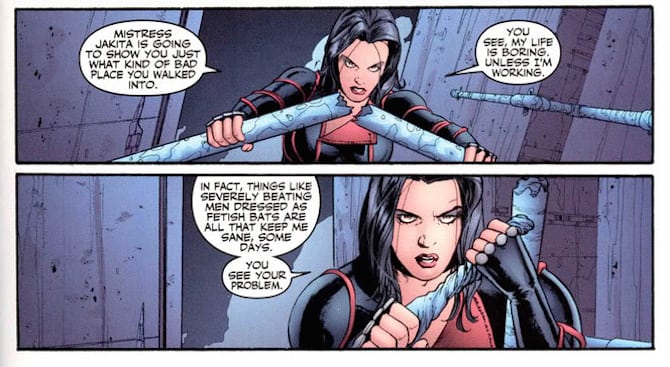 Jakita Wagner
First Appearance: Gen 13 #33 (Wildstorm, 1998)
Created By: Warren Ellis, John Cassaday
Alter Ego: n/a
Warren Ellis is a hell of a writer. His voice is a unique, creative one and he has the ability to straddle the different worlds of mainstream comics and creator-owned titles. One of these—the work many consider to be his magnum opus—was the Planetary series he co-created with artist, John Cassaday. A multi-layered, epic encapsulation of the superhero genre itself, Planetary looked to expose and re-imagine the tropes which hold up the genre, with love, a modern eye and a bucket-load of skill.
From this world walked, Jakita Wagner.
Born of noble stock, conceived in a forbidden tryst and cast out from the world she was born to, Jakita's past owes just as much to the pulp publications of the early 1900's as it did to comic book lore. Drawing inspiration from the fantastical worlds of Jules Verne, Burroughs and pulp icons such as Doc Savage, Ellis created a background for the character, which was as mysterious as it was compelling.
Yet Jakita's personality was nothing if not modern. Possessed of "a low threshold for boredom" and a fierce spirit. It wouldn't be inconceivable to believe that if Wonder Woman had been created today that she would bear more than a passing resemblance to Jakita Wagner. Like her predecessors, Wagner is possessed of super strength, speed, durability, whilst also being one hell of a formidable warrior. In one of the greater comic book crossovers of all time, she even found herself going toe to toe against a certain caped crusader, the results of which were debatable, to none more than the participants themselves.
As with all the characters in the Planetary series, Jakita is somewhat of an amalgam, a cipher through which Ellis can explore archetypes and concepts. There is something not quite real about the cast, something otherworldly, as if they were merely constructs designed to further an idea. Still, in the hands of a writer like Ellis, these 'ciphers' are still possessed of more nuanced characterization than your average funny book and Jakita is no exception.
Although there is an undeniable urge to see greater battles for Jakita (versus Goddess of War, Wonder Woman, anyone?) and to see how her further interactions (and attraction) with Batman might develop, Jakita really only belongs in the Planetary universe itself. It is a far more detailed, strange, bizarre and ultimately enticing world to lose ourselves in.
Much like Jakita herself.
---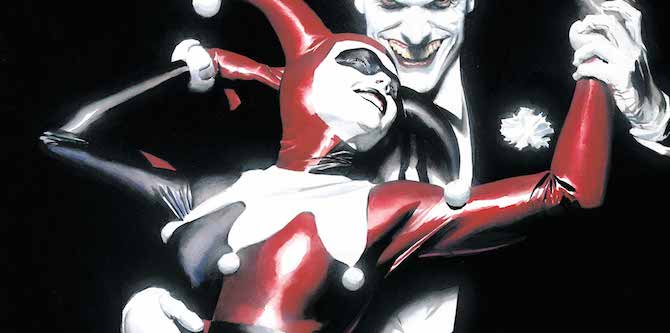 Harley Quinn
First Appearance: Batman: The Animated Series (September, 1992); in comics, The Batman Adventures #12 (DC, 1993)
Created By: Paul Dini, Bruce Timm
Alter Ego: Dr. Harleen Frances Quinzel M.D.
Whichever way you look at it, Harley Quinn is a sensation.
Created not in comics, but as a character in the Batman Animated Series, Harley Quinn made the transition to comics proper due to her popularity. A unique character with an original back-story and brilliantly inventive connection to the Bat-Universe, Harley has entered the comic book consciousness. Attend any convention, anywhere in the world and see the obsessive zeal that cosplayers have for the character. Read any forum to see the zealous fervor that greets any changes to the character.
So, why so serious? Why the feverish fanaticism for what could just as easily have been a minor character?
Harley was originally known as Dr. Harleen Frances Quinzel, M.D, an Arkham Asylum psychiatrist who, bizarrely enough, falls in love with the Joker and becomes his sidekick. Their relationship was, and is, tumultuous at best. This element has been one of the more controversial aspects of the character with Harley having been the victim of Joker's crazed abuse over the years. Strangely, in the eyes of the reader, this has engendered probably more affection for her, as many feel a huge sense of pity towards Harleen, her mistreatment at the hands of the Joker creating empathy for her. Yet the reality is far more insidious as the brutality on display is really quite disturbing at times, the Joker trying to murder Harley repeatedly throughout their romance.
Still, fans appear willing to overlook this fact, seemingly attributing it to one more bump on the road to romance. Joker and Harley are seen as freaks who have found each other in a world of normal people. Sweet, but slightly disturbing. It is this irrepressible nature of Harley that keeps fans coming back to her; her ability to remain positive no matter what is happening around her, even if in a slightly deranged sense.
Oh, and don't forget the costumes. Since graduating from her original skin-tight leotard number, Harley now skirts the edges of high fashion, taking in elements of pop culture, sadomasochism and thrift shop chic to make her mark as one of the hippest characters in comics, loved by male and female readers alike. She has evolved too, slowly moving away from the shadow of Mister J and evolving into a complex and intriguing character in her own right. Her 'friendship' with Poison Ivy has reignited a lot of interest in the character and expanded boundaries for exactly what a comic book female is allowed to be.
With her profile about to go sky high due to her appearance in the upcoming Suicide Squad movie, Harley looks set to expose her craziness to a whole new audience. There is no character whose interpretation is more heavily anticipated than hers and may well determine the film's success. If successful in translation, Harley may well catch an even greater number of people under her spell and guarantee her an even greater place in the comic book mythology.
---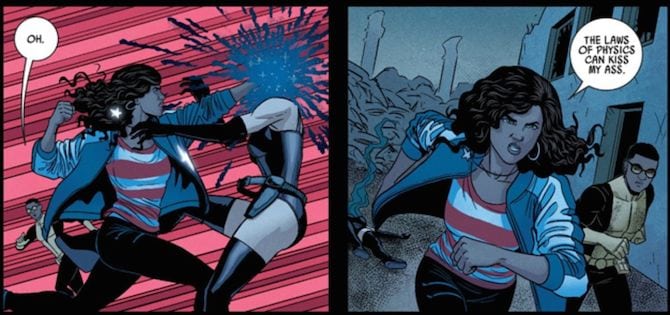 America Chavez
First appearance: Vengeance #1 (Marvel, 2011)
Created by: Joe Casey, Nick Dragotta
Alter ego: Miss America
A nearly indestructible, flying, super strong, inter-dimensional badass, America Chavez hails from place called the Utopian Parallel—a world populated exclusively by women where she was raised by her two mothers. When their planet faced destruction, America's mothers sacrificed themselves to save it and return the Utopian Parallel to its rightful state of peace and perfection.
An interesting thing happens at this point in America's story. Anxious to prove herself a hero like her mothers, she decides to leave Utopia and go off in search of places that actually need saving by literally kicking a hole in reality to make a portal. She eventually falls in with a group of heroes called The Teen Brigade who work behind the scenes to save the world in ways that the more 'mainstream' superheroes aren't even aware of.
America may have debuted in Joe Casey's and Nick Dragotta's Vengeance as the Teen Brigades resident powerhouse, but it's Keiron Gillen and Jamey McKelvie's Young Avengers which provided the backstory that gave her the depth she has now. The book focused on a culturally diverse group of teenaged superheroes and handled things like adolescent sexual discovery and familial difficulties in new, normalizing ways for a mainstream book. America's own revaluation that she's a lesbian, is in fact, so unremarkable and treated with so little fanfare that you might miss if it you read too fast.
From her first appearance, America teems with a female machismo, capability, and composure when stepping to Loki, a literal god. She's made a choice to save worlds—a lofty goal, speaking to a level of confidence that goes beyond her incredible superhuman abilities. As one of the rare existing characters to come out of not only a gay household, but a gay world, she's completely free of the stereotypical trappings of being a gay teen. There's nothing awkward about it for her because, where she comes from, that's just how people are.
America Chavez—as a hispanic, LGBT woman with agency—represents a very serious attempt by Marvel to diversify their comics. Right now you can find her in Al Ewing and Kenneth Rockafort's Ultimates, where they continue to expand on her character in new ways.
---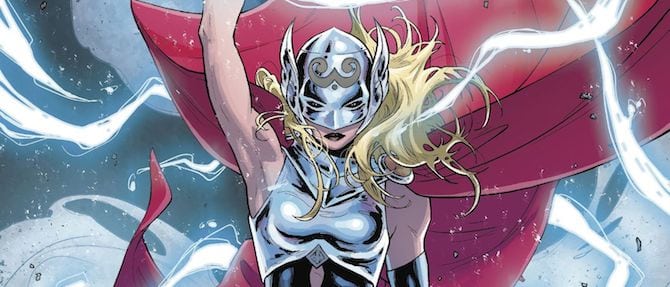 Thor
First appearance: Thor God of Thunder #25 (Marvel, 2014)
Created by: Jason Aaron, Axel Alonso
Alter ego: Jane Foster
Conventionally, Jane Foster has existed as a supporting character to Thor, living on the periphery of any storyline while providing nothing more than a foil for Thor and his one-time alter ego, Donald Blake to pine after.
That all changed in 2014, when the Marvel event Original Sin saw Thor leave his precious hammer, Mjolnir, on the surface of Earth's moon after he was deemed unworthy to wield it. A mysterious—yet apparently worthy—woman picks up the hammer and is suddenly imbued with the power of Thor.
There was speculation abound for months as to who the new Thor was. One theory posited that Thor's mother, Freya, was wielding the hammer in order to stand up to her husband Odin, who'd been recently revived from death and was anxious to underscore everything she'd accomplished in his absence. Another posited that S.H.I.E.L.D. agent Roz Solomon, Thor's most recent romantic interest, had raised Mjolnir as a way to take the fight to Roxxon, a corrupt corporation whose aim was more or less to strip the Earth of its resources because of a deal made with some Dark Elves.
Sometimes the best answer is the most obvious one. It was Jane Foster—Thor's original love, who had since moved on in life after their breakup—who had taken up the role of Thor in the Marvel Universe.
As the all-new, all-different Thor, Jane Foster is the Rosie the Riveter of the Marvel Universe. Literally taking a hammer to the patriarchy, she makes an enemy of Odin, who believes her to be a blasphemous imposter, unworthy to wield the power of Mjolnir. Shortly after Jane takes up the mantle, Odinson—which is what the original Thor has been going by—attempts to take the hammer back, only to relent after she fights him to a standstill. Strictly because she's a woman, her status as the god of thunder is constantly challenged by her male enemies who identify her as "Lady Thor."
That is, until she feeds them a mouthful of Mjolnir and a fistful of thunder.
Having to assert herself as a woman stepping into a man's role is unsurprising—it's something that comes with the territory, and any woman who had picked up the hammer would've had to deal with it. There's something different about Jane's character though that makes her especially impressive as Thor.
Jane Foster has breast cancer, and wielding the power of Thor is actually making it worse. Every time she transforms into Thor, her body is purged of the chemicals that are supposed to be fighting her cancer. This mystical hammer that gives her this wonderful strength and other-worldly powers is actually killing her. Still, while Mjolnir chose her—no two people can simultaneously lift the hammer—she chooses to keep carrying it because the universe needs a Thor. It's an incredible dichotomy of character, pitting duty against self-preservation.
It's difficult to find someone whose life hasn't been touched by breast cancer. According to statistics on Breastcancer.org, 1 in 8 U.S. women will develop invasive breast cancer over their lifetime. That's a staggering number, and Jane Foster could be any one of our mothers, aunts, sisters, wives, or daughters. For Marvel to make it a core character trait of one of their three major Avengers is an unprecedented move for comics in terms of raising awareness.
---
Bios for Wonder Woman, Jakita Wagner, and Harley Quinn were contributed by RW Adams.