'Satanic Hell, Vol.1' Comic Review

story by Grigoris Douros; art by Kevin Enhart; additional art by Newel Anderson; colors by Jimmy Kerast
---
This is a very different kind of comic book. Writer Grigoris Douris crafts a story that mixes an adolescent rebelliousness with lack of fondness for organized religion. The result is a very interesting take on what it means to be a metal fan and how the Christian world perceives them.
Taking its cues from the age old argument of 'religion vs metal', this story offers up an extreme version of Texas. Painted as a totalitarian state where extremist Christian views are the norm, we are introduced to a world where you are judged by the percentage of time you spend at church, the church runs the local government, and just having long hair marks you as a Satanist. Sounds like a fun place to be, right?
Whether intentional or not, this book can be viewed as a satirical swipe on the ultra conservative views held by many that metal fans worship the devil and sow discord among youths. This attitude is conveyed very effectively by Douris when writing the dialogue for Reverend Scudder, the main villain of the piece.
The dialogue for the three main characters flows really well. It feels like genuine conversations between friends, especially when they have disagreements. It's also steeped in references to metal culture as well as a sneaky Monty Python reference about the Spanish Inquisition.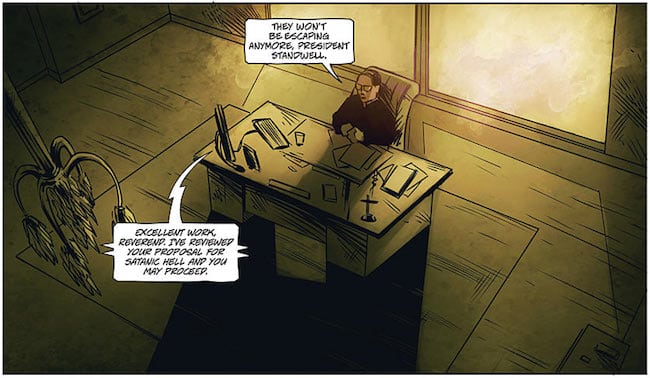 The narrative takes a little while to heat up but around the halfway point, things start to fall into place. It's around here, we're introduced to a character called Saint—he's like the Boba Fett of the story. His appearance is brief but he looks so cool that I want to see more of him.
The later portion of the story features violence and mutilation on top of what was already there in the dialogue and premise and just makes the second half more interesting to read. Pacing is the only real negative with Satanic Hell. A little editing of the first half, or even some kind of action sequence would have made all the difference.
The art is a mixed bag. The style of the line work is great. It has a raw, immediate quality that is quite expressive. Where it could use some work, however, is the use of color. It may be intentional, and sometimes it does seem that way, but it looks washed out. A little more vibrant color would have made the panels pop.
Overall, this is an interesting book that explores familiar themes and issues prevalent in modern times and tackles them with a little humor and the perspective of a metal-head. It's fun, has some cool characters, great dialogue, and besides a few niggles with the pacing is a good way to spend a few hours.