The Nerd Chord: Buffy and Veronica

For me, Veronica Mars (2004-2007) and Buffy the Vampire Slayer (1996-2003) are forever entwined. At one point or another, they have many things in common: women in powerful leading roles who are feminine rather than butch; a cast of loyal friends, and a father figure; witty dialogue more acerbic in Veronica but more fun in Buffy; themes related to growing up and taking responsibility; high school, etc… Of course the two differ as well. Veronica is hell bent on finding out not only who murdered her best friend but she is also determined to uncover the identity of her own rapist. Meanwhile, Buffy saves the world every year from supernatural forces. Her high school sits atop the Hellmouth, you see.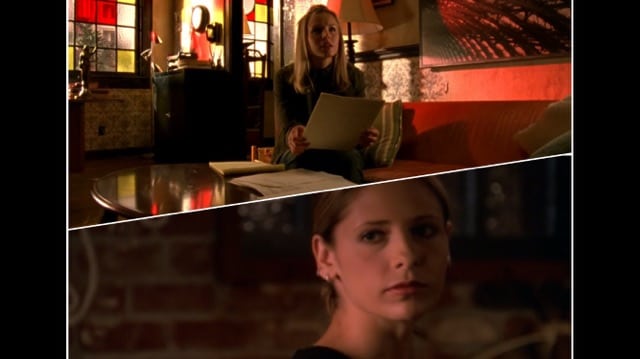 If you're a Marshmallow (Veronica Mars super fan) like me, or even a former one, then you probably know you have to get tough if you want to get even. You know demanding respect is imperative. For Veronica Mars, as with any decently flawed heroine, the lines of those tenets get a little blurred when she gets even and then gets feared in lieu of respected. Given, Veronica doesn't give a damn about being feared–especially in the near-perfect first season. Seriously, I am far from the only person who will tell you the first 22 episodes of Veronica Mars make up one of the best seasons of TV ever.
For the uninitiated, everything changes for Veronica shortly before the night of that party. In this So Cal town of Neptune, Hollywood royalty and dot-com billionaires (miraculously) share a public high school with kids from other socio-economic backgrounds. Here, Veronica's best friend, Lilly Kane, is murdered, and Veronica's father, sheriff Keith Mars, pins the investigation on Lilly's father. It doesn't take long for the town to turn against the Mars family. Nor does it take long for Veronica's unstable mother to leave without a word, or for Veronica to be drugged and raped at a party with a bunch of vicious rich kids. No longer Neptune's sheriff, Keith becomes a private investigator. Veronica is the after-school secretary at Mars Investigations, her family's business. When we meet her she is busy conducting her own investigations of possible murderers and rapists, all while skirting class warfare and helping her dad with the routine tawdriness of private detecting.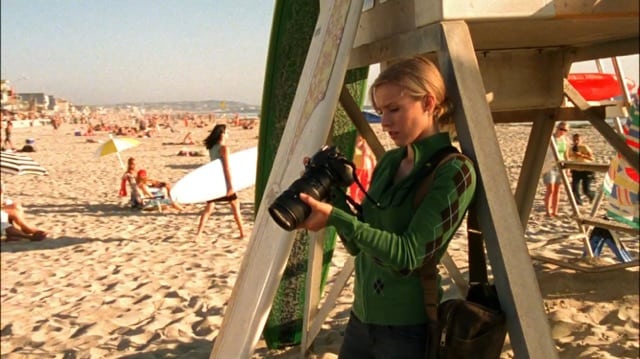 At the show's best, we see Veronica clearly as a flawed character even though she is also the viewer's moral guide. She struggles with confiding in people and would rather not show her weak spots. She is difficult to befriend, and, at first, she doesn't mind getting revenge. Veronica's internal struggle is one of my favorites in TV because it shows a real fluctuation in the character as she figures out how to judge one person from another (with facts over feelings) and what it takes to condemn them personally (a kind of sacrifice).
Maybe revenge isn't always the answer. At seventeen, Veronica is a powerful woman who learns exactly how to be powerful. My favorite moments often involve Veronica realizing the value of having friends–that's where I get most of my feels. To be honest, Veronica Mars was my number-one role model because she had been victimized but wasn't playing the victim. She has the courage and tenacity to solve many difficult problems, and she is smart and funny the whole way through. And who wouldn't envy her knowledge and skills in dealing with people from every zip code in the area? (The 09ers are the rich kids; the PCHers are kids from other zips). Who wouldn't want to control the situation the way she does, with her biting wit, her leverage, and definitely her anger at the man? I would.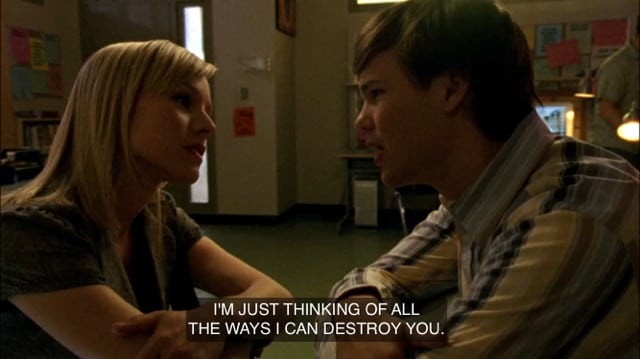 But I couldn't go without mentioning Kristen Bell's outstanding performance as Veronica. Consider these technically difficult lines: (1) "I have that exact same platitude-a-day calendar at home. It's how I know beauty comes from within," and (2) "Shut up! If I want you speak I'll wave a snausage over your nose." This is the stuff of wonder and amazement. I don't know what a snausage is but I do know, in addition to all this, Bell lets Veronica resonate emotionally—without the need for tears. It's easy to feel what Veronica feels when she badly disappoints her dad. At the peak we feel what she feels when, against virtually all outside forces, Veronica sides with her dad at her own cost. She makes this display without giving it a thought. I can't think of a better show of love in TV between a father and daughter. I have few higher feelings during the course of this show than when we see these relationships shift. Veronica handles it imperfectly.
Veronica Mars validates its badassery in many other ways, such as when it directly references and pays respect to Buffy the Vampire Slayer. Like the fact that Joss Whedon has a cameo in Mars or how the shows share two cast members (Willow and Cordy). Or you know—like how Veronica's pink costume as a popular girl is basically the same as Buffy's popular-girl clothes before she became a Slayer? Right down to the long, straight hair. Unlike Veronica, it must be said, Buffy Summers has a killer sense of style in the show's present time. It's true; Sarah Michelle Gellar is (usually) always dressed impeccably as Buffy. I have to respect this character, to whom fashion is important. Buffy always gives a damn about what she looks like, and she always pulls it off. She makes it work, even for the '90s.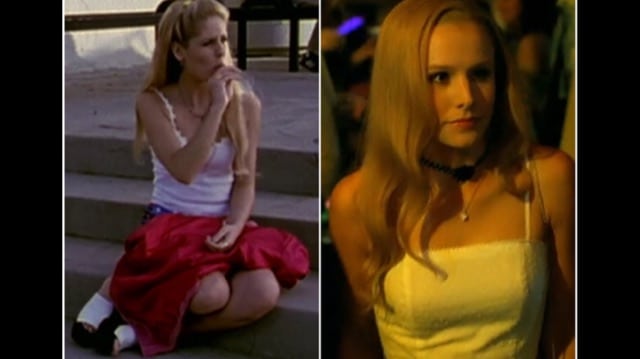 In other words, it's hard for me not to respect Buffy's femininity. I believe that, if inherent, femininity is a quality that should stay well in tact during the fight to save the world. Well, maybe it shouldn't matter, but Buffy is always in the midst of these fights, exuding Slayer femininity. She is always the only Slayer until she dies, and her powers pass to the next young woman. The Slayer uses her supernaturally heightened strength, speed, agility, healing abilities, etc. to fight the forces of evil—which, in this case, come straight outta hell.
Now, Buffy is the first female vampire slayer in pop culture. Dracula's Van Helsing held the title of being the first, and definitive, vampire slayer for most people. These slayers had always been male, and it's only one of a few gender roles Buffy's played with. Actually, all the main female roles in Buffy the Vampire Slayer are strong and independent. At one point, Willow Rosenberg even tells Buffy she's not her sidekick. Each of these characters—male or female, human or not, Angel or Spike—is justifiably heroic. And Buffy is the one who calls the shots.
One of the best Buffy monologues happens in the second season finale, when she tells her mom what it's like to be the Slayer, responsible for the world's safety. She says, "Do you think I chose to be like this? Do you have any idea how lonely it is, how dangerous?" Buffy talks about being a Slayer, but her words are allegorical. They could be applied to any number of situations. I think they ring most true for every person, probably on a daily basis. Pain and longing in Buffy's voice are raw when she continues, "I would love to be upstairs watching TV or gossiping about boys or…god, even studying! But I have to save the world…again."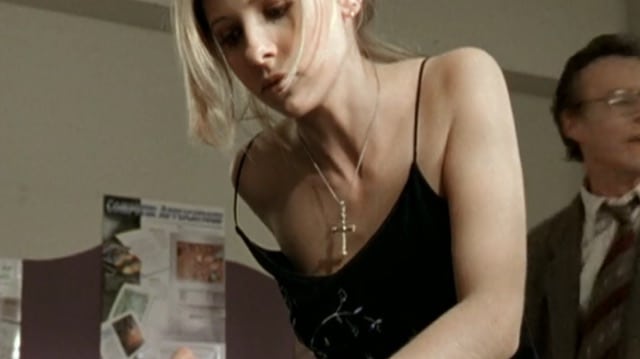 I always said there's no one who can kick ass like Buffy—at least, not with the same charm, tortured present, or determined will to vanquish evil. Saving the world is never something to just take with a grain of salt. It speaks volumes that in hard times Buffy once refused additional power from the creators of the original Slayer, whom she learned had been violated by these male creators. Clearly, today's Slayer must pull off a difficult balancing act between getting stuff done and doing what's right. Nothing is ever easy.
Sarah Michelle Gellar's performance convinces us that Buffy Summers is probably the best role model to have when you're out there trying to get even—if you do that sort of thing. Let's be honest, though, if it came to a revenge situation in which scumbags would escape if you didn't do anything? Then Veronica Mars would be the best role model to act after. Either way, you'd get results. At least Buffy and Veronica will always be somewhere in my head if not in a box of old DVDs anymore. To celebrate Women's History Month, you could watch Veronica Mars on Amazon or Buffy the Vampire Slayer on Netflix. Or you could watch any number of interesting hybrids, like Alias or Jessica Jones or Agent Carter.
They just won't be as cool.