Gears of War 4 is in the Works

Third-Person Shooter Fans Rejoice!
In some exciting news, Game Informer recently revealed that Gears of War 4 will be the cover story for their upcoming April issue and they have leaked some exclusive details about this new entry to the popular franchise.
The series is no longer in the hands of Epic Games; Gears of War 4 is being developed by The Coalition, a new team headed by Rod Ferguson (a lead developer who worked on the original Gears series). Though The Coalition is comprised of many experienced developers, the team is still relatively untested, which may be cause for concern. Then again, this team may be just what the series needs. The Coalition knows it has to deliver on GoW 4 and that to bungle such a beloved franchise would be the death knell for an up-and-coming studio, so they have all the motivation they need to do the game right. Let's see if their on the right track.
In With the New
Gears of War 4 takes place 25 Years after the events of Gears of War 3 and, since most gamers probably don't want to fight bloody drag-out battles as a bunch of rickety old folks, GoW 4 features an all new cast. Though The Coalition has thankfully left the steroid-fueled aesthetic of the original games behind, the new rag-tag squad still looks true to the franchise and its members are backed by some rather impressive vocal talent.
Most notable of the GoW 4 cast, Liam McIntyre (aka SPAAAARTACUS!) voices the rebellious new protagonist JD Fenix, an embattled young man who joined the COG militia at a young age. JD is Marcus Fenix's son (surprise surprise) and with two war hero parents, the other being Anya Stroud from GoW 3, JD is probably quite the badass. At the offset of GoW 4, because of a shady incident that players will uncover during the campaign, JD has gone AWOL from the militia and finds himself beyond the walls of civilization.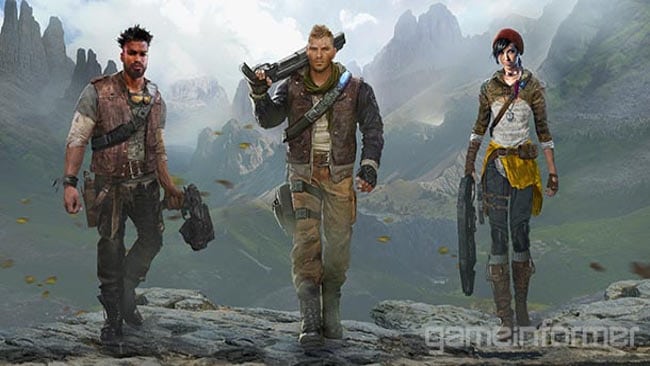 While outside the walls, JD befriends new playable character Kate Diaz (no, she isn't related to any character from the previous games…that we know of). Voiced by Laura Bailey, who has lent her vocal talents to just about every video game ever made, Kate is not a solider at the beginning of GoW 4 but becomes embroiled in the war thanks to her relationship with JD. Kate has grown up tough outside of civilization and she knows how to survive, but she has no military background and will be learning about the Gears world as the events of GoW 4 unfold (making her a great character for new players).
The last confirmed new character is Delmont "Del" Walker, JD's fellow AWOL soldier and best friend. Del is voiced by Eugene Byrd, an actor with a lot of screen and voice acting credits to his name, but probably best known for playing Wink in 8 Mile. Del has been friends with JD since they were boys and they are fiercely loyal to one another; basically Del is the new Dom of the series.
Only JD, Kate and Del have been announced, but unless there's a fourth player character who's last name is "Carmine" there is no justice in the world.
Another Reboot?
Though the impending release of Gears of War 4 is exciting news, some fans may fear this is just another reboot in an industry rife with reboots. This is not the case. The original Gears trilogy was definitely a huge success, but after Gears of War: Judgement failed to innovate in 2013, many players rightfully began experiencing franchise fatigue. It may be hard to say goodbye to Delta Squad, but the GoW series definitely needed a breath of fresh air to revitalize it and it looks like that is what fans can expect from this new entry.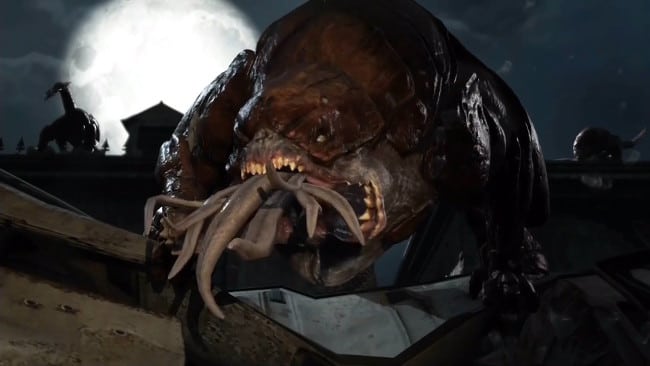 Though The Coalition is making lot of changes to the series, Game Informer reports that the developers are taking the series "back to its darker, horror-themed roots." While the Gears series has never exactly been "horror-themed", we can assume this means GoW 4 is going back to the tense, ominous atmosphere of the first game. And besides the single player campaign, GoW 4 will also see the return of couch co-op, online multiplayer and (since it would be a sin to omit it) players can probably expect Horde mode as well.
The Coalition has made a lot of smart decisions that suggest they are doing Gears of War 4 right; the graphics look great, they have hired some big-name vocal talent (who sound awesome in this short clip that has been released online) and they're letting seasoned Gears developer Rod Ferguson man the helm. Everything released for the game so far looks promising and Game Informer is devoting a full 14-page spread to the game next month which should shed some light on more details. But judging solely by what has already been revealed so far, Gears of War 4 is a title fans will want to keep an eye on as it gets ready to drop later this year.