The Nerd Chord: 'Jackie Brown' Got Snubbed

Upon writing this first paragraph I haven't yet seen Quentin Tarantino's third film, Jackie Brown, but check back in a few words. Actually it's the only movie directed by Tarantino I haven't seen, and I have a suspicion this is just the way it is with most of my millennial generation. If the rest are like me, they became infatuated with Kill Bill (both parts), circled back around to Pulp Fiction and Reservoir Dogs, then kept up with Inglourious Basterds and Django Unchained. Last night I watched the marathon that was The Hateful Eight, which looked and sounded like a stage play but had an engaging second half.
From what I've read, Jackie Brown is adapted from Elmore Leonard's novel Rum Punch and isn't considered as flashy or over-the-top as Tarantino's other films. Instead, it's a bit more understated. Maybe this is why I overlooked it; people just don't talk about Jackie Brown as much. But that's crazy, because at the film's center is a strong Black woman who (I hope) defies the stereotypes of strong Black women. The actress, Pam Grier, should have been a frontrunner for the Oscar that year but didn't get a nomination. I can't think of a timelier piece of Black history in pop culture than Jackie Brown, Tarantino's tribute to (or critique of?) 1970s blaxploitation films. For this Nerd Chord, it's time to watch.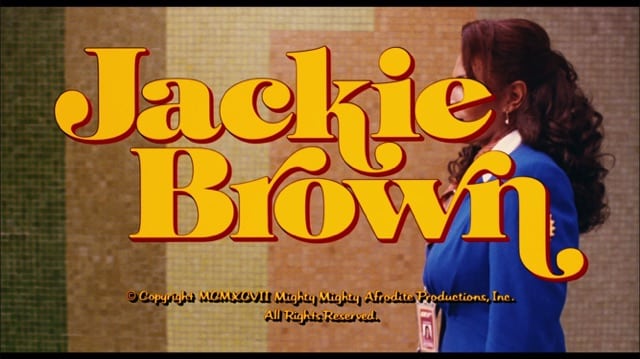 …And I loved it. Every minute of the 154 there were. And guess what? The Oscars were #sowhite in 1997, too, because Pam Grier was amazing and so is Jackie. This character has the ability to take control of whatever room she's in, by whatever means. If she has to resort to sticking a gun directly into Samuel L. Jackson's crotch, then so be it. But Jackie isn't naturally such a loud woman. She's soft-spoken most of the time. Tarantino's writing is genuinely at its best here, but it's not so much the writing of a smart, cool, tough woman who maneuvers her way around cops and criminals that makes this film great. It's more his characterization that makes us feel Jackie's desperation and understand what's at stake for her as an aging Black woman with no real prospects—only a record. That scene is brilliant.
Backing up a bit. Samuel L. Jackson plays Ordell, who has half a mil in an offshore account—money made from arms dealing. As for Jackie, the best job she could score in her career as a flight attendant was a position at a low-tier Mexican airline: an infraction with the law when she was younger ruined her chances of career advancement. At 44, Jackie smuggles Ordell's money into the US for some extra cash to supplement her $16K income. Things heat up when the authorities catch her in the act, and she must figure out how to bargain with cops to keep from serving time while also controlling Ordell so he doesn't kill her in order to save himself from the law.
Jackie Burke, the name of the original heroine in Leonard's novel, is a white woman. However, Tarantino's change of name and race for his title character may not be of paramount importance if you consider that Jackie's race is only addressed once throughout the film's dialogue. (Cops imply in a candid discussion with Jackie that she is at a disadvantage, socioeconomically and in the eyes of the law, because she is Black.) Really, though, this change affects the meaning of everything that happens in the film. Not only are Jackie's stakes heightened drastically, but she also represents Tarantino's take on '70s blaxploitation.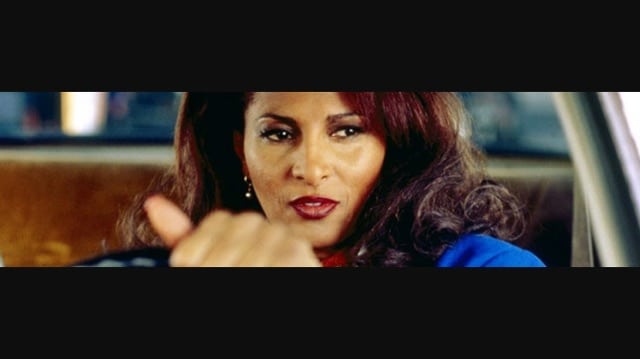 In 1974, Pam Grier played a character by the name of Foxy Brown (also the name of the movie), who manipulates and outsmarts the drug ring responsible for killing her boyfriend. This movie represents the hallmarks of blaxploitation: there's a lot of funk music; the drug ring is all white; Foxy is an independent woman who doesn't need a man or anyone to get what she's after, etc… Also, Foxy Brown was undervalued and underrated by those who decide what quality is.
And then in Jackie Brown you have bondsman Max Cherry, played by Robert Forster, who did get an Oscar nomination for his role. One of my favorite things about this movie is the romantic friendship that begins between Jackie and Max, through whom Ordell posts Jackie's bond. When Max goes to pick her up from prison he forms an instant attraction to her. Then they go for a drink. What's great about the exchange beforehand—when they decide where to go and she gathers he usually frequents a cop bar—is that Jackie puts herself in a vulnerable position by associating with a man who might have cops for friends. It's not something a blaxploitation heroine would do, befriending "The Man," so Tarantino's play on the genre is interesting.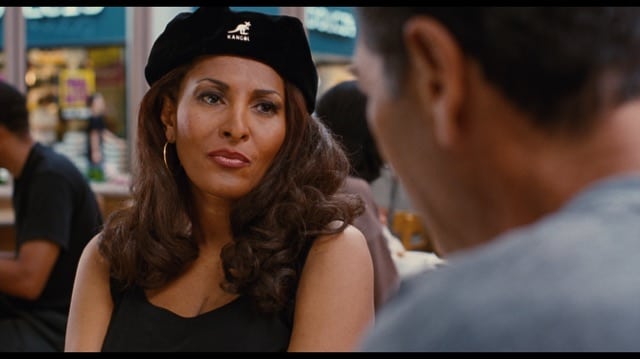 Of course, they end up going to the "darker" bar around the corner from her apartment. But the culmination of Jackie's plan and her relationship with Max, how Max takes his own risks in helping her, how she tells him she "never used" him when in fact she did…this is all unbelievably rewarding to watch unfold by the end of the movie. The feelings are all there between them. It seals the deal as my favorite relationship between any of Tarantino's characters. Jackie drives, lip syncing the words to Bobby Womack's soulfully funky track, "Across 110th Street": "Doing whatever I had to do to survive / I'm not saying what I did was alright / trying to break out of the ghetto was a day-to-day fight." Jackie's independence is palpable. Those lyrics perfectly summarize her journey to freedom.
It's kind of scandalous that this role didn't get Pam Grier an Oscar nomination; instead the nominations went to women playing privileged white characters, and the award went to Helen Hunt for As Good as it Gets. In 1997 that was definitely as good as it was going to get for people of color at the Academy Awards, even if Jackie Brown has been one of the greatest roles played by a Black woman, before and since. Cheryl Boone Isaacs, the president of the Academy of Motion Picture Arts and Sciences, has announced changes that will unequivocally alter the voting pool of the Academy. To me, changing up who decides what gets represented seems cause for hope. For now, Jackie Brown strikes many chords almost 20 years later.