The Enduring Influence of Dwayne McDuffie

Dwayne Glenn McDuffie was a giant in the comics industry.
Although never afforded the superstar status of a Grant Morrison or a Brian Michael Bendis, McDuffie's influence was easily as far reaching. A first rate comic book writer in his own right, (and creator of one of my all time favorite series, Damage Control) Dwayne McDuffie's influence extended far beyond that of the comic book page.
Entering into comics through editorial work, McDuffie held strong views regarding the lack of cultural and racial diversity in the medium. Influenced by Don McGregor's legendary run on Black Panther in the mid 70's, McDuffie ruffled some very serious feathers as an editor at Marvel when he put forward a mock proposal for a new series titled, Teenage Negro Ninja Thrashers.
During the 90's Marvel had been looking to become a little more "street," which, of course involved introducing two new Black teenage characters, Night Thrasher and Rocket Racer. The fact that both of these characters had skateboard-based powers did not escape Mr. McDuffie's notice, and neither did the fact that Marvel had so few Black characters at the time, that these skateboarding teens now constituted 25% of their Black heroes.
McDuffie's series proposal featured characters such as, "Dark Wheelie: a black guy on a skateboard," and their leader, "that mysterious black guy on a skateboard known only as 'that mysterious black guy on a skateboard.'" McDuffie's satire was spot-on, pointing out the medium's cliched use of clothing, dialogue and clumsy application of diversity . His humor was always a strong point (he apparently once wrote for the Late Show With David Letterman) but it was his drive to provide equality to the medium that became his strongest voice.

That voice found its strongest manifestation in the formation of Milestone Media with fellow creators, Denys Cowan, Michael Davis and Derek T. Dingle in 1993. Their imprint, Milestone Comics, not only created shock waves for their unprecedented, creator-owned deal with DC, but it also presented superheroes in an entirely new way.
With characters who reflected a far more culturally diverse background than either of the big two had ever attempted before, it also presented a far more racially diverse stable of creators. Gone were the 'blaxploitation' influences usually seen in such characters and in came a real warmth and reality spearheaded by Dwayne McDuffie himself. The launch of the initial titles, Hardware, Icon, Blood Syndicate and Static were a success for the imprint, selling well and allowing them to expand the roster a year later with two more titles, Shadow Cabinet and Xombi . Unfortunately, with the comics market heading toward a crash at the time, the imprint was unable to maintain sales and the line wrapped in 1997. Its influence though can still be seen in the medium today, with Marvel in particular attempting to offer far more diversity in their lineup.
Yet, Mr. Dwayne McDuffie's influence didn't end there. Ironically, his greatest impact on comics was away from them, in the world of animation. Originally co-creating and writing the animated series, Static Shock, featuring a character from the Milestone universe, it was the Justice League which was perhaps McDuffie's greatest legacy. Starting as a staff writer, he was later promoted to the series' story editor and producer under the new title, Justice League Unlimited.

Many fans consider this to be the greatest animated comic book series ever created, truly capturing the wonder and complexities of the books themselves. Anyone who has seen even a small sampling of the show can feel McDuffie's influence on it, from his writing to the diversity of the cast and the flagrant favoritism shown toward John Stewart's Green Lantern. It was McDuffie's handling of the character that established Stewart as the Green Lantern to a whole generation of future comic fans. In fact, full credit for my two young boys love of comics can be attributed to Dwayne McDuffie with his work on the Teen Titans series, Ben 10, Justice League and his animated movie adaptations for DC.
McDuffie always returned to comics though, with a unique and singular voice. His last great work was returning to the Milestone universe to tie up loose ends in the Milestone Forever limited series and his final run on the Justice League before its premature end due to comments made regarding editorial influence on his content.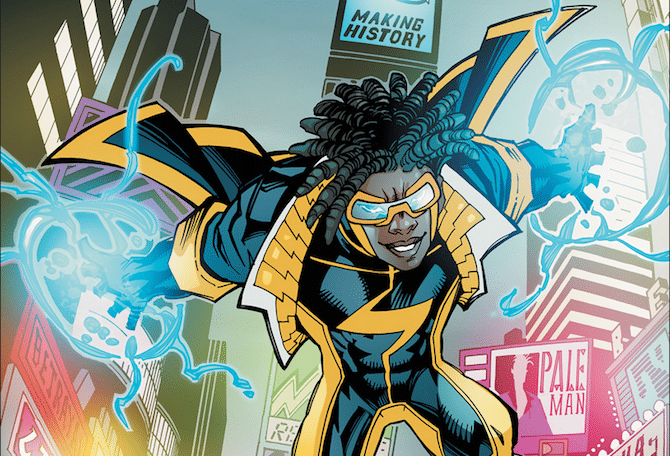 Unfortunately, that singular voice was cut short on February 21, 2011. Only one day after his 49th birthday, Dwayne McDuffie passed away due to complications from emergency heart surgery. It seems ironic that someone who wore their heart so strongly within the medium should die from such a thing, but McDuffie is survived by his wife, his mother, and a legacy that continues to this day.
With the recent announcement by DC that the Milestone characters are now an official part of its comic book universe, and that at least two Earth-M (the newly appointed DC name for the Milestone Universe) titles are to be launched every year (among other smaller runs also), it seems that a whole new generation of fans are about to fall under his influence.
Some creators are ahead of their time in a lot of ways: Will Eisner, Alan Moore, Jim Steranko, Neal Adams, to mention just a few. Perhaps Dwayne McDuffie's time has finally come to be recognized as being worthy of standing alongside such great names.