Black History Month: 29 Days of Power Volume 1

The heroes in our comics should reflect the world around us—and that means they should be diverse in their backgrounds, genders, preferences, and ethnicities.
In that spirit, welcome to 29 Days of Power, where we'll be celebrating Black History Month by honoring Black characters in comics history for the month of February.
---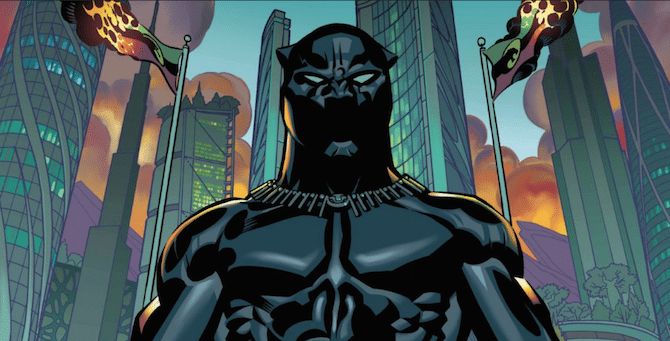 Black Panther
First appearance: Fantastic Four #52 (Marvel, 1966)
Created by: Stan Lee, Jack Kirby
Alter ego: T'Challa
In 1966, Stan Lee and Jack Kirby created the first Black superhero in mainstream American comics—the Black Panther (aka T'Challa). That alone is pretty groundbreaking, especially when you consider that this was only two years after the passing of the Civil Rights Act. However, that only scratches the surface when it comes to explaining how important T'Challa is to comics.
As a character, T'Challa defies nearly every stereotype of Black American culture. He's a scientific genius on par with the likes of Reed Richards and Tony Stark and has combat expertise rivaling Captain America. He's an economic genius as well. After beating out the rest of the competition to become king of the technologically advanced African nation Wakanda, he made a fortune by selling minute quantities of the metal vibranium—an incredibly rare natural resource specific to Wakanda—to various scientific institutions around the world, making him at least partially responsible for Captain America's shield. Oh, and one time he just slapped the taste out of Iron Man's mouth because Tony was having a meltdown in a time of crisis.
At one point, he was married to the X-Men's Storm—who is also on this month's list—which is the definition of power couple.
In short, he's the OG badass of the Marvel Universe, and that's why he's the linchpin in any plan the Avengers ever have that involves saving the world—and occasionally all of existence. In his debut appearance, he takes on the Fantastic Four just to show that he can—thus proving his worthiness as both an ally and an adversary—before reconciling with them against a common threat.
Black Panther will be portrayed this May by Chad Boswick in the upcoming film Captain America: Civil War before starring in his own film, slated for a 2017 release. He'll also star in a highly anticipated, new on-going series from Marvel Comics in April of this year, written by award-winning author Ta-Nehisi Coates (The Beautiful Struggle and Between the World and Me.) 
---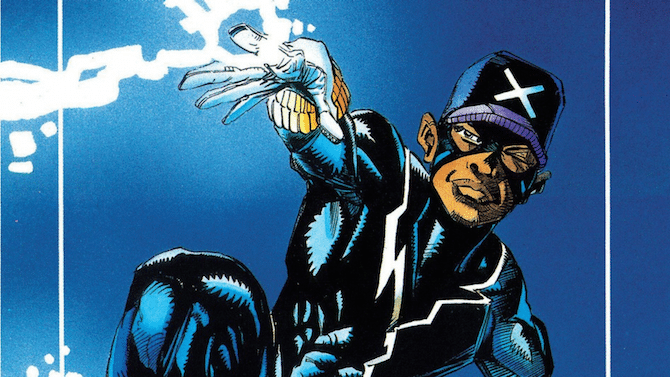 Static 
First appearance: Static #1 (DC/Milestone, 1993)
Created by: Dwayne McDuffie, Denys Cowan, Derek Dingle, Michael Davis
Alter ego: Virgil Ovid Hawkins
In 1993, Milestone Comics—the brainchild of the late Dwayne McDuffie and other Black creators like Denys Cowan, Michael Davis, and Derek T. Dingle—secured a revolutionary distribution deal with DC comics in which their characters would exist in their own continuity, completely independent of DC's editorial control and the creators would retain all rights.
Static was arguably the most successful of those characters. Virgil Ovid Hawkins—named for the first Black man to attend law school—was a high school teenager from the city of Dakota, where he gains electricity-based superpowers after police douse gang members with an experimental crowd control agent during a fight he's caught in the middle of. Upon discovering these powers, he decides to become a superhero, having to balance things like school, dating, and superpowers.
Where the basic premise—kid accidentally gets powers, decides to save the world—clearly takes its cue from Spider-Man, Static put a unique spin on it by making the protagonist a teen growing up in an impoverished neighborhood having to navigate a completely different set of pressures, including drugs and gang violence. The original design of the character was a ballsy look influenced by Virgil's surroundings, topped off by a rotating array of baseball caps—one of which was an homage to the Malcolm X hat popularized by Spike Lee.
After the folding of Milestone, Static was merged into the DC Universe, where he eventually joined the Teen Titans. Additionally, WB produced a cartoon called Static Shock that lasted four seasons, was nominated for numerous awards—including the Daytime Emmy—and counted Black music icons like Stanley Clarke and Master P as musical contributors to the show.
Currently, the character is inactive, the most recent Static series cancelled after a mere 8 issues, but news of a new DC/Milestone merger mean we could see him back in his own ongoing series soon.
---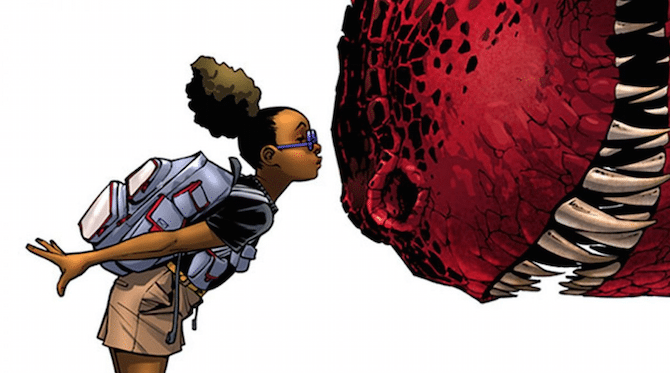 Moon Girl
First appearance: Moon Girl and Devil Dinosaur #1 (Marvel, 2015)
Created by: Amy Reeder, Brandon Montclaire
Alter ego: Lunella Lafayette
Lunella Lafeyette has only been around for a couple of months now, as we're only two issues into Moon Girl and Devil Dinosaur, but she represents something very special to comics—the idea that any kid should be able to pick up a comic and see themselves in it.
She also represents something else that's very important—a young Black girl, who's so incredibly gifted and creative that she learns more about science outside of the classroom as she tries to solve "the biggest problem in the city—maybe the world."
No, I'm not going to tell you what that is. Buy the book.
Lunella's the weird kid in school. Smarter than her classmates, she has a hard time making friends and socializing. In turn, her withdrawn nature leads the other kids to think that she looks down on them, so they pick on her. Outcast from her peers, there's an amazing statement in the book where she thinks to herself "my brain is all the superpower I need." Soak that in for a moment. It's 2016, and in a publication by a major comics publisher, we've got a young Black girl who views her intellect as a superpower. That's phenomenal, but it shouldn't be the outlier—it should be the norm.
Oh also, as implied in the title of the book, her best friend is a giant, red, interdimensional T-Rex named Devil Dinosaur—that's basically every kid's dream, ever.
---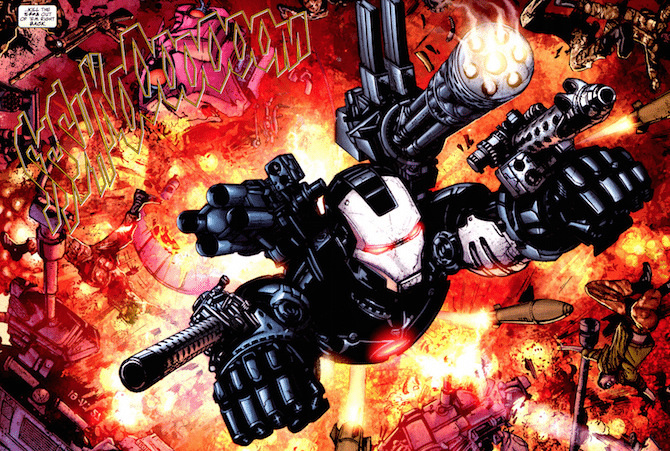 War Machine
First appearance: Iron Man #119 (Marvel, 1979)
Created by: David Michelinie, Bob Layton
Alter ego: James "Rhodey" Rhodes
James Rhodes has been many things to Tony Stark—personal pilot, best friend, sidekick, even Iron Man stand-in. When Tony lost everything and relapsed into alcoholism back in the 80's, Rhodey was the glue that held Tony's very fragile life together and helped him stand back up. At one point, during his Iron Man days, Rhodes actually replaced Tony in the West Coast Avengers. Eventually he landed in his own Stark-designed armor—The War Machine, which is a far more visually intimidating version of the Iron Man suit.
He is, for all intents and purposes, an indispensable and equal partner in the Stark legacy despite having a difficult time stepping out from under Tony's shadow—even in the movies, where he's never quite portrayed as an equal by writers.
Let's look at the man's resume, though. He's a combat trained U.S. Marine with expertise in aviation engineering, an Avenger, a S.H.I.E.L.D. consultant, and he once took down an entire battalion of invading Skrull ships completely on his own, got captured, only to escape and use their own warship to destroy a second fleet of Skrull ships. That's hardcore. Give the man some respect already.
In addition to Black Panther, War Machine will return to the big screen in Captain America: Civil War, played by Don Cheadle. Judging by the trailers, he plays a pretty pivotal role in the movie. One can hope.