'Murder Mystery Mayhem' Comics and Story Collection Review

Stories and art by Bret M. Herholz, cover color and gray tones by Rori Shapiro, letters by John Shaver
Murder Mystery Mayhem is a collection of stories, illustrations, and comics primarily by Bret M. Herholz. Despite the collection's title, not every story is a murder mystery. However, they do all share a unifying theme of death and the macabre. For the most part, each story is unique, though there is at least one character that appears in multiple stories: a certain inept Detective Inspector (but more on him later).
The collection starts out with the longest story of the bunch, "Diary of the Black Widow," which, as one would expect, is about a woman who has married wealthy men and later murdered them multiple times (to an almost absurd extent). She recounts her extensive career in murder, which began at a fairly young age, getting more arrogant and careless as she went. Eventually, after inviting five men over for a "charity dinner" and poisoning them all, she garners the attention of the local Detective Inspector and his subordinate Jenkins.
The Detective Inspector and Jenkins are a rather amusing foil of Sherlock Holmes and Dr. Watson, with the prestigious Detective Inspector being an oblivious sham of a detective and Jenkins being thanklessly competent. The story was pretty humorous, though its humor was subtle and distinctly of the dry and dark varieties.
The next section of the collection is titled "Confessions of Peculiar Boy …and Other Stories." This section contains a series of vignettes; many offer small snapshots that feel like they're part of a larger, untold story. The first couple of stories are purely illustration, and it also includes an illustrated adaptation of Edgar Allan Poe's "Lenore."
The final two stories return to the genre of murder mystery. The first of these (and probably my favorite of the bunch) is "The Adventures of Polly and Handgraves: A Sinister Aura." It features Polly, an ESPer, and Handgraves, her butler or manservant, who are a couple of nosy amateur detectives passing through a town where an apparent suicide had recently occurred. Polly and Handgraves both feel like they wouldn't be out of place in an Agatha Christie novel.
The last story, "The Spaghetti Strand Murder," returns to the incompetent Detective Inspector from Sloughshire, though this story appears to have taken place before Jenkins was around to make sure the Detective Inspector didn't muck things up. This story is even more farcical than "Diary of the Black Widow," but not as dark or sinister.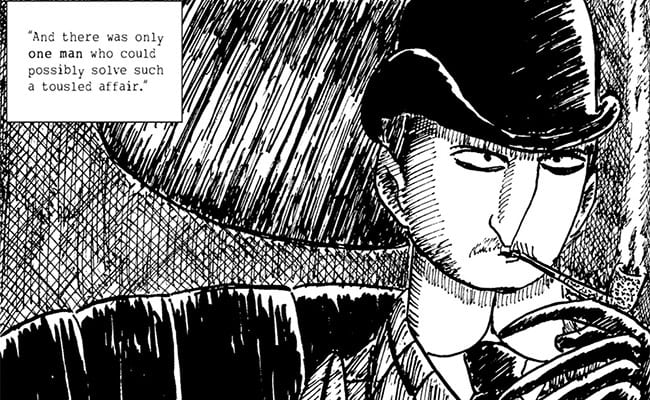 Murder Mystery Mayhem has a very distinctive art style. It's all in black and white and features a lot of dark, dense line shading. The characters are all built like Jack Skellington: disproportionally tall and thin with long arms and spidery fingers. Their faces feature large, almond-shaped eyes with dark outlines, long (on men) or nondescript (on women) noses, and tiny mouths that never really open. The art style on a whole fits the stories' macabre subject matter exceptionally well.
Overall, I really enjoyed Murder Mystery Mayhem. (It was extra fun reading in my living room with the lights turned off.) The stories ranged from mildly sinister to slightly melancholy, and they all had that creepy-cool air to them. I'd recommend this collection to everyone who enjoys a little dark and subtle humor and anyone who's a fan of 1920s-era mysteries.