The Nerd Chord: Super Nintendo Squared

Nestled snugly within most fandoms is an element of nostalgia, stronger in some and less prominent in others. More often than not, nostalgia represents the sort of magical "essence" of a person's first experience with a particular property or genre or form—you name it. So naturally, nostalgia is wholly exclusive of objectivity; it has nothing to do with the actual quality of a work and exists solely in our minds. Unlike memory, it never really changes. It is a feeling.
If I mention Super Mario RPG: Legend of the Seven Stars or Chrono Trigger, there are probably going to be feelings. Released in 1996 and 1995, respectively, it's basically the 20th anniversary for both games, which—let's be real—are staggering anomalies: imitated-but-never-duplicated works of art. Nostalgia aside.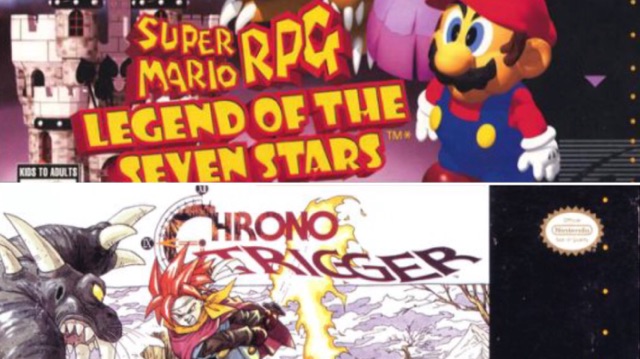 Looking back to this historic period of the Super Nintendo Entertainment System, when Square-Enix was just Squaresoft, it's hard not to get misty-eyed mourning the loss of something never really to return. Sure, there are separately nostalgic and brilliant iterations of the Mario RPG by Intelligent Systems (Paper Mario). There is Square's own, likewise brilliant, Chrono Cross. But there was a fateful parting of ways between Nintendo and Square for a while, and there were creative-personnel changes (don't get me started on Hironobu Sakaguchi's exit from Final Fantasy—that's another Nerd Chord). It's history.
Square has never again made a Mario game, and incidentally, I don't believe a Mario universe or Mario characters have ever been so charmingly realized since Super Mario RPG. Not only did we have a beautifully 3D-rendered, explorable environment that pushed the SNES to its limit, we also had a world-hopping format cleverly adapted from previous Mario platformers. This was the best of both gaming genres, designed for maximum enjoyment, and every detail popped with depth and vibrant color. This was also my first turn-based RPG, and, at the age of seven, I absolutely could not have asked for a better experience on which to cut my teeth.
Back then, I was most surprised at the fact that Bowser actually wasn't a bad guy. Of course, he was still an "evil king," and the game opened with his kidnapping Princess Peach, but Square quickly established a sense of comedy to this overdone affair. Immediately after the kidnapping, Bowser is kicked out of his own castle by someone more evil—a completely original entity that has stolen all the world's hope. Peach and Bowser are scattered to different parts of the world. Eventually, they join Mario's party to restore the world's balance, and it is awesome. I felt like a complete badass playing as Bowser for the first time.
Well, Bowser was badass but also quite humanized. Before Super Mario RPG, I never thought I'd empathize with an ego-wounded Bowser on a quest to regain his stolen, evil thunder. And, as a seven-year-old boy, I didn't quite know how badly I really wanted to rescue the world as a princess—instead of rescuing a princess for the tenth time. With this game, Square made me realize I wanted these things very badly indeed.
Add to this the original characters of Mallow (a cloud person who thinks he's a tadpole, separated from his home at birth) and Geno (a wizard-like character from space who knows exactly what happened to the world's hope), and you have a truly fantastic cast of characters.
Add to that the comedic dialogue and the fun winks to Final Fantasy, and you have the best universe mashup before the Disney/Final Fantasy one in Kingdom Hearts years later. There can be no doubt: the Mushroom Kingdom, Squared, is the epitome of nostalgia because such a pairing hasn't occurred since. It's perfect because the execution is expert, and the project was completely unique at the time. In the US, if you have a Wii remote, Wii classic controller, and a Wii or Wii U system, you can get this game on the Wii Virtual Console for about eight dollars. Super Mario RPG is actually available on the Wii U Virtual Console, but only in Europe. 20th anniversary be damned.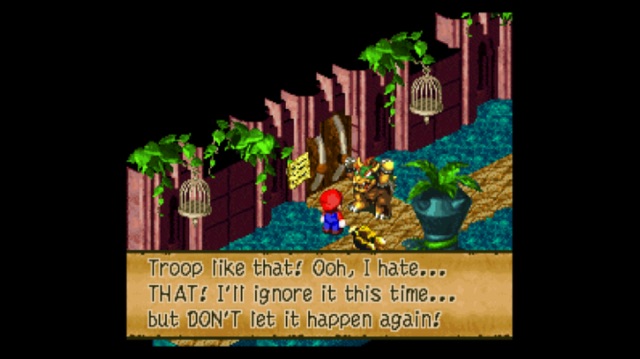 Now if only I hadn't lost track of my SNES (it's probably collecting dust in a friend's parents' basement; friend, you know who you are), I'd be only a beat away from playing my Chrono Trigger game cartridge—which, by some miracle, is still in my possession since '95. It is my belief that Chrono Trigger is as near to perfect as any game has ever gotten. I could sit here and rattle off the exact merits that make it near perfect, but that would take too long. Here are a few things anyway.
The game starts off as Chrono, the silent protagonist, wakes in his bed in the game's present year of 1000 A.D. He goes off to the town fair, we see his best friend Lucca's crazy new invention, one thing leads to another, and suddenly the party is thrust 400 years into the past. After a bit more time travel, we learn that in the year 1999 A.D., a massive alien creature named Lavos breaks through the earth and destroys the planet. The rest of the game involves a lot more time travel and some pretty insane revelations about Lavos, with the main objective of defeating him before he destroys the planet—and hopefully saving most of its timelines.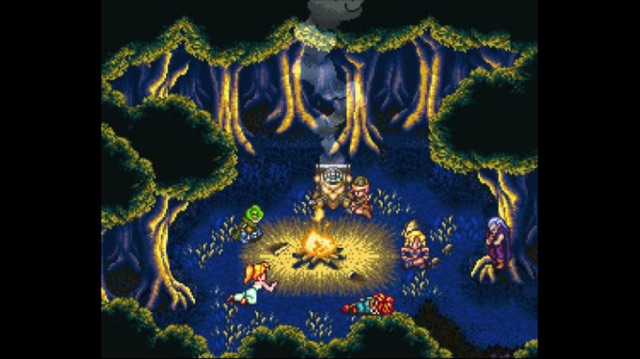 Mentioned above and true to many other notable Nintendo protagonists, Chrono has no dialogue. Therefore the player projects him or herself onto the character, making for a very direct and, later on, very raw gaming experience. For a game about time travel, this aspect of gameplay makes all your actions in every timeline—from the distant past to the present to the distant future—feel extremely important. Most beautifully, Square has painstakingly ensured that all possible actions in all timelines affect events and outcomes in a believable and realistic way throughout the game. Impressively, this happens not only on a large scale with the bigger plot points but also on a smaller scale, with smaller parts of the story.
But aside from the story and the amazing time-travel aspect, the best parts of this game are its characters and incredible battle system. Both of these elements are expertly and uniquely linked to one another, but more on that in a bit. Not only do we feel heavy emotions with these characters, such as guilt and grief, but we also feel the nuances of these emotions in a sophisticated way because the situations, motivations, and complex history justify them adequately.
Furthermore, each of these characters is as useful and indispensable as the next. The reason the battle system is so engaging is this: as each character gains strength, they learn technical abilities (or "Techs"). When they gain still more strength, we get to use "Double-" and "Triple-Techs"—massively powerful moves that can only be performed with two or three party members together. Even cooler, there are moves for literally every possible character combination, each with its own animation and type of power. On top of that, all characters and enemies constantly move across the screen in battle, so you can time the execution of your Techs to maximize the number of targets.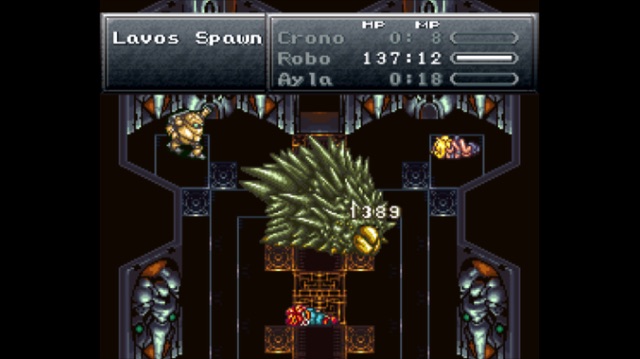 Intuitiveness and simplicity are the best things about this battle system. Basically, there is no learning curve. Having great characters grow strong and work together so directly, creatively, and strategically…this is a rewarding feeling. Even more, the twists of the story amplify this reward because the characters are involved at every satisfying turn.
All roads in this game lead back to the main objective of defeating Lavos. There are no distracting tangents, and there is no narrative fluff. In fact, Chrono Trigger is surprisingly short, yet it was first game to incorporate a "New Game +" mode, allowing for players to experience the numerous different endings. In my book, a short game is usually always a good thing. That way, it's more memorable. In the case of Chrono Trigger, it's timeless. Like Super Mario RPG, this game is available on the Wii Virtual Console for eight dollars; it's also available for Nintendo DS.
I played through Chrono Trigger three times as a kid. Before that, I played through Super Mario RPG four times. Now, seeing the first shot of Chrono Trigger's introduction sequence—that iconic swinging pendulum—it's hard not to think of all the time that's passed since I played these games. But it's so easy to remember the way they made me feel. In my case, since these were my first RPGs and since I'm relatively bad at video games, I felt capable. I felt I was good. I also felt completely transported, and addicted. All good things, to be sure.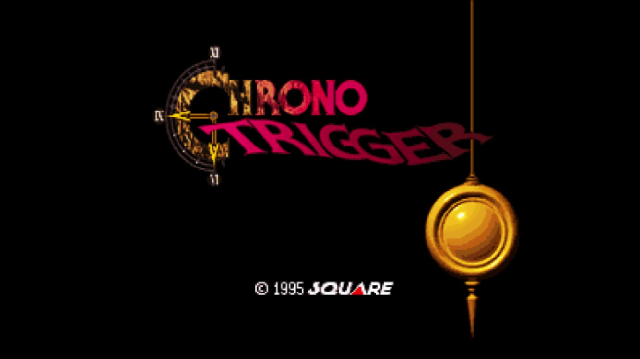 But all good things come to an end, or they just continue on to newer things. And so the experience changes. I loved the Paper Mario games, and I absolutely loved Chrono Cross on PSone, but they'll never come close to the same timeless magic Squaresoft accomplished with Nintendo on the SNES. For this era I am grateful and, above all, nostalgic.