The Ten: Gifts for the Comic Book Fan

Happy Holidays, people! It's crunch time as far as gift shopping goes, and the chances are you have absolutely no idea what to buy for your comics-lovin' niece, nephew, daughter, son, mom, dad, or significant other.
Have no fear, for I have made this list with you in mind. Follow me, and you will win at the holidays.
Before we start, here are some caveats for you to follow when buying for the comics fan in your life:
Whatever you do: don't buy them comics. It's kind of a personal thing, and the chances are—despite your best efforts to find out—you don't know what they have, like, or dislike. Nothing is worse than receiving a bunch of back issues of X-Men 2099 because you mistook it for Uncanny X-Men #209-211 (which are some amazing X-Men stories).
Etsy is your friend. You can find so many awesome gift ideas on there, many of them are hard to find elsewhere.
There's no such thing as a casual comics fan. Sure, there are varying degrees of comics fan, but the truth is, we all love paraphernalia. If your nerd doesn't have a nerd shelf, this is a good chance to start 'em on one.
Nothing says "I love you" to a nerd like embracing that they are, in fact, a giant nerd who likes comics. Trust me.
---
The Complete Calvin and Hobbes ($50-$115, depending on format)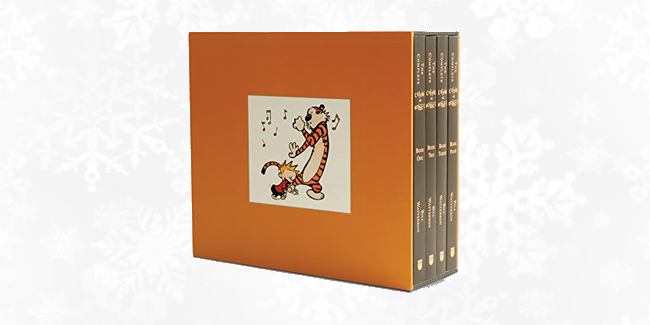 OK, so, remember what I said about not buying someone comics for Christmas? This is the one exception because Calvin and Hobbes is the gold standard for comic strips—it's intelligent, funny, relatable, touching, and timeless. It is an undeniable fact that it is the greatest comic strip of all time that will ever be. Bill Watterson is master of the short form comic strip, and this collection contains every single Calvin and Hobbes comic ever made, and it's a steal at $55 in paperback form.
This collection is available in hardcover or paperback and contains no fewer than 1,456 pages of adventures that will leave your favorite nerd quietly chuckling in their favorite armchair.
---
IDW Artist Edition or Artifact Edition Hardcovers ($100-150)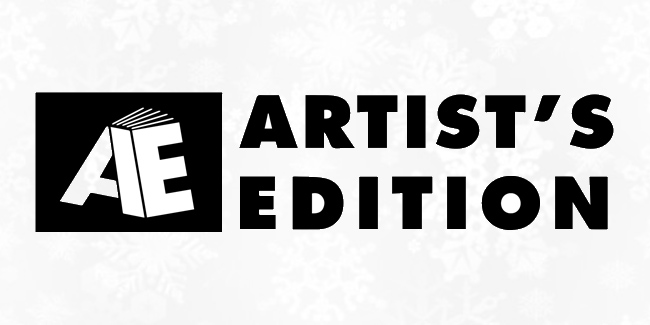 You may think this item also violates rule #1, but you're wrong. Featuring high resolution, full color, full sized scans of original artwork, IDW's Artist and Artifact Editions are a unique opportunity for that special someone in your life to experience some of their favorite stories the same way their favorite artists got to see them before production—correction paint and all. These guys even went as far as to produce the books using paper stock as close as possible to the original paper used by the artist. How cool is that? They're also the kind of thing your average comics fan doesn't buy for themselves, probably because of the price tag—which is generally around $100 bucks or so—but hey, it IS the holidays, after all.
There's a ton of classic stories available, including Walt Simonson's classic 1980s run on Thor, Eric Powell's The Goon: Chinatown, Alan Moore's seminal work Watchmen, Jeff Smith's Bone: The Great Cow Race, and John Romita's defining run on Amazing Spider-man—which is so great they produced two volumes of it.
Buy from IDW
---
Anything from the Brooklyn Super Hero Supply Company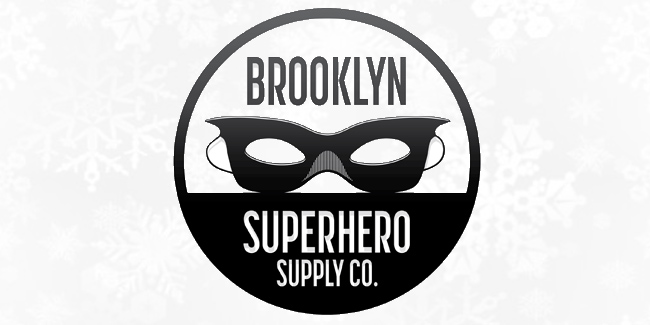 The Brooklyn Super Hero Supply Company (or the Local 826) is this really awesome place in Brooklyn where the burgeoning super-hero in your family can go to stock up on necessary items like masks, secret identity kits, and capes—they even have a cape-tester there that will show your hero just how cool they will look when they stand with their hands on their hips and their cape blowing in the wind. Of particular value is the Superhero Starter Kit, which includes a mask, 45" cape, secret identity kit, and a blaster for "fighting your way out of trouble" for the meager price of $49.99. Aside from capes and superpowers, the Brooklyn Super Hero Supply has a pretty cool line of T-shirts and apparel for adults (and dogs).
You can even stock up on generic canned superpowers like Omnipotence, Antimatter, Immortality, Chutzpah, and Muscle, or the popular Aardvark Brother's line of superpowers that include Gumption, Magnetism, Speed of Light, and Intuition. Buyer's note: While these superpowers are mostly for some on-the-nose fun, and your hero-in-training won't necessarily gain superpowers from there; it's where the money goes that's really the important part.
See, what's most impressive is what goes on behind the scenes at the BSHS—there's a secret door that leads to a room full of dedicated tutors, storytellers, and workshop leaders who help kids ages 6-18 develop their creative writing skills. In NYC, they work with something to the tune of 2,300 students a year, and a contribution of any kind helps expand that reach.
Now, that's money well spent.
Buy from the Brooklyn Super Hero Supply
---
Superhero Pez Dispensers **STOCKING STUFFER BONUS**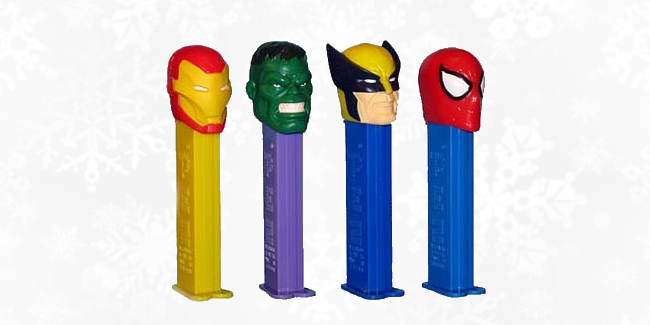 I don't even know how many of these stupid things I went through, tossed, or broke as a kid, but I do remember having a pretty rad Incredible Hulk Pez dispenser. The best place to find them—like most other things in life—is on the the internet, most notably on Etsy, which has a pretty solid selection. Get one of these for your loved one, and I promise it'll proudly live on their nerd nostalgia shelf.
Buy on Etsy
---
Secret Wars Action Figures (1980s!)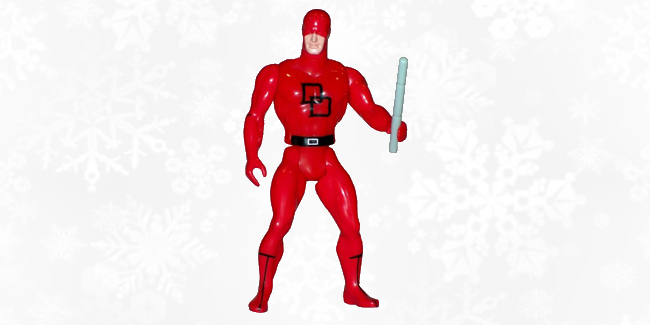 In the early- to mid-'80s, Mattel released these really simple Marvel Secret Wars figures. Standing at about 4 inches, they didn't really do anything, per sé, but they looked really cool for the time and are still pretty coveted by collectors—in fact, given the relative obscurity of characters like Kang the Conqueror or Baron Zemo, these may actually be the first action figures aimed directly at comic-book collectors. You can find a few collections of them on Etsy, but the real place to look is on eBay, where they go for around 12 bucks each in good condition (I even found a Wolverine on there that still had the detachable claws, a rare jewel indeed).
The Secret Wars line only included something like 12 figures, and I've actually never seen some of them in person, like the Falcon—which would be a really great find given the character's rise in popularity due to the recent Captain America films and the fact that Sam Wilson (the Falcon) is now Captain America in the comics. I've still proudly got my Daredevil, Hobgoblin, and Wolverine (sans claws, unfortunately) on display in my art studio. I just wish I could find my black-and-white Spidey…
Buy on eBay
---
Superhero Mini-Figures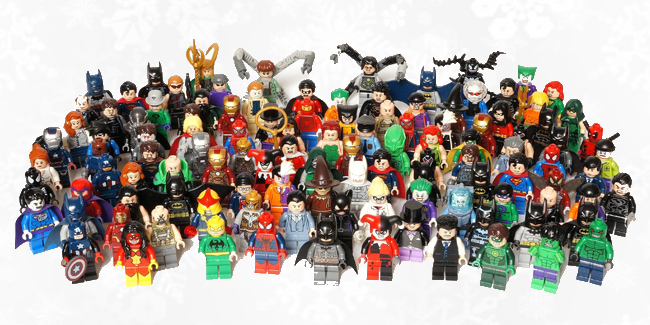 So, maybe your nerd isn't old like me and likes something a little more modern.
Have no fear, holiday shopper, because Etsy has a ton of really cool custom mini-figures based on everything from the X-Men to the Justice League, Batman, Robin, Avengers, Daredevil, Guardians of the Galaxy, etc.
Hell, they even have a Galactus figure.
Perhaps the coolest part about mini-figures is, they're completely compatible with normal Lego sets—meaning you can insert your favorite characters into any scene of your creation, at any point and in any configuration.
And they only cost between $5 and $15 in various Etsy stores, depending on the character and number of figures you buy.
Buy on Etsy
---
The Comic Book Story of Beer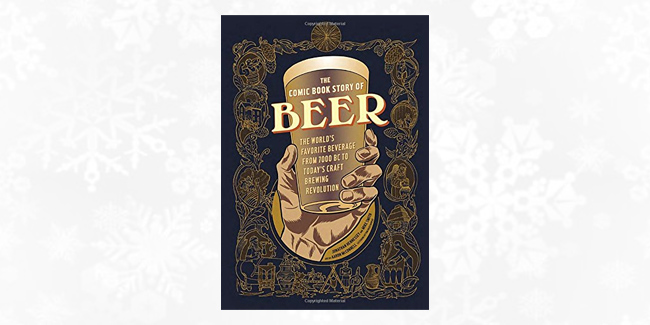 by Mike Smith and Aaron McConnell
Many comic-book fans also love beer—especially out here in the Pacific Northwest—and this 180-page graphic history of "The World's Favorite Beverage" by Mike Smith and Aaron McConnell merges the two in a great way. Telling the story of beer from 7000 BC to today, where the United States is populated with nearly 3,000 breweries, the New York Times Bestseller posits the theory that beer actually helped to define the course of civilization on both an agricultural level and a political level. Pulling from Smith's experience working in breweries and McConnell's background in comic illustration, it's an interesting read, a worthwhile addition to any comic reader's shelf, and a very thoughtful present.
---
Pint Glasses or Shot Glasses 
You can't read a book about beer without a beer in your hand, beer tastes better out of a glass, and that glass looks better when it's adorned with your favorite super hero.
Luckily, there are a ton out there if you do some digging, and often you can buy them in lots of four or so—because drinking beer is more fun with friends.
Here's another fun idea—buy your loved nerd a set of Marvel shot glasses and a set of DC shot glasses. That way, the debate over who's stronger, Superman or the Hulk (answer: it's the Hulk), can be solved with an old-fashioned superhero drinking game.
Buy from Superherostuff.com
---
How To Draw Comics the Marvel Way (or: other instructional books about making comics)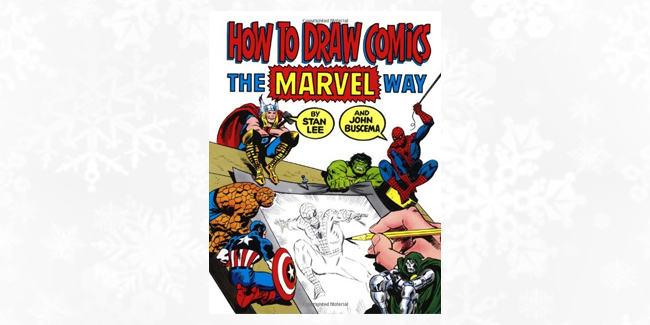 by Stan Lee and John Buscema 
I'm of the belief there is no such thing as a comic-book fan who hasn't dreamt of someday making their own comics, and there are some really great books out there to inspire them to get started. However, amidst the myriad books on creating your own comics, there is no more accessible way to learn the basics than How To Draw Comics the Marvel Way by Stan Lee and the iconic illustrator, John Buscema.
Originally published in 1978, the original edition (the one I have) uses your favorite Marvel superheroes as examples on how to draw anatomy, analyzes scenes from classic comics to teach the reader about page design and story structure, and gives the beginner a basic rundown of the tools of the trade. It remains an incredibly well written oasis of information for anyone who's wondered what it takes to make comics.
If your nerd already has How To Draw Comics the Marvel Way and may be a bit past the beginner stage, here are a couple of other great books on the subject to look for:
Making Comics – Scott McCloud
Understanding Comics – Scott McCloud
Reinventing Comics – Scott McCloud
Comics and Sequential Art – Will Eisner
Graphic Storytelling  – Will Eisner
Expressive Anatomy for Story Telling – Will Eisner
---
Comic Con Tickets (varies by region and Con)
Comic Conventions used to be small, contained gatherings of nerds with a shared interest in comics. Alas, times have changed as the medium has gained popularity and lost its counter-culture edge—but that's a story for a different time.
The upside is, there are more people getting excited about comics than there ever has been, and there's a convention in just about any of the contiguous 48 states at any given time of year (forgive my lack of knowledge in regards to conventions in other parts of the world, but they are indeed out there). They're full of creative people in amazingly detailed costumes and well-thought-out panel discussions—one of my favorites at NYCC was "The Women of Marvel," which discussed the importance of including women in the field of comics and supporting more lead roles for women in the books. Also, they're a great place to meet some of your favorite artists and writers.
Tickets can be a little expensive of you want to make a 3-day experience out of it, but in my experience a single day can be more than enough time to get your fill at some of the bigger conventions like NYCC or SDCC, and it's definitely a gift that says "I love you, even though you may love Thor more."
You're gonna have to pay attention for this one, but here's a list.