The Nerd Chord: Miyazaki, the Artist in Real Life

Sitting down to write about Hayao Miyazaki's films I thought, Well, what the hell can I say that hasn't been said before? It's an awfully difficult thing to do, especially when the master filmmaker in question has already had billions of words written by and about him. Thankfully, The Nerd Chord is all about giving a personal take on a particular passion. It's about a thing that makes me tick, a thing that strikes my chord. And it's always something very real.
So let's take a look at the very real journey Miyazaki, the artist, must have taken to create a few of his great movies at Studio Ghibli—specifically My Neighbor Totoro, Kiki's Delivery Service, Whisper of the Heart (which he only wrote and for which he only did storyboards), and Nausicaä of the Valley of the Wind. After all, isn't it true that reality is usually more interesting than fiction?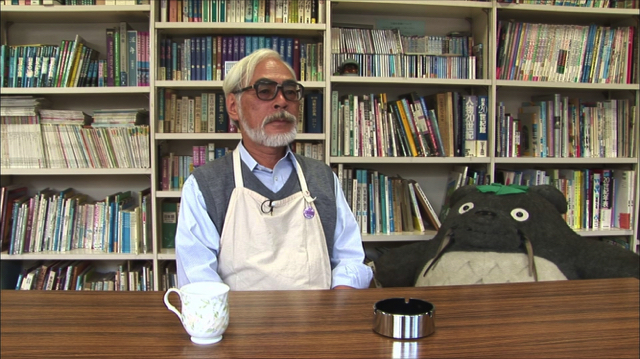 Now, obviously I don't know every biographical detail about Hayao Miyazaki; everything I say will be filtered through my own experience as a speculative-fiction writer. But I know the rural setting of My Neighbor Totoro is meant to mirror the Japanese countryside in which Miyazaki grew up. The area is heavily wooded, full of living things, enormous trees, and shrines where you should always pay respect to the spirits that guard the earth and those who live on it.
First we see the Soot Sprites; spirits that look like living, little black 'puffs,' fleeing a dwelling at the first sign of joy. They also appear in Spirited Away, which I think must take place in the same universe as Totoro, if in a different dimension. Totoro himself is said to be the "King of the Forest," a gigantic spirit who looks something like a cross between an owl, a cat, and a tanuki (raccoon dog). It's important to note Totoro didn't exist before Miyazaki came along; rather, it is a creation given life wholly from his imagination. Also, Totoro is cute—extremely, unendurably cute—but still remarkably in some ways looks and acts like a real animal.
Perhaps the child Miyazki is also reflected in the film's five-year-old protagonist, Mei, and her ten-year-old sister Satsuki. It seems only children have the ability to see and interact with Totoro. Mei bounces on his belly as if it were a bed (effectively melting the audience into big puddles of squeal), and the sisters clutch onto his fur as he flies through the night on his floating, spinning top.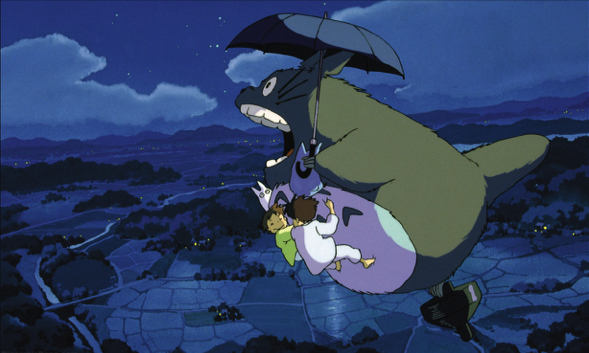 So I thought, What is it about youth that makes it so receptive to the spirit world, to magic? And how do I get in on that? Obviously Miyazaki has a strong direct link to his own imagination, which is pretty much the same thing. Totoro represents the sort of wonder or inspiration most unfettered imaginations are capable not of processing or observing but actually living—in the moment. That is, actively experiencing: feeling, not thinking.
In a way, Totoro represents a way of seeing the world that we should protect as we get older, no matter how hard it gets. If we can hold on to these things, real life becomes a lot more interesting in its every-day minutia. Maybe this kind of engagement is even enough to give most people a sense of purpose; if they can take mundane moments to the next level, then life is good for them. Imagination is not only a matter of importance for everyone but also a necessity for artists.
Of course, maintaining such a direct tap to creativity is never easy. Sometimes it gets blocked because of all kinds of other real-life stuff. Usually these hang-ups exist only in our heads, where they have a tendency to suck away our ability to do anything very well—or even anything at all. This is exactly the problem the protagonist faces in Kiki's Delivery Service. Kiki, as a young witch in this film's universe (which I believe must be at least very similar to that of Howl's Moving Castle, witches, European towns and all), has to venture out on her own. At 13, it is customary for witches to find a city they can call home, where they essentially must make ends meet using a magical skill in which they excel.
Naturally, at 13, Kiki's still figuring everything out. She wonders what her skill is and she has a difficult time fitting in with other young people, feeling always like an outsider around them. She's not completely satisfied with the plain, black dress she wears and never thought of herself as pretty. The point is, this is a pivotal time in her life, and growing up is hard to do. It was inevitable her witch's powers would weaken drastically, and she would lose the ability to speak with her awesome, dry-pan cat Jiji. This is her block, and it's something very similar to what some would call 'writer's block.' It's her crisis of confidence.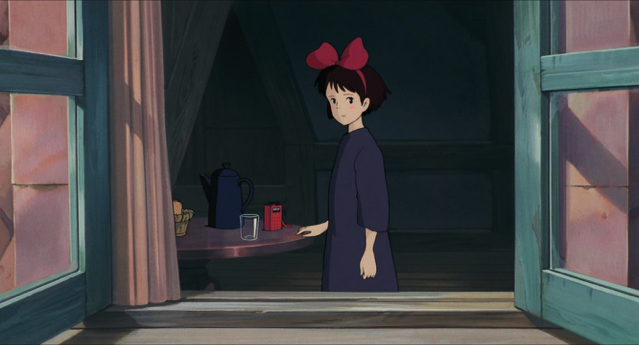 Since she temporarily cannot maintain her flying delivery service without magic, Kiki takes the bus and then hitches a ride to her friend's cabin in the woods for a much-needed time out. Frankly, it's lovely how Miyazaki fills these magic-free scenes with real-life, every-day experiences during which his protagonist can finally stop trying to concentrate so intensely on her skill. It's also plain that, as an artist, this is what Miyazaki must sometimes do to reach the inspiration that just doesn't hit when he's looking for it or waiting for it. Maybe the inspiration is a person, or maybe it's a cause. Making it on one's own is a very universal concept, but Kiki's young age in the film puts a literal slant on the reality that we all grow, learn constantly, and feel defeated. In any case, we have the imagination. We just have to discover what we're good at, find our own inspiration, and simply do it.
In Whisper of the Heart (again, a movie Miyazaki did not direct but rather wrote) protagonist Shizuku lives in her own fantasy world when she should be focusing on real life, which surrounds her so completely. In fact, the film is extremely slice-of-life and perhaps one of only a few Ghibli movies I can think of with a modern, urban setting: Tokyo. High school entrance exams are coming up, but Shizuku is torn between focusing on that responsibility and pursuing her dream of writing. The Baron, a statue of a dapper cat in a top hat with mesmerizing eyes, fills her with inspiration and becomes the main character in the story she begins to write. Shizuku puts life on hold and wisely decides to use this time of creation to decide whether or not writing is what she should do with her life.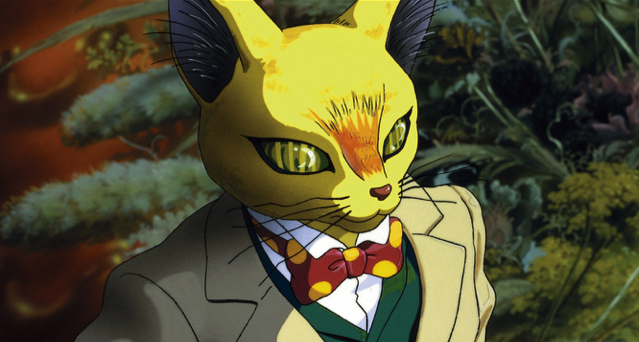 No doubt Miyazaki learned the same lesson Shizuku did. Speaking from experience, I can say that after I finish writing a story—after I've poured countless hours, much work, and much love into this work for virtually no return—the emotional toll can be devastating. When her first reader tells Shizuku it's a wonderful story but needs polishing, Miyazaki knows exactly how she feels as her tears start to run freely. It's this sort of grossly emotional onslaught that really has nothing to do with logic of any kind. The entire endeavor is the biggest risk any writer can take and the reality is, most people don't have the courage to put life on hold to take that risk. "I wanted so badly to do a good job," Shizuku says, "But there's so much I don't know about writing." Truth: there's so much craft to art of any kind. It would be best to take a moment to learn it.
…Which is precisely what Miyazaki did in the '70s and '80s, in the Japanese animation industry, leading up not to his directorial debut (The Castle of Cagliostro) but to his second feature film: 1984's Nausicaä of the Valley of the Wind (in my mind, the precursor to Princess Mononoke). This movie would be the first born completely of Miyazaki's own imagination and, incidentally, the only science-fiction film of his career. Originally a manga Miyazaki penned himself, Nausicaä is set in a post-apocalyptic world in which various nations are a war while a toxic, ever-encroaching jungle and enormous, dangerous insects threaten everyone's lives. Princess Nausicaä, a passionate peacemaker, is at the center of it all.
Nausicaä of the Valley of the Wind would include all the anti-war and environmental themes present in most of Miyazaki's later work. It would feature a strong female protagonist ready to put her life on the line for what she believes and ready to stand up for what's right. (Whatever some may think, I don't believe such a character will ever go out of vogue; she isn't a stereotype but rather an archetype). The movie is a true labor of love, raw and pure.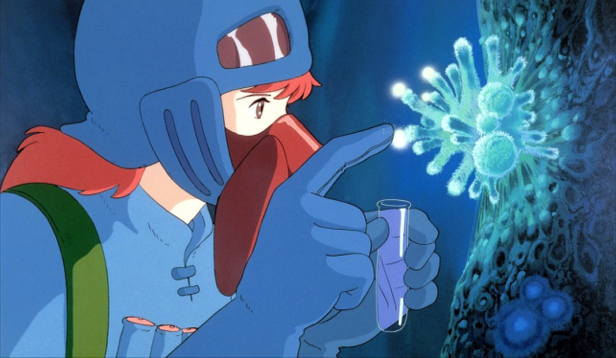 This is what most writers and artists yearn to do at one point or another. We want to share what we care about. We want to say something about humanity with a specific framework, be it speculative fiction, science fiction, fantasy, or otherwise. If I had to take a stab at it I'd say Miyazaki, with Nausicaä, believes people are capable of great things in the world, but they're also capable of very terrible things. Nevertheless I can see in his art that he has hope, which isn't such a horrible thing when ultimate destruction isn't guaranteed—specifically, destruction of the environment and of the Japanese animation industry, two things for which Miyazaki cares and fears greatly.
For me, speculative fiction is all about identifying the issues our society faces today and extrapolating them to some kind of realistic, achievable solution in the future. In writing this way, there's a need to be grounded in practicality and surrounded by people who care about the world, about society, about themselves and others. Seeking out people like Miyazaki works well; obviously in this case, his art is the next best thing. It's easier to hope for the best this way, and harder to waste time fantasizing about a utopia.
Yet we all know every good story needs embellishment. If whatever I'm able to achieve is even a modicum as good as anything Hayao Miyazaki did—if it reaches just one person—I'll have succeeded. That's art in real life.
---
RT is a TV and Film enthusiast, spec. fiction writer, and editor at Project-Nerd. Follow him on Twitter @RTBudhram.