'A Light Beneath Their Feet' Film Festival Review

A Light Beneath Their Feet was covered as part of our Tallgrass Film Festival 13 (2015) coverage. For more on our Tallgrass Coverage, check out our ProNerd Tour Page.
---
Films depict mental illness frequently. Sometimes research-based material goes into it, often not. A Light Beneath Their Feet certainly based the film on a great deal of research in the realm of Bipolar Disorder. The disorder is incredibly misunderstood, and not a few films, pop culture, and media fail to represent the nuances surrounding the relationships between individuals who have the disorder and their loved ones.
A Light Beneath Their Feet is an adorable narrative about a single mother, Gloria (Taryn Manning) and her daughter Beth (Madison Davenport), who is about to head off to college. It's pretty clear Mom doesn't want her daughter to leave at all, and Beth is torn between attending local Northwestern University, and UCLA. In the midst of their dilemma, Beth and Gloria prove to be extremely close. And yet Beth keeps much of her personal life to herself. Beth struggles to help care for her mom at the same time she deals with typical teen issues such as a lack of popularity in her large school, a part-time job, and a crush on a young man with some of his own serious struggles. While Gloria genuinely loves her daughter and supports her as best as she can, her disabilities are the focal point of Gloria and Beth's relationship.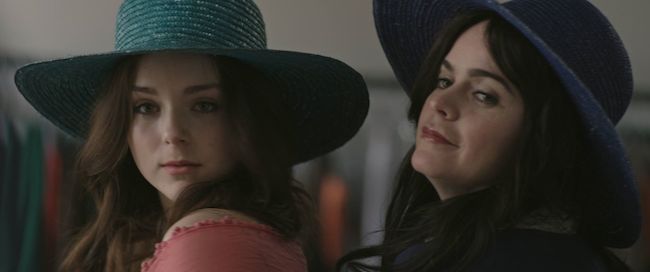 Gloria has Bipolar I Disorder along with a history of paranoia and psychosis. She takes large quantities of meds just to maintain less than ideal employment and a relatively normal take on reality. It's no wonder her daughter tries not to burden her with the everyday mundane woes of life.
The subject matter in A Light Beneath Their Feet is not new. In recent years popular films have featured characters that suffer from mental illness and how it affects their lives and their loved ones. In A Light Beneath Their Feet the focus is definitely on Beth and how she struggles to cope with her mother's disorder and whether or not it's ok to move away. What sets the film apart, though, is how different the story is. The focus is less on the disorder and more on the relationships between everyone. At the same time the film takes a hard look at the stigma surrounding mental illness and Bipolar Disorder, specifically. There are moments when you can feel the embarrassment deep in your gut when Beth or Gloria deal with the stigma associated with the severe medical illness.
A Light Beneath Their Feet just started its Festival run in October, and it's already received critical praise, and the 'Stubbornly Independent Award' from Tallgrass Film Festival. A solid plot has certainly played its part in that, along with an excellent script and excellent direction from Valerie Weiss, but by far the star of the film was the incredible performances.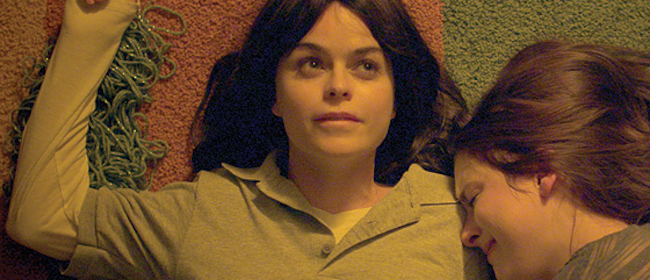 Madison Davenport's role as Beth was spot on. Her ability to show so much in her eyes was incredible. Even when she wasn't speaking you could feel all of her teenage angst and inner turmoil from dealing with her mother's disability. Overall, Davenport's role was inspiring.
The huge talk after the Gala showing of A Light Beneath Their Feet at Tallgrass Film Festival this year was entirely centered on the outstanding performance from Taryn Manning. It was utterly heartbreaking to see her spiraling in all different directions due to her illness. She played all the parts of a mother struggling with Bipolar so perfectly; in doing so she effectively pulled off several different roles. Somehow she managed to perform the widest range of emotions a human can cope with, all while remaining true to the singular character of Gloria.
Even though a large part of the film deals with serious issues, there are still laugh-out-loud moments. Not to give anything away, but it's not as if you will leave the theater feeling like you've been hit by a truck. If anything, A Light Beneath Their Feet is uplifting and thought-provoking; it's something any fan of cinema will thoroughly enjoy.