007 Mission Files: 'Quantum of Solace'

I'm going to come out right at the top of the article and say it. Lay all of my cards on the table so you know what you're getting into. I am a Quantum of Solace apologist. The locations are gorgeous and artistically shot, the action scenes are fun and intense, and considering it was made during the writer's strike it is a nice addendum to the best Bond movie to date in Casino Royale.
Casino Royale was a massive success, entertaining even non-Bond fans. With Daniel Craig signed to a multi-picture deal the producers immediately began pre-production on the follow up. Initially they wanted to release the next movie the following year to take advantage of a once-in-a-century opportunity to release the film in the year X007, but they soon realized that it's not the 1960s anymore. You simply can't make a movie that quickly. So, they set their sites on the following year.
Even a two-year turn around was enough to scare off some directors who felt they couldn't make a quality film in 14 months. Paul Haggis, who polished the Casino Royale script and wrote and directed the Oscar winning film Crash, was first offered the director's chair for this movie followed by Roger Mitchell (Notting Hill), but both passed due to the short turn around. At the recommendation of Craig, they eventually turned to Marc Forster (Finding Neverland, Stranger than Fiction, Monster's Ball) who had made a name for himself as a director of dramatic films. He is also the first Bond director not to come from the British Commonwealth. He was born in Germany. I remember being very excited when he was announced as director because it demonstrated their desire to continue to focus on the drama established in Casino Royale.
Then disaster struck. After Purvis and Wade turned in their copy of the script it was passed to Haggis to polish, as had been done with Casino Royale. Due to unfortunate timing, the script would be due after the beginning of a strike by the Writers' Guild of America. Haggis was dedicated to finishing the script, and reportedly turned it in a mere two hours before the strike was to take effect. He polished and reworked as many scenes as possible, but in the end the crew was still left with an incomplete shooting script at the start of production.
Strike guidelines allowed for directors and actors to work on scripts during shoots, but they could not get writing credits. To that end, much of the plot and dialogue were written on the spot. Craig spoke about this in a 2011 interview with Collider: "We had the bare bones of a script and then there was a writer's strike and there was nothing we could do. We couldn't employ a writer to finish it… There was me trying to rewrite scenes—and a writer I am not… The rules were that you couldn't employ anyone as a writer, but the actor and director could work on scenes together. We were stuffed. We got away with it, but only just. It was never meant to be as much of a sequel as it was, but it ended up being a sequel, starting where the last one finished."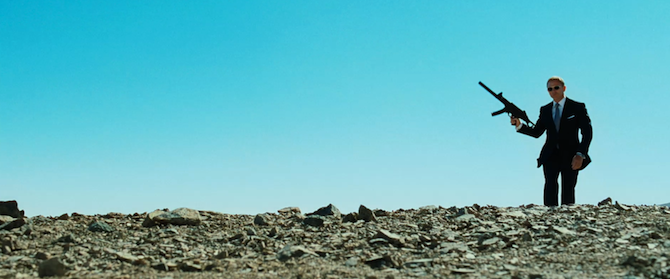 So it was more of a direct sequel than intended, and certainky the first direct sequel of the series, but maybe that wasn't a bad thing. Their need to lean on the previous film gave Craig the ability to show emotion as Bond as he continued to grapple with the death of Vesper. It gave him closure so he could grow to become the agent we all know, and it opened up the world of Quantum, which appears to play a role in the upcoming film Spectre.
With a lack of a solid script, the producers knew they were going to have to rely heavily on action sequences. To that end, they approved the largest budget ever for a Bond film at $225 million. Over three times the budget of Casino Royale. Despite mixed reviews, the film still earned over $587 million worldwide, just $7 million short of Casino Royale's total.
The movie immediately opens with a car chase. We don't know who's chasing Bond or why, but he's in a huge hurry. After taking care of all of his pursuers, Bond arrives at a meeting with M. He pops the trunk and reveals that Mr. White was in his trunk the entire time.
After the opening credits, M and Bond begin interrogating Mr. White. They don't get far before M's bodyguard Mitchell reveals himself as a double agent. He shoots at M and flees. Bond chases and kills him, but in the commotion Mr. White was able to escape. A search of Mitchell's apartment leads Bond to Haiti to confront Mitchell's contact.
He kills the contact and takes his jacket. As he's leaving the hotel he's handed a briefcase by the woman at the front desk and picked up by another woman in a car, both mistaking him for the man he just killed. While in the car he opens the briefcase and finds a gun and a photo of the woman driving. The woman pulls out her own gun and Bond gets out of the car. He steals a motorcycle and tails her to the hideout of Dominic Greene. We learn that Greene is an agent of Quantum that is orchestrating a coup in Bolivia. He will put General Medrano in power in exchange for a large piece of desert.
Greene thinks the woman, named Camille, is a spy and offered her to Medrano as a bonus. Bond takes a boat and chases down Medrano, rescuing Camille. However, Camille reveals that Madrano had killed her family when she was young and she was trying to get close enough to kill him. Bond follows Greene to an opera, where he notices some audience members taking a special gift bag. He kills one of them and takes the contents of the bag, finding an earpiece. He listens in on a Quantum meeting while they discuss future business ventures. Eventually Bond speaks and all of the members get up to leave out of fear of being seen. Bond snaps a photo of each of them and sends them to M. We also see that Mr. White was a part of the conversation, but he was smart enough not to reveal himself. Greene sends security after Bond, but both are able to escape. Greene's men kill a member of Special Branch that was working a security detail, but M thinks Bond had killed him for information and freezes his passports and credit cards when he refuses to return to London to be debriefed.
Bond meets up with Mathis and together they follow Greene to Bolivia. Strawberry Fields is there to welcome them and send them back to London, but since the next plane to the UK doesn't leave until the following day, Bond convinces her to go to a hotel for the evening. Bond seduces her, then takes her to a fundraiser being hosted by Greene.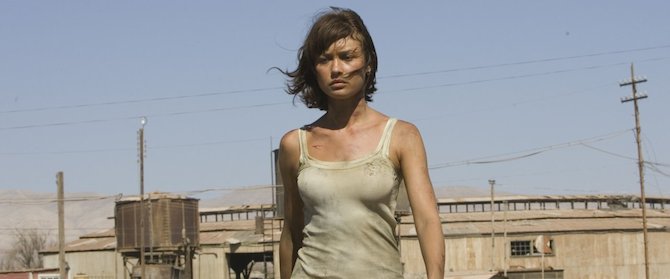 At the fundraiser, Bond again rescues Camille from Greene, but after they leave their vehicle is pulled over. The cops force Bond to open the trunk, where they find Mathis dead. Bond incapacitates the officers and disposes of Mathis's body. Camille and Bond head to an airstrip and rent a plane to fly over the land that Greene acquired. They see nothing but sinkholes and piping. Eventually other planes show up and a plane fight ensures. Bond and Camille are able to escape death by parachuting from the plane, right into one of the sinkholes. Bond notices some of the rocks had been dynamited and realizes he's actually creating reservoirs of water on his new land to create a monopoly.
Bond and Camille walk back to La Paz and find M in the hotel. Strawberry Fields had been drowned and covered in oil. M orders Bond arrested, but he assures her he intends to finish the mission. Camille picks him up in a car outside and they escape. Bond meets with Leiter, who tells him that Greene and Medrano are meeting in a desert the next day.
At a desert hotel, Greene and Medrano are putting the finishing touches on their deal. As soon as Medrano signs their agreement to make him president, Greene then hands him a new utilities agreement. Since Greene controls over 60% of the country's water supply they will now be paying significantly more for their water. Bond and Camille arrive and the destruction begins. Camille is able to kill Medrano and avenge her family's murder, Bond captures Greene after a frantic fight, and they all escape as the hydrogen cell-powered hotel is engulfed in flames. Bond interrogates Greene for information about Quantum. He then leaves Greene in the desert with a can of oil.
In an epilogue, Bond travels to Russia and confronts Vesper's former lover, Yusef Kabira. He is a member of Quantum whose role is to seduce women with valuable connections, like Vesper. Bond tells the woman currently with him about his double life. She works for Canadian Intelligence and quickly leaves, thanking Bond. Bond interrogates him and when he leaves we see M outside. She sends a team in to arrest him and wraps up the movie telling Bond that Greene was found in the desert with oil in his stomach and two bullets in his head, Leiter had been promoted to take the place of his crooked boss, and that Bond has officially been reinstated. Bond has now made peace with Vesper's death and is able to move on, leaving her necklace behind.
It's easy to see why a lot of people didn't like the movie since it has more style than substance, but ultimately we need to give it a pass since it was made during the writers' strike. It's easy to say they should have halted the production, but once the gears are moving on a project like this it's hard to stop them, and once you do it's even harder to get them started again. Remember, the last writers' strike was after Licence to Kill, and it was another six years before GoldenEye was released with numerous scrapped versions of movies in between.
I really liked Forster's direction on this movie. While it wasn't the dramatic affair I expected when he was hired, he chose a great color pallet and did a nice job making what he had to work with the best it could possibly be. For instance, the four major action sequences were each based on one of the elements. The car chase in the beginning went through a quarry to represent earth, the boat chase represented water, the plane chase represented air, and the scene in the desert at the end represented fire. When their powers are combined they release Captain Planet. Unfortunately, Milla Jovovich was unavailable to reprise her role as the fifth element.
I also liked some of his little choices, like the way the title and location cards were integrated into the scene and the editing of the audio during the car chase, boat chase, and the opera where it would focus on one element and drop everything else. For instance, at one point the opera would be playing and you couldn't hear gunshots.
While the car chase at the beginning was huge and frantic, there were no weapons. The cars weren't tricked out by Q-branch or invisible. They were just handled well by some excellent drivers.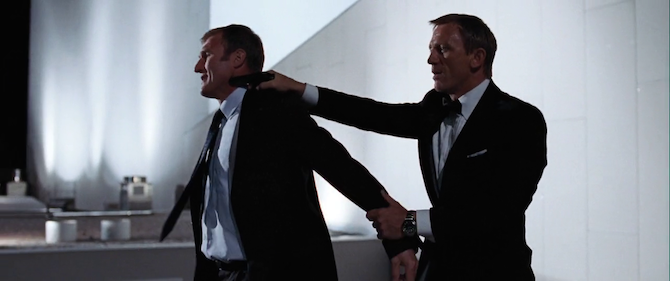 Oh, and for those of you that don't understand the name, Bond has his quantum of solace at the end when he gets closure on Vesper's death. Quantum of solace means a 'measure of comfort.' He's finally able to move on. In the short story this movie takes its name from, Bond meets a man who describes a married couple that have fallen out of love and ruined each other's lives. Their quantum of solace was at zero and the relationship could not be saved. It is actually a really good story written by Fleming that feels like a Woody Allen movie.
Peter Lamont, the set decorator/art director/production designer since Goldfinger retired after Casino Royale. He had worked on all of the movies during that time except for Tomorrow Never Dies because he was busy working on Titanic, for which he won an Oscar. He did some great work through the years, but he was replaced for Quantum of Solace by Dennis Gassner who has done every film since. He was chosen based on his work on Road to Perdition (which also featured Daniel Craig), Big Fish, and The Truman Show.
At no time in the movie does Bond introduce himself as 'Bond, James Bond.' They shot the line during a number of scenes, but it never felt right and Forster ultimately found it unnecessary. This is only the fourth movie in which he does not say this line with From Russia with Love, Thunderball, and You Only Live Twice. He also doesn't order a 'vodka martini, shaken not stirred,' but that is a little more common.
Daniel Craig was injured a lot while making this movie. Most notably he required eight stitches on his face, six screws in his shoulder, and he sliced off the tip of a finger, all during different action sequences.
The MacGuffin of the film is natural water. Wilson says he drew a lot of inspiration for this idea from Chinatown. This is the first time a natural resource was used as a plot point since the Solex Agitator in The Man with the Golden Gun. To sell the area's need for water, the climax of the movie was shot in a desert in Chili that has never recorded any measurable rainfall.
The movie does pay homage to a few former Bond movies. When Bond gives one of Greene's men his Universal Exports business card it reads 'R. Sterling.' In The Spy Who Loved Me he uses the code name Robert Sterling with Anya Amasova posing as Mrs. Sterling. The most obvious is of course the dead body of Strawberry Fields. It is positioned on the bed the exact same way as Jill Masterson's in Goldfinger, only it was covered in oil instead of gold.
You also get to see Bond develop more fully into a double-0 agent. He still has the raw emotion from Casino Royale and looks away while killing Mitchel's contact in Haiti, but he does a lot of detective work in this movie. Bond has a history of just being in the right place at the right time and events will just unfold around him, but here he has to follow the clues and gather evidence. It's quite fascinating. He also refuses to stay at the crappy hotel where we later see the Americans staying. He alters his cover with the great line, 'We are teachers on sabbatical…and we've just won the lottery.' Classic Bond move.
Paul McCartney was asked if he had any interest in writing a new song for Quantum of Solace, but he turned it down and suggested Amy Winehouse. She had recorded a demo, but was unable to record a final version due to her drug problems and personal life. Shirley Bassey quickly recorded a song for them titled "No Good About Goodbye," but the producers decided to go with a more contemporary act. I really like Bassey's song, though. With a little work it would have made a great Bond theme. Even if it were played at the end or sometime during the film as they did with back up tracks through the '80s and '90s.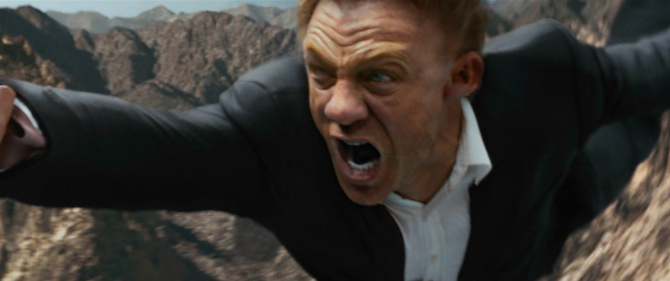 Ultimately they went with "Another Way to Die," written and performed by Jack White and Alicia Keys. I like the song for the most part. It isn't the greatest Bond song, but it's upbeat and matches the tone of the movie.
Cars: Since this movie picks up right at the end of Casino Royale, the Aston Martin DBS V12 returns. This was the last of a three-picture deal with Ford, so there is a GT, a 2009 Ford Ka MkII, an electric Ford Edge, as well as many Volvos, Land Rovers, and Range Rovers throughout. Greene's car is an Alfa Romero 159 and others appear as well. All the boats are Sunseekers, including the Sovereign 17 speedboat and the 37 Metre Yacht M4.
Allies: Forster felt that Dench had been underused in last few films, so he focused on giving her a larger role in this movie. When you are shooting with an incomplete script, it's best to lean on an Oscar winner. For her sixth round as M, Forster tried to build the relationship between Bond and M, not just in terms of a mentor and boss, but also as a motherly figure. It's established in Casino Royale that Bond was an orphan, and Forster found the fact that M is '…the only woman Bond doesn't view in a sexual context' very interesting, so he paints her here as a sort of surrogate mother. Even when she orders him arrested it's for his safety and she never gives up on him or his abilities.
Jeffrey Wright returns for the second (and so far final) time as Felix Leiter in a very small role. I really would have liked to have seen more screen time with him. I like his take on the character, but he is underutilized.
While Q and Moneypenny are missing for the second straight film, we do see a familiar face around MI-6 in M's Chief of Staff Bill Tanner, played here for the first time by Rory Kinnear (The Imitation Game, Black Mirror). This is the character's fifth appearance in the series, but he is a much bigger part of the books as a friend and golfing buddy to Bond.
Giancarlo Giannini returns to play Rene Mathis for the second consecutive film. He has retired to Italy after the events of Casino Royale, but when Bond seeks his help he quickly responds and travels with him to Bolivia, where he ultimately meets his end. I love Giannini's performance in these movies, and it's sad that his character could not continue in the series. However, it does add a sense of danger knowing that no character is safe.
Bond Girls: Camille Montes Rivera is the primary Bond girl, though he doesn't seduce her. They have a kinship as they are both out for revenge due to the deaths of loved ones. Camille is after General Medrano for killing her family when she was a child. She worked hard for years to reach this point in her life and is looking forward to ending his life.
Olga Kurylenko plays Camille, and I really wish she would have had more to work with. They created a great backstory for the character centered on the death of her family and her being left to die in a fire. She has a great moment of PTSD when she is trapped in a burning room at the end. She cannot deal with the situation and it is bringing up memories of the fire after watching her family's murder. All she can do is ball up in the corner. Overall she still feels a little underdeveloped. Kurylenko did a nice job with what she had to work with and went on to appear in Oblivion and The November Man with former Bond Pierce Brosnan.
This movie also marks one of the first roles for the beautiful Gemma Arterton as Strawberry Fields. Despite the terrible name, Fields is a low-level agent that is sent to collect Bond and Mathis when they arrive in Bolivia, but Bond seduces her and takes her to Greene's fundraiser instead. She ultimately is killed for information. Arterton has a fairly small role, but she does a great job with it and is really Craig's first unnecessary sexual exploit as Bond. She's had a pretty great post-Bond Girl career so far with large roles in Clash of the Titans, Prince of Persia, and Hansel & Gretel: Witch Hunters.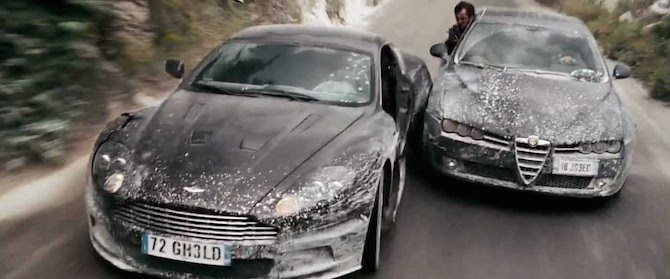 Gadgets: There really aren't any gadgets in the film at all. He returns to the traditional Walther PPK after switching to the P99 since Tomorrow Never Dies. He still has his Omega Seamster, but it still doesn't really do anything. He also has a Sony Ericsson C902 cell phone that can take pictures. Neato! I kid. I actually really like that he doesn't have to rely on gadgets to get him out of every situation. It makes him more realistic.
Villains: Dominic Greene is the primary villain, played by Mathieu Amalric (Munich, The Grand Budapest Hotel). Greene is member of Quantum, and like Mr. White he is simply a businessman. A corrupt and evil businessman, but a businessman nonetheless. He runs a corporation called Greene Planet that claims to be interested in renewable energy, but he's really stockpiling water and creating government coups in Bolivia.
Amalric delivers a really good performance. He's perfectly sane in one scene and manic in the next. I love at the end when he's fighting with Bond. He is completely overmatched physically, so he's fighting like an insane person doing anything to survive. His fighting style, which Amalric likened to that of a schoolyard fight, reminds me of the Joker; he tries to keep his distance while using any weapon he can find. I also appreciate that they didn't make Greene a cartoon villain. Even Dr. No had metal hands, but there is nothing distinguishable about Greene. Amalric said this in an interview: "I don't have something on my head, or a metal jaw, or an eye that bleeds, or anything that says 'oh, he's the villain.' I just have my naked face."
Jesper Christensen returns as Mr. White for the second consecutive movie. He adds a clout and an air of mystery to Quantum. Even though he has been the primary face of the organization to the audience, it is clear that he is not the head of it.
Greene's primary henchman is known only as Elvis. He isn't very effective and has a terrible Cesar haircut wig. He was Greene's cousin who had fallen on hard times. Greene gave him a job as Chief of Security, and that earned his loyalty to the very end. He's played by Anatole Taubman (Taken, Captain America) and adds a measure of craziness to go with Greene's more levelheaded villain.
General Medrano is a leader in the Bolivian government that becomes president with Greene's help. He is also a murderer with a penchant for rape. He killed Camille's family and raped her mother and sister in front of her when she was just a child, then he left her in the burning house to die with them. Camille is able to stop him from raping another woman at the end and eventually gets her revenge. Joaquin Cosio plays Medrano and does a nice job with the character, but I liked him better in season 2 of Eastbound & Down and he also has a really nice part in season 2 of The Strain.
Finally, Simon Kassiandies plays Yusef, the Quantum agent that seduced Vesper and faked his death. Bond is able to catch up with him at the end and pump him for information. He is also able to save Yusef's next target, a Canadian Intelligence officer played by Stana Katic from TV's Castle.
For the first direct sequel in the 22-movie series, Quantum of Solace really does a nice job of building on what they had. If you watched it on its own and wasn't impressed, I implore you to watch it within a day or two of Casino Royale. It really is an epilogue to that movie, and if you watch it as one four-hour movie it improves the quality of both.