007 Mission Files: 'Casino Royale' (2006)

We are now entering the current era of Bond; the best era of Bond; my favorite era of Bond. With Albert 'Cubby' Broccoli gone, it was time for the other producers to step up. Originally Pierce Brosnan was slated to return and even expressed interest, but at 53 the producers deemed him too old. It also would have cost them an extra $30 million. They decided it was time for a fresh start, hired the first Bond actor that wasn't hand picked by Cubby, and turned their focus from making fantastical films to making good realistic films.
At the turn of the century MGM began talks with Sony to purchase the film rights to Ian Fleming's first James Bond novel, Casino Royale. Fleming had sold the rights before the book became popular and a TV movie was made. After the success of the Connery-era Bond, a spoof was also made. MGM was finally able to strike a deal with Sony which involved the trade of the Spider-Man property in exchange for Casino Royale. Ironically, Sony bought MGM a year before this movie was finally released. Purvis and Wade got to work adapting the story and Oscar-winning writer/director Paul Haggis (Crash, Million Dollar Baby) was brought in to polish it.
From the beginning the producers were interested in Daniel Craig after his performances in Layer Cake and Munich, but the studio wanted them to do screen tests with more actors in an attempt to find the best possible actor. They tested over 200 actors for the part, including Gerard Butler (300), Dominic West (The Wire), and Sam Worthington (Avatar). James Purefoy (Rome, The Following) did a screen test that he deemed 'a disaster,' Karl Urban (Star Trek, Dredd) was considered but unable to test because he was busy filming another part, and Hugh Jackman reportedly turned it down because he didn't want to play two iconic characters at the same time (along with Wolverine from X-Men). Clive Owen's (Children of Men) name was also heavily thrown around at the time, and George Clooney (Ocean's Eleven) was reportedly offered the part, but he turned it down because he felt Bond should be English. Ultimately the only other serious contender was Henry Cavill (Man of Steel, Man From U.N.C.L.E.), but at only 22 years old they felt he was too young.
Craig initially turned down the role because he felt that the series had settled into a formula, but after reading Haggis's polished script he was on board. Craig, the first Bond actor born after the premiere of Dr. No, was our new James Bond. He gained 20 pounds of muscle for the role, returning to his pre-acting form when he was a semi-professional rugby player. He spoke with British Secret Service agents that he'd met while filming Munich and read all of Fleming's novels in an attempt to be as true to the character as possible. This dedication would not go unnoticed by fans.
With a new actor and the rights to Fleming's first book, the producers realized this was the perfect opportunity for a soft reboot. They reached out to previous Bond directors and found Martin Campbell, who had directed GoldenEye. He had an open schedule and accepted the task of once again introducing the world to a new James Bond.
Casino Royale was made on a budget of just $72 million, almost half of Die Another Day's budget. I guess when you aren't melting ice palaces with giant sun lasers and flipping invisible cars with ejector seats the budget doesn't get out of hand. Product placement was greatly reduced after the criticism of its use in previous films, particularly Die Another Day, which was famously nicknamed "Buy Another Day." It earned $594.2 million worldwide and became the top-grossing Bond film of all time, showing that a good Bond movie will win out to a flashy one. It also helped that this was the first Bond film to be approved by Chinese censors.
The movie opens in black-and-white with Bond in the office of Dryden, an upper-level figure within MI-6. Bond tells Dryden that M is disappointed in his betrayal, but Dryden says that if M wanted to kill Dryden she would have sent a double-0 and sites that it takes 2 kills but Bond does not have any. Bond reveals that Dryden's contact was the first and now Dryden is the second and he is now double-0 eligible.
After the opening sequence we see Bond on a mission in Madagascar with agent Carter. They are on the trail of a bomb maker, but Carter is spotted. Bond chases the terrorist through numerous construction sites and eventually into an embassy. Bond is able to take the terrorist's bag and escape with an explosion.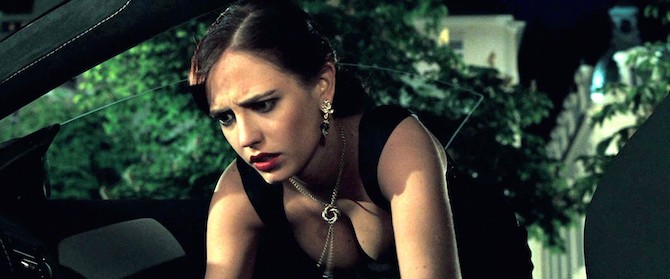 M is furious that Bond was identified on the embassy bombing, saying she knew it was too early to promote him. She dismisses him, and Bond breaks into M's apartment to review the intel on her computer. He uses the information and travels to the Bahamas to look deeper into Alex Dimitrios. Bond and Dimitrios meet at a poker table and Bond wins his Aston Martin DB5. Dimitrios leaves distraught and Bond leaves with his wife, as he is wont to do.
Bond learns from Dimitrios's wife that he is headed to Miami. Bond follows him there and witnesses the exchange of a duffel bag. He follows the bag and eventually chases the man down. The man was trying to plant a bomb on a newly revealed prototype plane, but Bond is able to stop him from blowing up the plane.
Bond returns to the Bahamas, where he catches up with M. Le Chiffre was behind the attack on the plane. He was betting against the airline on the stock market and lost a large amount of his clients' money. Unfortunately, his clients are mostly drug and arms dealers, so things aren't looking good for him. M tells Bond that Le Chiffre is hosting a high-stakes poker game at Casino Royale in Montenegro to try to win his money back. M recruits Bond to play in the game since he is the best poker player at MI-6.
On the train to Montenegro, Bond meets with a representative from the treasury named Vesper Lynd. The two of them exchange quips and show they are cut from the same jib. When they arrive at the hotel, Bond immediately blows their cover. They unpack and head into the city to rendezvous with Rene Mathis.
They head to the casino and the first round begins. Bond loses a big hand to Le Chiffre early, but is able to discover his tell. He discusses it with Vesper and Mathis over a new martini that he invented. Bond and Vesper head up to their room on a break so Bond can spy on Le Chiffre. One of Le Chiffre's clients has caught up with him at the casino and threatens him. After they leave, they see Bond and chase him into a stairwell. Bond beats both of his attackers to death as they go down the stairs with Vesper as a witness. Bond sends Vesper to find Mathis and hide the bodies while he goes to change his shirt and return to the card game. After the next round, Bond returns to the hotel room and finds a visibly distraught Vesper in the shower still fully dressed in her gown.
The next round of poker begins and Bond is immediately drugged by Le Chiffre's girlfriend. He drinks some heavily salted water to force himself to vomit up the poison. He then heads to his Aston Martin DBS and removes the defibrillator. He is unable to use it before passing out, but Vesper shows up to save the day.
Back at the poker game, 007 uses Le Chiffre's tell to go all in, but Le Chiffre has been tipped off and fakes his tell. He takes all of Bond's money and the table takes another break. Bond goes after Le Chiffre with a knife, but he is stopped by CIA agent Felix Leiter. He recognizes that Bond is a better player and offers to bankroll him for a second round since Vesper has denied him. Bond returns to the table and quickly gets his stack back to the largest at the table. On the last hand, Bond takes the pot and wins the poker game.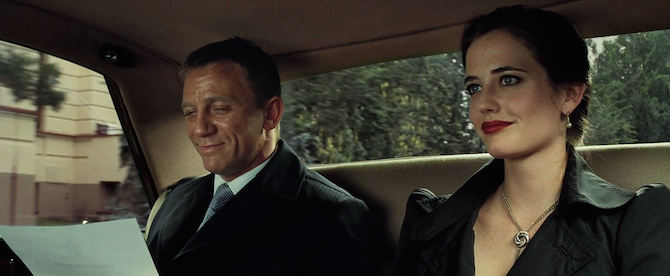 Bond and Vesper have dinner to celebrate, but Vesper is called away by Mathis. Bond realizes that Mathis must have tipped off Le Chiffre about his tell and goes after Vesper. He sees her being pushed into a car and gets in his DBS, and a car chase ensues. Bond flips his Astin Martin and awakes tied to a chair with Le Chiffre standing over him. The seat of the chair has been cut out and Le Chiffe has a knotted rope that he is using to hit Bond in a place that would be exposed if a gentleman were sitting in a chair with no seat. Suddenly a shadowy figure enters and kills Le Chiffre.
Bond awakens in a hospital with Vesper at his side. He decides to retire and travel the world with Vesper. The accountant shows up, Vesper enters the account number, and Bond says the password that he selected. After Bond is healed, he and Vesper are staying in Venice. She heads to the bank and Bond receives a call from the accountant asking when the money will be transferred. He realizes that Vesper entered a different account number and has the money. He goes to confront her and sees her handing off the money to someone else. A fight ensues and Vesper gets trapped in an elevator. Bond kills the men as the building crumbles into the sea. Vesper is so heartbroken that she locks herself in the elevator and drowns.
Bond calls M the next morning and reports to her. Bond is upset at Vesper's betrayal and says he will return soon to begin his next mission. M points out to Bond that Vesper had traded her life for his. Bond looks through her phone one more time and finds a note from Vesper addressed to him with a name and phone number. Bond follows up on the lead and finds the mysterious Mr. White, who we've seen introduce Le Chiffre to a client, murder Le Chiffre after he lost the money, and make off with the money as Vesper died. Bond shoots him in the knee and now has a prisoner to interrogate.
This is probably my favorite James Bond movie. Honestly, it's one of my favorite movies, and that speaks to what sets this apart from a lot of other Bond movies. They didn't set out to make a great Bond movie, they wanted to make a great movie. In doing so, they were able to do both. On the 21st try they outdid themselves, not by trying to be bigger and better, but by focusing on story, character, and cinematography.
The lack of CGI also helps this movie. According to Craig, the only CGI in the movie was to remove safety wires and integrate the models of the crumbling building in Venice. I don't hate CGI, but this movie is grounded in reality, and if they had used as much CGI as they had in Die Another Day it would have looked like a cartoon. The best Bond films are when they remember to put a human Bond in an extraordinary situation, but too often they make Bond himself extraordinary and the situations must become more and more fantastical to challenge him.
This dedication to practical effects is huge, and I'm glad that more movies are starting to go back to this. Even the new Star Wars movie is built on practical effects as movie audiences have become more and more aware when CGI is being used. Craig even did most of his own stunts in Casino Royale. The opening parkour chase took over six weeks to film, he lost his two front teeth filming the opening scene in Prague, and the Miami airport scene was broken up and shot at three different airports. In the end this was a lot more work, but it was also a lot more effective than if they would have shot it in a green closet and CGI'd the rest a la Die Another Day.
The writers also took great care to stay close to the source material. This is by far one of the closest adaptations, even when you consider they were modernizing a 53-year-old book. The book is fantastic, and I would recommend picking it up if you enjoy the movie. Even just to see things like how they adapted the bomb maker blowing himself up. The way he orders his martini is word-for-word from the book, the memorable 'bitch is dead' line is in the book, and even the torture scene with Le Chiffre is adapted well. It just all takes place during the Cold War.
Fleming had a habit of basing his characters on real people. Most famously, he based Goldfinger on Ernő Goldfinger, a Hungarian architect and furniture designer Fleming loathed. When Goldfinger threatened to sue, Fleming told him he would change the character's name to Goldprick instead. Eventually the sides settled, and Goldfinger became the gold standard of Bond villains. In Casino Royale Fleming did the same thing. He based Le Chiffre on famous English occultist Aleister Crowley and Vesper on Christine Granville. She was a World War II resistance fighter nicknamed Vesperale that Fleming was rumored to have had an affair with.
The theme song by Chris Cornell titled "You Know My Name" has definitely grown on me. I didn't like it at first, but I worked at a movie theater when this one was released. Hearing the song four or five times a day kind of wore me down.
The opening credits are interesting, and I appreciate that their design was based on the original cover of the book. Even more, I like the gun barrel sequence. This is the only time in the series in which the gun barrel sequence is integrated into the action. We see it at the beginning when Bond becomes a double-0.
Remember how much former Bond Roger Moore hated Die Another Day? He said in an interview after seeing Casino Royale that he liked it so much he bought a DVD copy of it. On one hand that's high praise, but on the other why isn't he getting free Bond swag? He's been in a third of the movies. Can't Wilson and Broccoli loosen the purse straps and mail him a $20 DVD?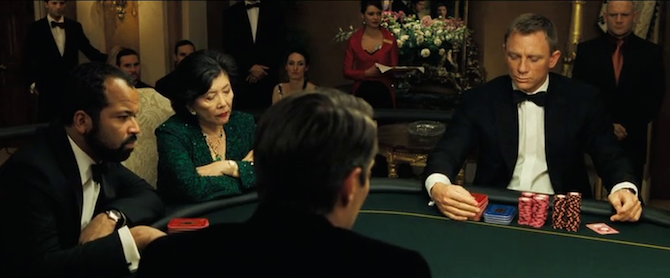 Casino Royale also marks the Bond film with the most BAFTA Award nominations, which is essentially the British Oscars. This movie had only one win and nine nominations, but GoldenEye and The Spy Who Loved Me are tied for second most nominations with only two a piece.
Cars: The new Aston Martin for Casino Royale is the DBS, a spiritual successor to the DB5 that was built from their racing car the DBR9 Aston Le Mans. I'm not a huge fan of this car. I feel like the modern Aston Martins look too 'futuristic.' At their best, they look like all of the other luxury sports cars.
For my money, nothing beats a silver Aston Martin DB5, and it returns in this movie when Bond wins it from Dimitrios at the poker table. I really like that they brought this car back. It is the definitive James Bond car.
There are also a couple of Fiats and Range Rovers, but there aren't really a lot of car chases. The plane they were trying to destroy was a prototype Skyfleet S570.
Allies: One of the stipulations that Martin Campbell had for coming back was to retain Dame Judi Dench as M for a fifth movie, even though this was technically a reboot of the series. The producers agreed that Dench was perfect and decided to keep her, though her traits do change. During the Brosnan years she's an accountant that sees Bond as a relic of the Cold War. Now she is the relic, at one point even proclaiming she misses the Cold War and questions whether Bond is even ready to become a double-0.
Dench handles the change like a pro. It's subtle enough, but in many ways she becomes a motherly figure to Craig's Bond. She sees that at times he needs a little guidance and molding to become a top shelf double-0 agent.
Absent from the movie are mainstays Q and Miss Moneypenny, but Felix Leiter does return for the first time since Licence to Kill. Here he is played by Jeffrey Wright. I like what he brings to the character, and he's one of the better actors to play Felix. It's good to see him partnered with Bond again.
Rene Mathis is also a great ally of Bond in this movie. He is Bond's French contact in Montenegro. He pops up in several books as one of Bond's more trusted allies, but this is his first appearance in the films. He's played by Giancarlo Giannini as an older French agent that is nearing retirement.
Bond Girls: I'm putting Vesper Lynd in this category. It's really tough. I could put her with the allies because she works for MI-6. I could put her with the villains because she ultimately betrays Bond. I decided to put her here because she is Bond's first love. Bond is a closed-off character. He has a few close friends, but he prefers to keep life superficial. Vesper is able to break through this façade and get close to Bond. Everyone remembers their first love, but because of her betrayal and suicide Vesper haunts Bond for years to come. In the books he makes a point of visiting her grave at Casino Royale every year.
Naomi Watts, Scarlett Johansson, Charlize Theron, and Angelina Jolie were all considered for the role, and they would have all been terrible. The producers were hesitant to cast a French woman, fearing they wouldn't be able to do an English accent, but their decision came down to Eva Green (Sin City: A Dame to Kill For, Penny Dreadful) and Audrey Tautou (Amelie). I love them both, but Tautou had to back out when filming of The Da Vinci Code ran over. Green won the part after filming had started. Luckily, Vesper doesn't appear until almost an hour into the movie.
Solange Dimitrios is played by Caterina Murino. She is the wife of Alex Dimitrios, the bomb maker from whom Bond wins the DB5. He gets Solange to tell him where Alex is, and she is eventually killed for doing so. Interestingly, on Bond's first mission he does not take time to sleep with Solange. As soon as he finds out Alex is headed to Miami he goes after him and leaves Solange in his hotel room.
Ivana Milicevic plays Le Chiffre's girlfriend Valenka. Her only interaction with Bond is to poison his drink, so she isn't really a Bond Girl, but she also isn't really a villain. Ultimately I just wanted to point out that I remember her from playing Kori Weston in an episode of Friends where Ross makes Chandler hold a wake for him after Chandler jokingly tells their college friends that Ross had died after being hit by a blimp. Classic.
Gadgets: This is a gadget-free movie! After the ridiculousness of Die Another Day, they decided to allow Bond to be Bond and survive on his own. He has an Omega watch, but it doesn't do anything fancy. It just tells time. He has a gun with a silencer, a keen intellect, and the physique of a body builder.
Even the car provided to him by MI-6 only has a place for his gun and a med kit with a defibrillator and a couple of injection mixtures. I love the stripped-down version. Gadgets are great, but they can get out of hand quickly. Bond doesn't need a jetpack, and his car doesn't need to be invisible.
Villains: Le Chiffre is Bond's primary nemesis, played by Mads Mikkelsen (Hannibal). This is the third version of Le Chiffre, all played by great actors. He was played by Peter Lorre (M, Casablanca) in the made-for-tv version of Casino Royale and Orson Welles (The Muppet Movie) played him in the 1967 spoof. Mikkelsen does a great job in the movie and stays fairly true to the character in the book. He is given an eye that will drip blood, but this is at least an actual medical affliction.
Le Chiffre is a banker for clients that can't take their money to a regular bank. He is essentially a money launderer, but he has a bad habit of using his clients' money on the stock market. After losing it all, he is forced to host a high-stakes poker game in the hopes of getting it back. Things don't go well for him.
Alex Dimitrios is the bomb maker hired by Le Chiffre to blow up a plane. This was supposed to drop their stock and make a lot of money for Le Chiffre, but Bond is able to ruin their plans. Dimitrios is stabbed in Miami, and his partner is blown up.
Mr. White is a mysterious figure who works for an organization that introduced Le Chiffre to his clients. After Le Chiffre loses the money, Mr. White murders him to keep their organization in the shadows. Jesper Christensen does a great job with the character. He is clearly a villain, but after multiple appearances the character is so mysterious that I still don't know what to think of him. I actually kind of like him. He's exceedingly intelligent and not thoroughly evil. He is just a businessman.
Much like Christopher Nolan's Dark Knight series, the current Bond films with Daniel Craig that began with Casino Royale are successful not just because they're 'good…for a James Bond movie' but because they're legitimately good movies. They have fascinating plots with complex characters and great direction and cinematography. You can enjoy these movies for what they are and replace the name James Bond with anything from Harry Potter to Brandon Yotter and still enjoy it as a great movie.