'Strangerland' Blu-ray Review

An independent feature with Nicole Kidman and Hugo Weaving; that sounds like an obvious choice for a film to pick up. However, sometimes the independent tag reminds you that there are tons of movies out there that may not be as strong as others, no matter who they have in the cast.
Movie Itself
Strangerland takes place in the middle of nowhere Australia. It's reminiscent of classic Australian films, Walkabout, and Wake in Fright, in that there's a strange eery feeling from the moment the first scene opens, and you aren't quite sure why. These films, along with Strangerland are not meant to be horror, suspense, or anything like it, and yet there's just so much uneasiness.
The film focuses on a beautiful family who's just moved to the small, isolated town. The inner workings of the family are immediately apparent within the first ten minutes. The adolescent son is a good kid with a poor role model teenage sister who's obsessed with sex (ew), and the pharmacist father cares far too much about his and his family's reputation. Mom (Nicole Kidman) stays at home and clearly had a dark past similar to that of her daughter.
Dad up and moved his family out here to no-man's-land to apparently escape the accusing city his daughter just had an affair in with her teacher; a married young father himself. But now they are in this new town, his precious little girl has decided to lash out once again by having sex with any man she can get her hands on. The worst part of this all, is not too long after their move, and not too long into the film, the children inexplicably disappear, and not just the daughter this time, but the son as well.
Enter Hugo Weaving, town detective put on the case to find the children. At first, the mother is in hysterics, believing her children have been abducted or something has gone terribly wrong. And since her daughter recently ran away, no one, including her husband takes any of it seriously, instead believing the same has happened, only she took along her brother.
As time passes, the reality sets in, and it's clear something has in fact gone horribly wrong, and the children are no where to be found. After nearly two hours, very little resolve has been made, and the audience is left feeling no relief, and no conclusion really. The lack of conclusion is exactly why masses of people have basically ripped the film to shreds. I for one, mostly agree with those masses.
Much of the film is extremely drawn out and uncomfortable. I fast forwarded by time and a half just to make it through the long sequences with zero dialogue, characters, or meaningful plot development. Panning the Australian horizon for the umpteenth time and it was like, "alright, get on with it." That said, there are a few really good parts about Strangerland which are going completely overlooked.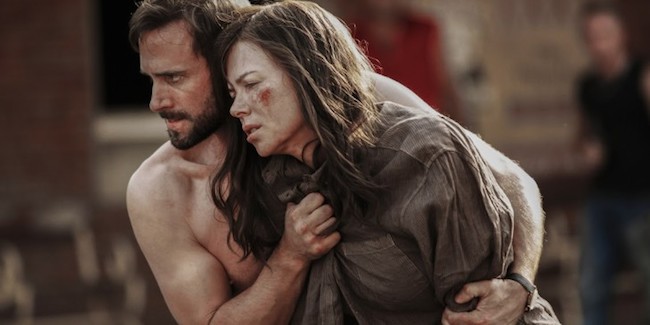 The first big thing Strangerland has going for itself is that it addresses hard hitting issues of runaways, and missing children. Cases of both riddle the newswaves globally, and an inside look into what can happen to the parents is not often depicted in film. Strangerland takes a realist perspective on the ordeal, which is also probably something that makes it hard to watch.
Second hidden gem of the film is how frighteningly-spectacularly-killing-it-amazing the actors are. The children, the parents, the citizens, the police; everyone, and I mean everyone, turns in a seriously good bit of work. With how little dialogue there is, I was blown away by the acting. So if you are into that sort of aspect of a film, you really will find some enjoyment here.
Finally, the behavior of the daughter in her promiscuity is yet another great topic no one ever addresses. My favorite part in the film is how there is a real question about whether or not she was sexually abused as a child. The implication is that she clearly must have been sexually abused to be so obsessed with sex. The film antagonistically asks the question through characters, then rejects that idea through the father, and the mother.
This leads to a very good point: it is normal teenage behavior to be sexually curious, and is never an indication of one's past. (Nor is one's past a prediction of how they will behave). Bassically, I loved this part because there's just far too much of a double standard when it comes to teenage sexuality. Boys can be as promiscuous as they want, and yet no one will accuse them of having been molested, or of being perverse. Women who have multiple sex partners at a young age need to stop being speculated about. Period.
In the end, the film takes up some seriously heavy hitting material, and the acting is superb. Other than that, yeah, it drags a bit. I'd still recommend it if you are into any of the subjects I've mentioned. That, or you're in the mood for a depressing slap in the face.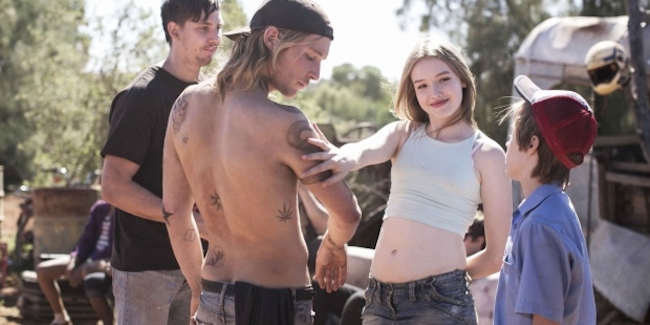 Presentation
Srangerland arrives on Blu-ray courtesy of an Mpeg-4 1080p encode that is frightfully strong. It is a gritty, washed-out presentation as the intention is to put you in a gruesome gritty area of Australia. But the picture holds true through it all and proves that what might appear as weaknesses are well intended. The image remains three-dimensional throughout. Color favors browns and reds, but flesh-tones remain natural and primary colors do pop right off the screen. Detail is fantastic. Dust storms look amazing, and the dark desert is beautiful, yet scary. Overall, very little to complain about with Strangerland's video.
The audio side of things for Strangerland is strong as well. Thanks to a Dolby TrueHD 5.1 track, the audio remains loud, clear, and fills up the room. This movie is very dialogue heavy, so it is the center channel that carries most of the load. But when the other channels are active, the center channel is never interfered with. If I had one complaint here, it is that the dialogue is a little lighter than it should be. There are moments where you have to turn up conversations just to reverse the sound for moments of intense yelling, fist fights, and dust storms.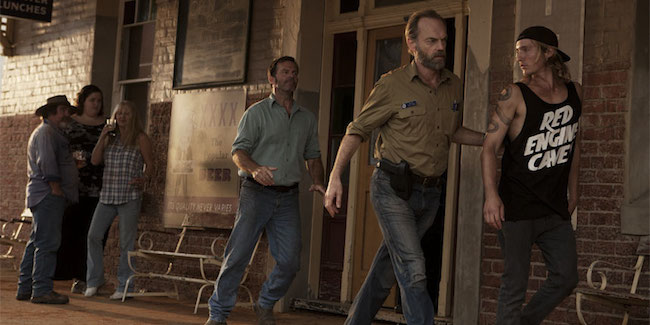 Extra Features
Strangerland pretty much strikes out on the extra features. It's difficult with independent movies to get the extra features at the level big budget films do, but at the same time two features and a series of trailers is something that keeps this from being considered a stacked release.
The Cast Featurette (HD)
The Story Featurette (HD)
Previews: Strangerland (HD), Kidnapping Mr. Heineken (SD), The World Made Straight (SD), Good People (SD), and The Iceman (SD).
Final Thoughts
Strangerland is an average movie that unwinds to nowhere. The Blu-ray is impressive enough for fans, but with the lack of extras and the lack of intrigue, this is something we can only recommend for the fans.